Bluestone Melbourne's Signature Stone
'Bluestone is a very distinctive feature of Melbourne's streetscape, part of the daily fabric of life. There are kilometres of bluestone laneways in the city and suburbs; it's in the foundations of many houses and buildings; it's used for kerbs and gutters; and it's the main material for a number of landmark buildings such as Pentridge Prison, the National Gallery of Victoria and St Patrick's Cathedral.' – Professor Stephanie Trigg, Australian Research Council Centre of Excellence for the History of Emotions.
Bluestone (a.k.a. basalt) has been a prominent building material in Melbourne CBD and inner suburbs. It is part of the character of the city of Melbourne. Not only is it a beautiful feature, it was chosen because it is safe, environmentally sustainable as well as conserves the vintage heritage appearance.
Bluestone Cobblestone Image
History of Bluestone Pavers?
8000 years ago, Aboriginal people from Western Victoria were using it to create eel traps and build bluestone houses.
Bluestone pavers have been a popular in Melbourne since the Gold Rush. This was due to the strength and because it is easy to work with.
Many of the earliest buildings in Melbourne such as the Melbourne Town Hall, St. Paul's Cathedral and the paving on Collin's Street are made from bluestone.
In preparation for the Melbourne Olympics in 1956, the council laid asphalt to freshen up the look of the city. However, by the 1970's a lot of the asphalt was damaged and cracking. The council realised that the original bluestone was a tougher material, and since then have been trying to upgrade the the Melbourne CBD with bluestone tiles.
Nowadays, if you walk in the Melbourne CBD, you'll notice the bluestone paving and some original bluestone paving pitchers from the 1850s. Bluestone pavers are recognisable due to Cat's Paw (air hole features naturally created from cooling lava) adorning the surface of the bluestone tiles.
The City of Melbourne is currently allocating funding to replace asphalt footpaths with bluestone pavers. The council is focussing on replacing the walkways with sawn bluestone paving around Southbank and Docklands.
Permeable bluestone in Melbourne
Standard bluestone pavers are sealed so water can't pass through to the base of the pavers. This means that water stays on the top of the tile and washes away dirt.
Currently, the City of Melbourne is installing permeable bluestone. This allows for water to pass through the tiles and water nearby plants and trees and improves the surrounding soil.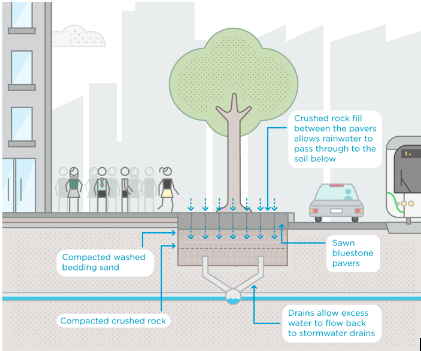 Picture source: City of Melbourne (http://urbanwater.melbourne.vic.gov.au/projects/permeability-infiltration/permeable-bluestone-pavement/)
On your property, you too can have permeable bluestone tiles. This can be done with laying a layer of compacted crushed rock and then laying sand on top before laying the bluestone tiles on top.
Doing so, will allow for the rain water to drain underneath without settling on the top.
If you're interested in permeable bluestone for your property, ask your landscaper. Alternatively, if you have any questions, feel free to ask us.
Enhance your property with the practicality and classic Melbourne heritage look with bluestone: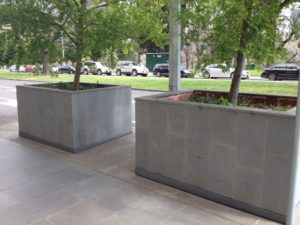 Bluestone Wall Cladding Image
Contact Us Today!
Looking for quality Bluestone Paving for your next DREAM home, residential or commercial project? Great! You are at the right place. STONE PAVERS provides all types of natural stone pavers for the lowest prices in the market. Our wholesale prices will be worth spending each and every penny. Request your FREE SAMPLE or visit our showroom located in Melbourne, Victoria. Call us today on (03) 9706 9767 for FREE laying/paving advice or request a FREE quote. Take Full Advantage of our ongoing Bluestone Sale. 
Read More about Bluestone Pavers – Learning Center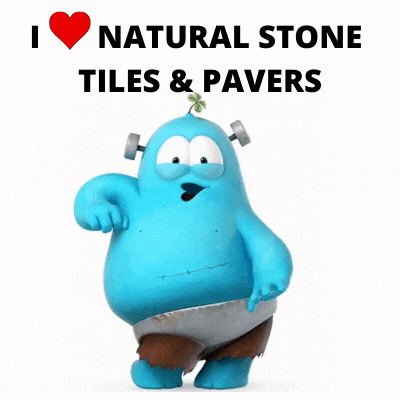 CALL US TODAY! Order Your FREE SAMPLE – Express Posted