Stepping Stones 
Natural stones tiles can be used as pavers for your outdoor areas. If you plan on renovating your exterior space, then there could not be a better way to start your renovation project than by using stepping stones. Steppers are a great way to start with if you are unsure whether you want to lay the whole area. Selecting a suitable and functional pavers that improve the aesthetic of your home exterior as well. Prices start from $15 
Stepping Stones are available in a wide array of palettes, shapes, sizes, and finishes. Each material will add a unique texture to your space. If you would like to add the old-world charm to your patio, then natural stones are your best option. Not only are they durable, but natural stones give an earthy and natural feel to your space. Whether you have modern-style exteriors or a retro-inspired patio, you can never go wrong with the natural stepping stones. When it comes to choosing the best steppers, pay close attention to your patio and the exterior décor theme. The most popular type of stepping stones are Bluestone Stepping Stones, Travertine Stepping Stones, Granite Stepping Stones and Sandstone Stepping Stones. 
Types of Stepping Stones 
We all have different ideas when it comes to designing our garden area. Some prefer using steppers instead of paving the whole area as it gives off a unique feature to any outdoor area. It is also a functional choice as these stones are easy to install and can be laid on grass or sand.
Irregular Shaped Stepping Stones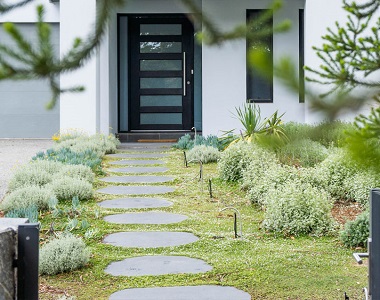 "Installation image of Bluestone Stepping Stones"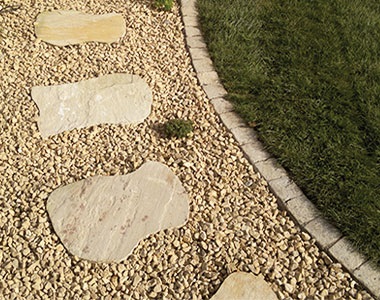 "Installation image of Sandstone Stepping Stones"
Bluestone stepping stones are very popular amongst Australians households due to its earthy features therefore it is very low maintenance and easy to clean. If bluestone is not for you and you prefer a lighter colour, Sandstone is a great option too. 
Rectangular Stepping Stones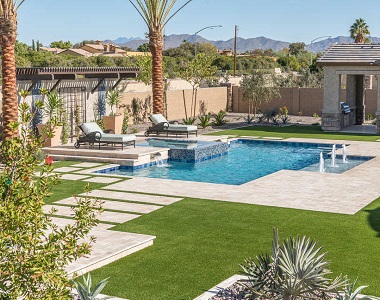 "Installation image of Travertine stepping stones"
"Installation image of Granite Stepping Stones"
Brick and concrete are porous materials. They cannot endure changing weather and extreme temperatures. Unless you live in an area that receives a moderate climate throughout the year, artificial tiles are never the right option for exterior paving applications.
Your patio will be exposed to weather and water (if you have a swimming pool) throughout the year. You should choose the high density, low porosity, and water tolerable natural stone pavers.
Hot temperatures and rainy weather are the common reasons for pavers' premature wear and tear. Never choose a delicate material for patio and deck paving. Even if the bricks or concrete do not break down, you will notice stains and discoloured surface. 
Options to cover the are around stepping stones?
"Installation image of Crazy Paving"
It is also strongly recommended that you light stepped areas for additional night-time safety.
There are a whole host of options for steps and pathways to complement your garden landscape.
You may want an area with stepping stones, a traditional style pathway running under an arch covered in brightly coloured, sweetly-smelling flowers, or a stepped walkway leading to a sunken pond.
The options are many and by discussing your vision and needs with a qualified stonemason you will achieve exactly what you are looking for.
Conclusion:
Get FREE Quotes + FREE SAMPLES by Stone Pavers Australia
Stone Pavers are the LARGEST Natural stone providers across Australia. We are known for providing quality products at low prices. Buy bluestone stepping stones from slate discounts. 
If you are looking for buying granite tiles or granite pavers or any other stone tiles in Melbourne, Sydney, Brisbane, Adelaide, or anywhere across Australia.
Give us a call today on 03 9706 9767 and receive a FREE QUOTE or you can request an express posted FREE SAMPLE before purchasing our products.
Simply fill our contact us form for the orders or free sample inquiries.
Get some installation ideas from our beautiful stone tiles Image Gallery.