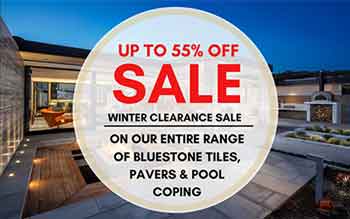 Bluestone Pavers 
For Bluestone Pavers, you've come to the right place…
We have the CHEAPEST prices not only in Melbourne, Sydney, Brisbane but the whole of Australia! As a result, we have built a fantastic reputation for supplying the highest quality natural stone at the best prices in Australia. So, if you happen to find a cheaper price on the same stocked stone, please let us know here. Prices starts from as as low as $39 . WE'LL BEAT IT!
Feel free to give us a call on (03) 9706 9796 or leave a message if you need a hand. Our Stone Experts are here to help you get the best solution for your renovation project…
BLUESTONE - Additional facts regarding installation and quality selection of bluestone pavers
We sell Australia's best quality bluestone pavers brisbane, pool coping tiles direct to the public at wholesale prices. The superior thermal characteristics along with the low porosity and high density of our specially selected Harkaway Bluestone pavers Canberra, pool coping tiles make it extremely suited to both commercial and also domestic paving applications here in Australia. From driveway pavers, pool pavers or office building foyers Harkaway bluestone is the No.1 selection of all developers and architects Australia wide. We stock pavers, tiles, drop face pool coping and step treads in Harkaway Bluestone, Australia's best quality bluestone. Bluestone price from $36m2 through to $89m2. Melbourne's STONE PAVERS specialise in stocking a wide variety of quality natural stone tiles & natural stone pavers. We stock in our Melbourne warehouse mostly the HARKAWAY Bluestone with smaller amounts of Chinese Blue Stone paving being stocked. This is simply due to the fact that Chinese Buestone has a tendency to oxidise (rust) and also is prone to staining ( due to it being a less dense open pored stone). This is why for pool coping and pool pavers we recommend the use of genuine HARKAWAY Bluestone as you will not get these issues when used as a pool coping tile or pool pavers. We hold stock of in our Melbourne warehouse the following; Bluestone Paving, Blue Stone Tiles, Bluestone step treads and Bluestone pool coping pavers. We stock both internal and external one piece pool coping corner tiles with a bullnose or arissed edge or "L" shape rebated drop face coping tiles. With the "L" shaped rebated drop face swimming pool coping tiles we stock a 40mm, 75mm and 100mm drop down face BUT of course we can supply up to 400mm. We deliver door to door Australia's best quality HARKAWAY Bluestone Paving to all suburbs Melbourne, Sydney, Canberra, Brisbane, Adelaide, Hobart and ALL country towns in between!
We recommend ALL Bluestone Pavers Sydney, Bluestone cladding tiles be layed in MAPEI Granirapid adhesive and where necessary sealed with a premium stone sealer from Tasman Chemicals. These bluestone sealers come in both penetrating or surface type coatings. We recommend ONLY penetrating sealers be used externally as they will not make the non-slip bluestone slippery. We stock penetrating bluestone sealers in a colour enhancing version ( will make bluestone charcoal in colour depending on a number of coats applied) and also an invisible (none or slight colour change) version. These sealers vary in price from around $55 ltr through to $65 ltr. One litre usually covers around 5m2 with 2 coats (minimum recommended).
Stone Pavers are re-known for supplying the BEST quality and Prices for Bluestone Pavers in Adelaide, Melbourne Sydney, Brisbane and Pool Coping. Shop our Bluestone pavers in Geelong and other regional areas in Victoria. 
VIEW OUR CURRENT SPECIALS AND SALE ITEMS!
Why should you buy your bluestone from us:
All our bluestone tiles, pavers, crazy paving and pool coping are sourced directly by us from premium quarries. As a result, you will get great quality bluestone that is 100% Australian Certified for residential and commercial applications.
Also, our bluestone tiles and pavers are completely natural. We will never stock inferior products, man-made imitations or cheap substitutes. At Stone Pavers, we believe nothing will ever beat the luxurious natural look and feel of real bluestone. We stand by the great quality of all our stones.
As well as having great quality bluestone pavers and tiles, we are proud to say we have the CHEAPEST PRICES IN AUSTRALIA! We have built this great reputation because we are passionate about making great quality stone accessible to everyday Australians. We believe everyone deserves great quality natural stone in their home and garden. So, we make it easier to afford and keep within budget. Moreover, we source our bluestone directly from the quarries. This has the added benefit of keeping our costs down for you.
We are not merely a stone retailer like every other stone company. Our company is composed of a tight-knit team of Stone Experts lead by a Master Stonemason. As a result, this ensures you are getting great advice to help you get the best solution for your project.
For delivery, we offer cost-effective and easy options wherever you are in Melbourne or anywhere in Australia. Our team will happily help to arrange transport for you to ensure your bluestone tiles and pavers arrive safely to your location.
It is highly recommended that you also order a free sample of our bluestone so you can see and feel the quality for yourself. Bluestone samples are express posted to your door free of charge! Fill out the form here to request your free sample!
BLUESTONE - What YOU need to know before buying bluestone pavers or pool coping tiles?
Bluestone Pavers – Can either be 20mm OR 30mm thick and range in size from 600mm x 300mm up to 1200mm x 800mm. Price varies from $39m2 up to $89m2 including GST depending on size and thickness. We have our bluestone pavers Melbourne stock available in our showroom based in Doveton, Victoria. 
Bluestone Tiles – Generally as a rule these are 10mm thick and range in size from 600mm x 300mm up to 800mm x 400mm. Price varies from $36m2 up to $39m2 including GST.
Bluestone Crazy Paving – Traditionally in Melbourne bluestone crazy paving has been composed of off-cut material from the production of the pavers ( when the bluestone boulders are sliced then cut into pavers). This bluestone crazy paving off cut material will of course have a high percentage of straight edges, BUT when installed by an expert stonemason it can look extremely good. For the past 5 years, we have been able to offer the bluestone boulder slices as crazy paving for our discerning clients. The look of this can be described in one word "WOW." Bluestone crazy paving off cut material is quite reasonably priced from $33m2 (20mm thick) $36m2 (30mm thick) $40m2 (40mm thick). Whilst Bluestone crazy paving in boulder slices is priced from $59m2 (20mm) thru to $69m2 (30mm) including GST. Pieces vary in size from 400mm diameter up to 1100mm diameter.
Bluestone Pool Coping – Is available with either a Bullnose, Arise Square Edge, OR the ever-popular Drop Face. It is priced from $16pc thru to $89pc including GST depending on style and length selected.