SALE – Up to 55% Off!
Bluestone Pool Coping
Bluestone pool coping is used to cap the pool edge. We deliver blue stone pool coping Australia-wide. Call 9706 9767
Bluestone pool coping is used to cap the pool edge. It is one of the final steps in swimming pool construction and gives strength to the pool to protect water from overflowing. That is why having a tough material like Bluestone around your pool is important in the durability of the pool. Stone pavers supply three types of bluestone pool coping – Drop Face, Bullnose and Bevel Edge, available in various thicknesses and colours. However, we also supply custom pool coping upon special request. Prices starts from $18.
Bluestone Bullnose Pool Coping
Bluestone Custom Pool Coping
Why Bluestone is the best for your pool coping?
Bluestone is one of the sturdy and durable materials that have the potential to last for years without showing signs of wear and tear and that is the reason bluestone is the best pool coping choice of Australian Homeowners. We stock three main types of bluestone pool copings – Drop Face, Bullnose, Bevel Edge (Arris Edge) and Square Edge. We can also customise curved pool coping on special requests. The prices of the bluestone pool copings vary based on the thickness, sizes and the type of bluestone you are ordering. The overall installation cost of bluestone coping tiles are quite affordable. Stone pavers supply matching bluestone pool pavers for your pools.
Bullnose Bluestone Pool Coping
Bluestone is widely used as a pool coping tile due to its many advantages. From slip-resistant, weather-resistant, and durability, Bluestones lend a stylish look to the poolside at any domestic or commercial place.
The bluestone tiles with a rounded edge are known as Bull nose. These are the top choices for people who look for a greater degree of sophistication and elegance.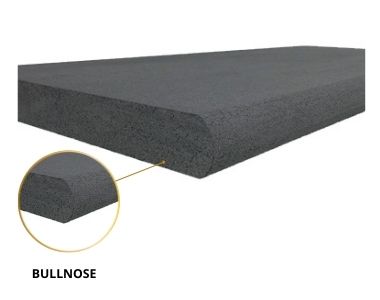 Drop Face Bluestone Pool Coping
Pool coping tiles are widely used nowadays due to their extremely beneficial qualities. These not only make the pool area look dramatic but also are value for money.
The pool coping tiles with a square edge is called Drop face. These are best for lending a modern and contemporary look to the swimming pool area.
Square Edge Bluestone Pool Coping Tiles
The major similarity between square-edge and drop face pool coping tiles is that both of them have a squared look, unlike the bull nose tiles.
These tiles come in three types of finishes, like Sawn, Honed, and Sandblasted. There are also a wide variety of colors available for all those who need a graceful appearance on their poolside.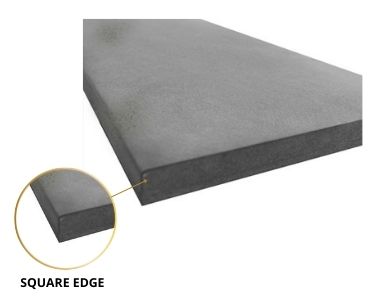 Arris Edge Bluestone Pool Coping
Bluestone is generally preferred for its long-lasting quality and naturally honed texture. Although some varieties come with cat's paw, there are others that are devoid of this feature.
Arris Edge Bluestone Pool Coping tiles are perfect for swimming pools along with raised garden beds and steps. It is mostly this type of bluestone tiles hang slightly over the edge and thus makes a functional addition to the exteriors of the house.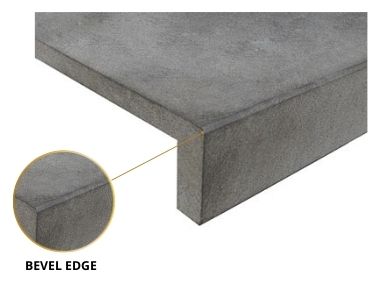 Reviews for Bluestone Pool Coping
Darcy Doherty
Croydon, Victoria
Cheap & quality bluestone pool coping tiles.
C & M Simposon
Double Bay, New South Wales
Wife and I love our new pool coping. Looks great around our pool. Thanks guys.
Kelly Lu
Glen Waverley, Victoria
Love the bluestone pool coping- looks expensive for my investment property and good value.
Debbie Greenstein
Hamilton, Queensland
Staff were very professional and knowledgeable. Thanks Wilma for helping us choose our pool coping tiles.