Bluestone Stairs and Steppers
Stairs form an integral part of your house. Why? The answer is quite simple. They help you in moving up and down the levels quickly and without any difficulty. Did you know that the staircase's location and area is a major decision that is made when the house or property is under construction? The area where the staircase is located often makes up the whole layout of the house.
As stairs make up for some of the most important parts in your house, it is very important to adorn it with the best quality materials available. Since the last few years, staircases with natural stones have become quite popular with the general public.
Natural stones are used for constructing the staircase because of their durability, slip-resistant, and attractive textures. Out of all naturally formed stones, Bluestone stairs and steppers are mostly used in the architectural sector due to its impressive quality and look.
SHOP BLUESTONE POOL TILES ON SALE
How Are Bluestone Stairs and Steppers Laid?
It is usually seen from a construction point of view that laying stairs is not a very difficult process. However, one thing must be kept in mind; the stairs shall follow the core's safety pattern.
While the tall steps are difficult to escalate, shallow or narrow steps can be too dangerous. The Bluestone acquired from Australia's quarries has a smooth surface that is perfect for staircases. Always remember whenever you construct a bluestone staircase, construct it over a concrete footer so that the steps remain for a long time.
Apart from that, always determine the total size of the area, the stairs' height, and quantity to make sure that there are no chances of error.
What Are The Different Types Of Bluestones Used?
Harkaway Bluestone: The Harkaway Bluestone is usually considered as the best in Australia. The tile and paver quality is deemed to be incomparable, and hence the stone finds usage in many commercial and residential buildings. Although you can find cats paw feature on the stone's face, the Harkaway Bluestone can be grouted and used in staircases, patios, and pavers.
"Installation Image of Harkaway Bluestone Stairs and Steppers"
European Bluestone: The European Bluestone is also a high caliber natural stone but is aimed at those buyers who do not wish to settle for Chinese Bluestone. The stone has a non-slip exterior and comes in attractive colors, making it best for all types of architectural purposes.
"Installation Image of European Bluestone Stairs and Steppers"
Midnight Blue stone: The Midnight Blue stone is famed for its dark and flamed surface. Although the stone has a non-slip surface, there is one point of demarcation. The Midnight Blue stone doesn't have any cats paw on the surface and hence doesn't require additional grouting.
Blue stones are popularly used in different housing purposes across the world. However, the ones that are found in Australia are of high repute due to their finish and color.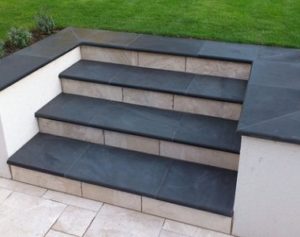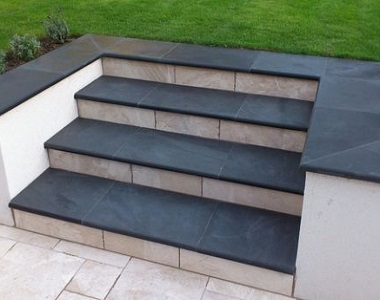 "Installation Image of Midnight Blue stone Stairs and Steppers"
Conclusion:
Bluestone is one of the sturdy and durable materials that have the potential to last for years without showing signs of wear and tear. [Read more about What is Bluestone? ]
That is why it is one of the most popular natural stone tile choice of Australian Homeowners. [Read Bluestone Frequently Asked Question to learn more. ]
Get FREE Quotes + FREE SAMPLES by Stone Pavers Australia
Stone Pavers are the LARGEST Natural stone providers across Australia. We are known for providing quality products at low prices.
If you are looking for buying bluestone tiles or bluestone pavers or any other stone tiles in Melbourne, Sydney, Brisbane, Adelaide or anywhere across Australia.
Give us a call today on 03 9706 9767 and receive a FREE QUOTE or you can request an express posted FREE SAMPLE before purchasing our products.
Simply fill our contact us form for the orders or free sample enquiries. 
Get some installation ideas from our beautiful stone tiles Bluestone Pavers Image Gallery. 
Similar Bluestone Installations