What is Bluestone?
Bluestone, also called Basalt in Australia, are volcanic stones that have formed and textured over millions of years. Blue stones are hard and extremely dense which enables this natural stone to provide strong strength to the built structures. It is the most common type of building material used to build famous architectural structures and pathways across Australia because of its natural beauty and longevity. Even today, the Victorian government relies on bluestone pavers and tiles to build the driveways, pathways, outdoor pavers, government offices as it comes with a perfect package of reliability, weather-resistance, non-slipperiness and durability.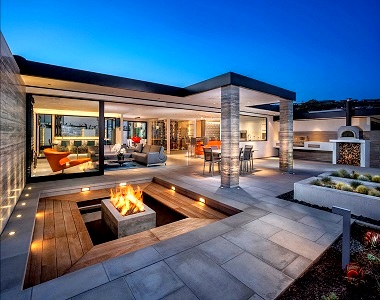 Have you ever noticed the pathways on the streets of Melbourne, Sydney, Brisbane, Adelaide, Hobart or Canberra? You must have walked on one of the pathways made of bluestone. The most recent project of the Victorian Government is to make a street of Melbourne covered with bluestone for keeping the essence of Melbourne's culture alive with this traditional natural stone. We can say that it is one of the most popular natural stones that Australians prefer these days.
Bluestone Pavers v/s Bluestone Tiles
The terminology bluestone pavers and bluestone tiles are used interchangeably. The only difference is that pavers are mainly used for outdoor paving mainly around the pool to give strength to the pool edges, however, tiles for indoor flooring with honed finish is quite popular for lawn areas.
Use of Bluestone as Outdoor Pavers & Pool Paving
Bluestone natural stone is extremely versatile, and it can be used for both indoor flooring, outdoor paving, wall cladding and stepping stones. We normally refer to the term bluestone tiling for interior applications such as floors.
On the other hand, the term bluestone paving is associated with exterior applications such as bluestone pool pavers, bluestone pool coping tiles, footpaths, landscaping, driveways, garden steppers, pathways, fireplace and other bluestone outdoor paving areas. However, bluestone wall cladding is a term referring to the layering applied on top of an existing surface for decorations and protection from external elements such as feature wall and stone wall cladding.
Benefits of Bluestone
There are 6 main benefits of bluestone. These are durability. non-slippery, long-lasting, easy installation, cost-effective and aesthetic natural beauty. As described below:
Durability: The most prominent quality of the bluestone natural stone is durability as it can resist extreme weather conditions and adjust very well with the environment. Its toughness and dense composition make it the most durable natural stone.
Non-Slippery: Bluestone has the highest non-slippery rating as compared to the materialistic tiling materials such as concrete, porcelain, etc. This standalone quality makes the Victorian Government choose bluestone for paving the Melbourne CBD.
Long-lasting: Without any doubt, you can trust the longevity of bluestone. They are the most reliable natural stone into existence and with proper maintenance, they can last for decades or even for centuries. Consider the example of the enormous Stonehenge prehistoric monuments in England built 5000 years ago, still standing tall with no effect of the natural disaster on it.
Easy Installation: Although bluestone is quite heavy but is super easy to install for the experts due to its flat surface and quality of the material.
Cost-effective: The best advantage of the bluestone as it is very affordable and cost almost the same as the un-natural or materials tiling products. With hundreds of advantages, reliability, longevity, naturally attractive patterns and affordable price makes it the best tiling and paving material for the Australian homeowners, builders, and architectures.
Aesthetic Natural Beauty: Bluestone tiles and bluestone pavers are the perfect blends of beautiful colours and unique textures of the earth art. Each piece of bluestone tiles and pavers come with its own unique style which adds a natural aesthetic look to your property.
Bluestone Pavers colours and Sizes
Bluestone pavers and tiles comes in a variety of colours, shapes and sizes. The most popular bluestone paving colour is dark grey. Australian love the aesthetic midnight dark colour of the blue stone around their pools and pavers.
Bluestone for paving comes in various sizes and thicknesses. The most common ones are 600X300, 500×500, 400×400 and 800×400. Varying in thicknesses from 10mm, 200mm and 30mm.
It is always hard to pick the perfect one among all the beautiful natural textures but if you are looking for a little darker shades in your tiles and paving for properties then bluestones are the best choice as they mostly come in darker colour range from ashy blues to charcoal greys due to less exposure to the sunlight during their formation years ago.
You can also change the colours of bluestone pavers from more neutral to darker colour by grouting it with either neutral grout or charcoal grout as shown in the picture below: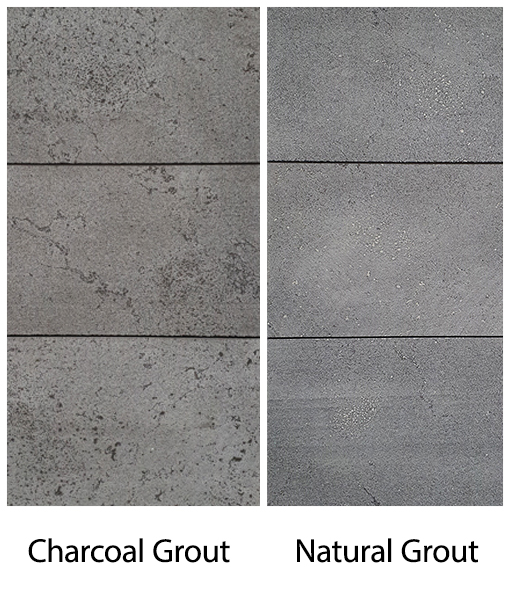 Types of Bluestone Pavers
There are three major types of bluestone pavers available in Australia. These are – European Bluestone Pavers, Harkaway Bluestone Pavers and Chinese Bluestone Pavers. They are cheap pavers and available in different sizes, shapes and colours.
Where to Lay Bluestone Pavers?
You can lay bluestone pavers in any outdoor areas because they are highly non-slippery and weather resistant. Mostly in Australia, landscapers and homeowners love to install blue stone as bluestone stepping stones, bluestone driveway pavers, bluestone patio pavers and bluestone stairs and steppers.
The most popular laying pattern in Australia is Bluestone French Pattern and Bluestone Crazy Pavers which looks astonishing when installed in large outdoor paving areas.
Bluestone ON SALE in Melbourne, Sydney, Brisbane, Adelaide
We have a variety of bluestones available at stone pavers. Call Us Now on 03 9706 9767 and receive a free quote for your tiling needs or visit our nearest showroom.