What are the Different Types of Bluestone Pavers ?
What are the Different types of Bluestone Pavers?
Bluestone
is a quite versatile natural stone paving material and there are three different types available :
Australians love the look of
bluestone pavers
 layed around their swimming pool areas, garden sitting areas, patio paving, driveway pavers and sometimes to decorate the wall with the blue stone cladding option.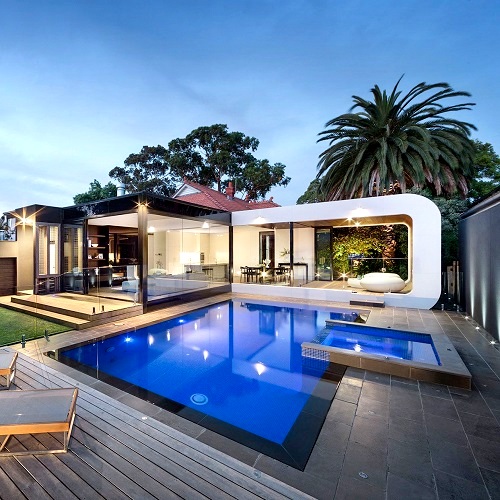 Hence, there is always a matter of confusion to choose a quality bluestone for your pavers. Therefore, to help you make a better decision, we have added some of the most popular types of bluestones in Australia. Based on our research, the following three types of the bluestone are the perfect choice for outdoor paving and specially for pool paving as they are extremely tough, non-slippery and can resistant any weather fluctuations.
1. European Bluestone Pavers
European bluestone pavers
comes in the light greyish colours, highlighted with lightening textures and catspaws on the surface. The most astonishing feature of the European bluestone is the beautiful consistency in surface colour, unlike other bluestone pavers. European bluestone contains around 20-40% catspaws on the surface. It is awarded with the highest non-slippery rating in a survey conducted by Bluestone Pavers Organisation. As the name suggests, the European bluestone pavers are exported from Europe and nowadays, it is gaining popularity in Australia because of it gorgeous light greyish texture and classic look around swimming pools and outdoor pavers.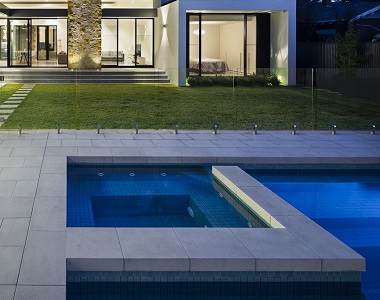 Laying Recommendations:
If you are planning to lay a type of bluestone which varies slightly in colour upon installation then we would highly recommend European Bluestone as it gives your outdoor pavers or
pool pavers
a luxury look for affordable prices.
2. Harkaway Bluestone Pavers
Harkaway Bluestone Pavers
is the second most popular bluestone in Australia, after European Bluestone. This is just the perfect choice for those who are looking for dark charcoal greyish colour with variations in their pavers. Harkaway bluestone is a very common choice of Australian Landscapers, Architects and Homeowners. It contains naturally occurring
bluestone Catspaws
on the surface of each paver, varying from none to 10% only. Harkaway bluestone is naturally strong which can last for decades with proper maintenance and care.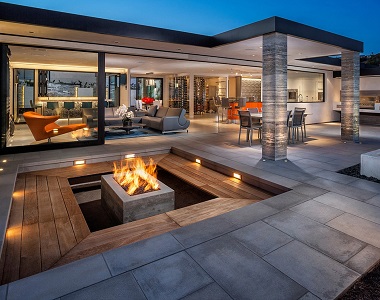 Laying Recommendations: 
Without any doubts, Harkaway blue stone is the perfect choice for
bluestone pool pavers
, outdoor pavers, pool coping and
patio pavers
. To provide different new look to the paving area, landscapers also prefer to lay blue stones as bluestone crazy paving,
bluestone stepping stones
and
bluestone French patterns
.
3. Chinese Bluestone Pavers
Chinese Bluestone Pavers
are the cheapest quality of bluestone pavers and comes with around 50% catspaws on the surface. It surface contains a mix of blizzard and normal catspaws which can be filled while grouting to give a clean finish. Sealing is highly recommended for these type of bluestone pavers as they prevent it from contamination and unwanted internal damages. As the name suggests, Chinese Bluestone Pavers are exported form China.
Laying Recommendations:
You can lay Chinese bluestone pavers in your outdoor areas such as around the swimming pool, patio paving, pathway pavers, walkway paths, backyard and front yard flooring. However, Chinese bluestone requires high maintenance and more often sealing overtime.
Various Thicknesses of Bluestone Pavers
The selection of the type of bluestone and thicknesses vary on the paving areas. Here are the thicknesses and laying advise:
10-12mm Thick Pavers
can be layed on a concreate slab.
15-20mm Thick Pavers
can be concreate base as well as onto a crushed rock base compacted & mixed with slurry of sand and cement on top.
30mm Thick Pavers
can be layed on both concreate base and crushed rock base compacted and then into a level sand bed.
What to do with the holes in bluestone pavers?
You can fill in the holes by grouting with charcoal or neutral grouting options. Charcoal grouting can also enhance the colours of the pavers. However, it is recommended to seal the bluestone pavers afterwards, to avoid stains and provide protection against, contamination, deterioration and chemical attacks.
Which Bluestone should I Purchase?
With the ongoing demand in Australia,
European Bluestone
is the recommended to purchase for outdoor areas because of its highest non-slip rating, weather resistant capability and durability which cannot be beaten by any other bluestone available in Australia. However, if you would like to go with the classic and luxury look for your pavers, we would recommend to go with
Harkaway bluestone
. It is slightly expensive as compared to European bluestone but worth for the money you spend.
Buy Bluestone Pavers on SALE at Stone Pavers
Stone Pavers stock all three types of bluestone pavers with various thicknesses. We have the matching pool coping tiles also available. We deliver Australia Wide door-to-door in Melbourne, Brisbane, Sydney, Canberra, Adelaide and Hobart. Order your Free Bluestone Sample Today. We have the cheapest and best bluestone pavers prices for European, Harkaway and Chinese Bluestones.