How to Clean Bluestone Pavers?
How To Clean Bluestone Pavers?
Bluestone pavers turn out to be the perfect addition to any home décor – especially outdoor areas. Bluestone serves to be a beautiful material when it comes to landscaping or exterior design projects. Being a famous natural stone variant, bluestone provides natural variance along with being incredibly versatile and subtly elegant.
In addition to the overall aesthetics, bluestone pavers are also highly durable and resistant to harsh conditions. This is the reason why most homeowners in Australia prefer the installation of bluestone pavers Melbourne across the exteriors of their home – including patio areas, swimming decks, bluestone driveways, pathways, and so more.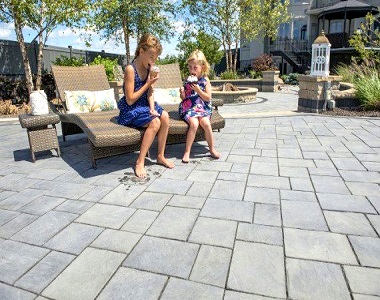 If you are also installing bluestone pavers for the exteriors of your home, it is important to know about how to clean the bluestone pavers effectively.
Taking Care of Bluestone Pavers
Most of the iconic buildings, as well as landmarks in Australia –including the Princes Bridge and Old Melbourne Gaol, are constructed out of bluestone material. This is because bluestone pavers Sydney are known to deliver both functional as well as aesthetic value.
When you wish to take proper care of the bluestone pavers or tiles at your home, using a blower or broom to get rid of the dirt, debris, or even grime might be all that you require. Using this type of care, you can ensure that the bluestone pavers appear brand new for several years.
However, if you have had bluestone pavers installed at your premises for a longer period, you might be required to implement some additional cleaning and maintenance. In this post, we will help you to understand all that you need to know about the DIY steps involved in cleaning bluestone pavers.
DIY steps involved in cleaning bluestone pavers
When you wish to impart the bluestone pavement an all-over cleaning, all you would require is water along with a high-pressure water cleaner. With this innovative tool, there might not be any requirement of lugging around heavy buckets of water or crawling on your knees & using hands for scrubbing away at the pavement. You can allow the high-pressure water cleaner to do the task for you.
Step 1 – Use Top-Quality Cleaning Products
In case the bluestone tiles or pavers in your home are looking a little tired, then you might want to consider an intensive cleaning process. This might involve the utilization of some elbow grease. However, the results turn out to be incredible –particularly when you have had bluestone pavers for some time now.
When you wish to achieve more intensive cleaning, it is recommended that you should make use of top-quality cleaning products that are natural stone-friendly. The products that you use should be designed for both the specific stain that you wish to get rid of, and the bluestone pavers itself. Therefore, your best bet is to reach out to some professional cleaning experts and reach out for professional services to obtain the best results.
This is because professional cleaners are adept at handling bluestone Adelaide pavers and know about the best products that would clean the natural stone without any harm. Whether it is timber stain, rust stain, tyre stain, grout marks, and so more –the professionals are well-aware of the right products for cleaning bluestone pavers that best suit your requirements.
Irrespective of the cleaning products that you are using for the bluestone pavers, the experts recommend that you should follow the manufacturer's or supplier's instructions on taking proper care of the tiles. You should dilute the cleaning product as per the instructions and apply the same as per the recommended method. Moreover, you should not leave the cleaning agent too long than recommended on the pavers. At the same time, the experts also recommended that you should refrain from cleaning the bluestone pavers on a hot day. This is because in case the cleaning agent would dry into the bluestone, the pavers would be left with unsightly marks or discoloration.
Important Tip: The experts recommend that you should never use HCL (Hydrochloric Acid) on bluestone pavers for cleaning. This is because HCL could cause the ferrous materials and iron that are commonly found in bluestone naturally to react & rust in response to this treatment.
Step 2 – Take Proper Preventive Measures
Like most things in life, prevention is always better than cure. Therefore, when you wish the bluestone pavers at your patio or driveway to appear brand-new all the time, you should get the same sealed upon installation. When you seal the same, it will make the overall cleaning process simpler.
Step 3 – Ensure Proper Stain Removal Processes
Different types of stains could create a major impact on the bluestone pavers and make them appear less attractive. Therefore, you should be aware of the right measures of stain removal for different kinds of stains out there.
Organic Stains: These pink-blue stains could be caused due to leaves, coffee, and fruits that are left behind on the surface of the pavers. You can simply remove the stain-causing material and allow sunlight to cause natural bleaching of the stain.
Oil: For oil removal, you can make use of a liquid dishwasher diluted with water to remove the stain.
Ensure the best-ever care for your bluestone pavers!