All you need to know about Bluestone Pavers
All you need to know about bluestone pavers
Are you searching for innovative bluestone landscaping ideas for your pavers?  Whether you are working on a new landscaping project or renovating the existing space, installing the right pavers on the outdoors is an important concern. Thankfully, there is a myriad of pavement choices available out there for your landscaping project. Bluestone is a versatile paving material and has been used as pavers from centuries because of its longevity and less maintenance. 
Out of all the natural stone paving options, the homeowners across Australia are opting for top-grade Bluestone pavers for improved aesthetics and functionalities. In this post, we will help you unravel all that you need to know about Bluestone pavers for both residential as well as commercial premises.
What is Bluestone Pavers?
Bluestone is a famous naturally occurring blue-grey coloured stone that is utilised across a series of residential as well as commercial properties for landscaping purposes. These attractive pavers are available in all possible shapes & sizes and impart an appealing look to the outdoors, including the swimming pool pavers, patio paves, and so more.
Given its natural appeal and improved functionality, Bluestone pavers turn out to be one of the most sought-after options for architectural projects. The natural stone is known to obtain its characteristic colour from the wide range of minerals that are fossilised during rock formation.
The natural stone is known to feature the presence of angular grains along with depicting a porous surface texture all over. This is the reason why this natural stone is highly preferred for outdoor paving areas like swimming pools, pathways, and Bluestone patio pavers. 
Learn more about what is bluestone?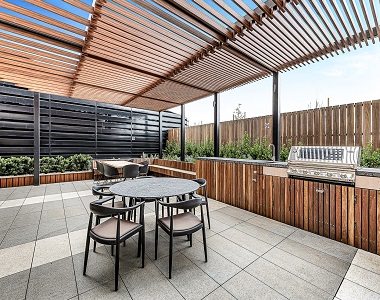 Why Landscapers use Bluestone for paving? 
Bluestone is a popular choice for bluestone is irregular crazy paving, bluestone French pattern paving and dimensional pavers. Additionally, it is also commonly used for major architectural elements of any structure, including the stoops, veneers, stairs, thresholds, sills, hearths, patio, driveways, pathways, outdoor paving and more. Additionally, you can also consider installing Bluestone pavers as interior tiles, countertops, pool pavers, wall cladding and bluestone pool coping tiles. All these multiple uses make the bluestone pavers as the favourite choice of landscapers. 
The natural stone is highly preferred for its naturally light shade featuring purples, greys, blues, green, and rust tones as well. Bluestone pavers turn out to be the ideal choice for the outdoors owing to the overall durability as well as hard-wearing characteristics. There are different types of bluestone pavers available in Australia, you can choose to lay whichever suits best with you paving requirements and budget.
You can bluestone pavers prices or shop cheap pavers in our stock. Mainly, the Bluestone Patio Pavers, bluestone Wall Cladding, bluestone cobblestones and bluestone crazy pavers looks stunning upon installation in the larger outdoor areas. 
Top Benefits of Bluestone Pavers
Are you thinking of changing the pavers for your next renovation project? Here are some of the top benefits of our premium-grade Bluestone pavers that you would love to embrace:
Sealing: There is no denying the fact that a porous natural stone like Bluestone will be holding a large amount of water. However, with the passage of time, the stone might end up losing its natural strength. This is the reason why Bluestone is sealed before installation. Most of the time, sealing is preferred after grouting to protect the natural cat's paw in bluestone. 
When you make use of a sealer, it not only helps in protecting the pavers, but also helps in enhancing the natural colours of the stone. You can consider making use of a high-gloss sealer for adding more shine to the given surface. Upon sealing the surface, some of the potential benefits to look out for are:
Protection from stains, scratches, and damages
Protection of the surface from chlorine water near the pool areas
Safety against heavy foot traffic
Minimization of the accumulation of grime & dust in the outdoors
High Density: The natural Bluestone is known to feature a high-density value. Therefore, it features the innate ability to withstand any unfriendly or harsh weather conditions. Moreover, the stone is also known to be resistant to the harsh freeze-thaw cycle, which is a great characteristic.
Improved Safety: As the natural Bluestone features the cutting-edge rough-textured surfaces, it is a highly safe option for a wide range of flooring projects –both residential as well as commercial. With proper sealing, the overall safety characteristic of the natural stone enhances significantly. As such, the natural cleft pavers become ideal to be utilised near the pool area. This is because of the advanced anti-slip nature that the stone portrays after sealing.
Great Versatility: Out of all the available paving options, bluestone turns out to be one of the most versatile natural stones out there. The overall texture, as well as strength of the natural stones, makes it highly versatile for a wide range of applications. Some of the regions wherein Bluestone can be installed easily are the sidewalks, bluestone pool pavers, walkways, bluestone driveway pavers, garden paths, bluestone stepping stones, and even the backyard area.
Ease of Maintenance: Another major benefit of using Bluestone for your landscaping project that it is immensely easy to maintain in the long run. Once the bluestone's surface is sealed properly, you would only require a brush and water to clean the surface. The only advanced maintenance recommendation for the surface is power washing once every few years.
Popular Bluestone Pavers Suppliers in Australia
There are many suppliers who sell bluestone paving but the ones you can rely on are Stone and Slate Discounts and Bluestone Pavers, are quite popular in the industry apart from us.
Whether you wish to improve the overall aesthetics of the outdoor area or enhance its functionality, Bluestone pavers turn out to be the ideal options out there. Before you delve into a residential or commercial landscaping project, you should do in-depth research about the kind of pavers you would want.
If you looking to buy bluestone pavers or seeking laying advice, call on (03) 9706 9767