Curved Bluestone Pool Coping Tiles
Curved Bluestone Pool Coping Tiles
It gets quite overwhelming for homeowners to select the best natural pavers for pool coping. You are supposed to take a few important factors into consideration before making a purchase. For instance, the natural pavers you choose for pool coping must have an anti-slip surface. Secondly, they need to be weather and water-resistant since they will be surrounded by water and exposed to the weather.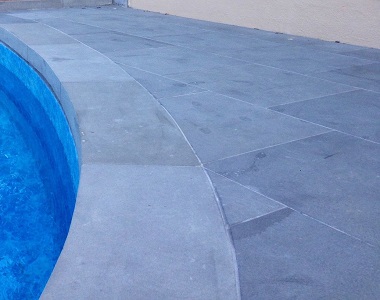 Usually, homeowners prefer bluestone for pool coping. This natural stone is known for its strength and versatility. You could use it for all your exterior paving projects, including patio, deck, driveway, pathway, stepping stones, wall cladding, garden, and more. The anti-slip surface of this stone means it offers the best grip even when it's wet.
The Best Natural Stones for Pool Coping
Australia is famous for its natural stone markets. Australians love to organize evening parties at their place in summer. What could be a better way to cool down than by chilling with your friends by the pool? That's why Australians build a pool in their backyard. Not only do they invest in the construction of a swimming pool, but they surround the edges of the pool with sturdy and hard-wearing natural stones.
There is no denying that the country offers you a broad range of natural stones that look stunning in all settings. Bluestone is one such natural paver that makes a perfect option for pool coping. Commonly known as basalt, bluestone is a versatile and durable natural stone. Available in a range of shapes, colors, and sizes, bluestone resembles the cobblestone. You could install this versatile paver in your backyard and deck. One quality that makes bluestone popular is its salt-resistant properties.
Why Choose Bluestone for Pool Coping?
Considering that the water in your swimming pool contains chlorine, salt, and other chemical solutions, it is important to invest in a stone that could resist these harmful chemicals. Bluestone is your best pick if durability and resilience are your main concerns. Like other natural stones, a bluestone is a cost-effective option. The stone has the potential to withstand weather and harmful chemicals. These dense and modern natural slabs look gorgeous around a swimming pool. In fact, most homeowners in Australia prefer bluestone for pool coping.
Bluestone pavers have become quite a popular choice for all types of paving projects. These natural stones are used on the floors and walls of commercial and residential space. Bluestone is especially recommended for pool coping. We have already mentioned the reasons. It is dense, durable, versatile, salt and water-resistant, and not to mention, a cost-effective solution. This natural paver has an anti-slip surface, meaning you will not have to worry about the accidents happening around the pool.
Custom made curved bluestone pool coping tiles have been installed on this salt chlorinated swimming pool in Melbourne. The client supplied Steve Taylor ( Master Stonemason) with the templates, which Steve duly checked prior to manufacturing. View our entire bluestone range here
Conclusion
When you wish to make the most out of the inground pool at your home, installing pool coping is essential.
Make use of top-grade coping materials like natural stone pavers or tiles for the best outcomes.
If you are based in Melbourne, Sydney, Canberra, Adelaide, Brisbane, Hobart, Geelong or anywhere in Australia and looking for pool coping tiles then there is no better place than STONE PAVERS AUSTRALIA. You will find the quality natural stone pavers for the cheapest prices in the market.
We provide express posted FREE SAMPLES + FREE STONEMASON ADVICE + Door-to-door Delivery Australia-wide. You are just a phone call away from all the DISCOUNTS we have to offer. Call us today on (03) 97069767 and get a FREE Quote on your pavers.
Simply contact us and get your FREE Sample delivered at your doorstep.
Call us for more information on Delivery services.
Hope you enjoy reading our Blog. Wish to see you soon.