Melbourne bluestone pavers project ideas
Melbourne Bluestone Project Ideas
Bluestone pavers have been used in a range of exterior paving projects for years. This natural stone is famous for its durability and cool tones. There is no denying that bluestone happens to be one of the most attractive natural pavers for driveways, pool coping, patio, deck, entryway, and walkway. You can use it to renovate your landscape and increase the value of your property.
Different Ways to Lay Bluestone
The specialty of this natural stone is its flexibility. You can cut bluestone in uniform sizes and shapes, such as rectangular or square cuts, or install the random-sized bluestone in a free-flow pattern. If you opt for the irregular sized bluestone and lay them in a random pattern in your backyard, you will get a crazy-paving pattern.
"Natural Bluestone Crazy Paving"
Both the uniform and irregular paving patterns are quite famous in Australia. If you would like to give your home a traditional touch, then laying these pavers in a free-flow manner will be your best option. Crazy paving is highly recommended for homeowners who plan on creating a retro-inspired home. Crazy paving can be a little expensive as the labor cost is high for such patterns. Usually, people install bluestones as crazy pavers in their backyard and entrance.
The Perks of Bluestone Pavers
One major reason why bluestone is chosen for the exterior renovation project is its earthy and cool tones. This natural stone is available in blue, grey, and black hues that look quite cool in your backyard. No matter where you install the bluestone pavers, this natural material will complement your landscape.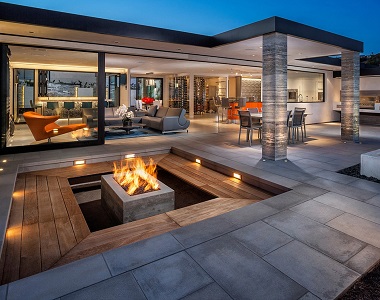 "Hardaway Bluestone Tiles & Pavers"
Bluestone can endure even the harshest weather easily. This natural paving material can resist high temperatures, moisture, and snow. It lasts for several years. Bluestone is mainly used around the swimming pool. Its only drawback is the high cost. Though natural bluestone doesn't cost a fortune, its price is slightly higher than concrete and man-made stones. These natural pavers justify the price tag by offering the best protection and a stunning landscape.
Bluestone Pavers for Pool Coping
Australian homeowners use bluestone pavers for pool coping. First of all, this natural stone features an anti-slip surface that prevents unnecessary accidents around the pool. Secondly, bluestone looks quite attractive. It is capable of adapting to almost all kinds of landscapes seamlessly.
"European Bluestone Drop Face Pool Coping"
With bluestone pavers installed around your swimming pool, you don't have to worry about your kids playing by the pool. Besides that, this natural stone does not need high maintenance. Washing the pavers twice or thrice a month will do. The darker and natural tones of these pavers look gorgeous in traditional and contemporary settings. Moreover, bluestone offers a strong foot grip to swimmers. It prevents pool accidents.
Contact Us Today!
Looking for quality Bluestone Paving for your next DREAM home, residential or commercial project? Great! You are at the right place. STONE PAVERS provides all types of natural stone pavers for the lowest prices in the market. Our wholesale prices will be worth spending each and every penny. Request your FREE SAMPLE or visit our showroom located in Melbourne, Victoria. Call us today on (03) 9706 9767 for FREE laying/paving advice or request a FREE quote. Take Full Advantage of our ongoing Bluestone Sale.