Bluestone Pool Coping and Pool Pavers
Bluestone Pool Coping
A swimming pool is a great addition to your modern home. It enhances the curb appeal of your property. However, the swimming pool looks cool when they are surrounded by some natural stones. In other words, you should consider pool coping. Pool coping is the best way to accentuate your swimming pool.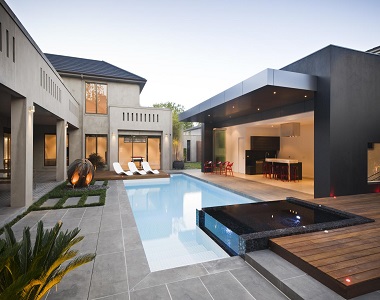 It differentiates your pool from the surrounding area. Not only does it improve the aesthetics of your garden, but coping is an integral part of your swimming pool décor. For pools made of concrete, proper coping is important. Swimmers can hold on to the coping for a short break. It also protects you from unwanted cuts and scratches. Now, the question is which material is the best for pool coping?
There are a number of factors you need to take into account when it comes to selecting the best material for pool coping. The material you choose must complement the exterior décor theme. Additionally, it is important to consider the pool water before buying natural stones for coping. Since you are installing the pavers around the swimming pools, you will need to choose the stones that feature a non-slip surface. 
Benefits of Installing Bluestone Pavers around Your Swimming Pool
Bluestone is an ideal option for swimming pool coping. Owing to its non-slip texture, it is safe to say that bluestone coping tends to last for years. Not only for pool coping, but bluestone pavers are extensively used for a wide range of commercial and residential applications. These sturdy natural stones can endure foot traffic and weather elements.
Though bluestone is also used for indoor applications, they are mostly found in the backyard, patio, driveway and walkway, and around the swimming pool. Due to their hard-wearing quality and versatility, these stones have become the contractor's favorite choice for outdoor paving applications.
This natural stone is sold in a broad range of shapes, colours, sizes, and patterns. The installation process is quite simple. In fact, you can DIY the bluestone pool coping installation. The best part is that the stone is available at a reasonable price. In this post, we are going to discuss some important reasons why you should consider Bluestone for pool coping. Let's take a look:
Whether you are planning to take a dip in the pool or come out of your swimming pool, you will need a robust and non-slip surface. One of the main benefits of Bluestone is its non-slip surface. The stone is specially installed in areas that receive a significant amount of moisture. With bluestone pavers installed around your swimming pool, you will not have to worry about the unexpected falls and slip accidents. The installation of this anti-slip pool paver is extremely important for families with kids.
In order to protect and maintain your pool structure, you are going to need a strong coping material. Bluestone does wonders for your pool. It acts as a protective layer around your swimming pool. Not only does it prevent accidents, but bluestone pool coping can retain the shape and structure of your swimming pool. It maintains the rigidity in the pool walls and overall structure. Moreover, it prevents weather and water damages to your pool. The high density of this natural stone makes it a weather-resistant material.
Your pool needs regular maintenance to stay in shape. But, it is not just your pool that needs protection. The water from the pool is likely to splash over the patio or deck. This can damage the floor of your deck. Moreover, you will need to clean the deck multiple times. Bluestone pool coping is the best way to maintain your pool and prevent unnecessary damages.
First of all, bluestone is one of the cost-effective coping materials on the market. The exact price depends on the thickness and pattern of the material. However, these stones are cheaper than other expensive pool coping materials. Additionally, they are strong enough to endure moisture and hot weather. This helps you to save some bucks on unnecessary repairs in the long run.
Bluestone has multiple safety applications. Its anti-slip surface makes it a popular material for swimming pool and exterior paving. But, that's not the only quality of this stone. Bluestone looks stunning. They act as a decorative piece. Besides, bluestone adds texture to your swimming pool design. It is a perfect option for homeowners who want a stylish, contemporary-design, textured surface around their swimming pool.
Bluestone is known for its versatility. In addition to the swimming pools, this natural material can be used for stepping stones, walkways, feature walls, garden paths, sidewalks, and patio. It is the architects' best choice for exterior applications.
Bottom Line
When it comes to pool coping, you need to select a material that can resist weather and moisture. Most importantly, the material you choose must feature an anti-slip surface that prevents unexpected falls and accidents. Bluestone has all these properties. It is a dense, weather-resistant, and anti-slip natural stone. Being a hard-wearing material, bluestone can endure foot traffic and weather.
Conclusion
When you wish to make the most out of the inground pool at your home, installing pool coping is essential.
Make use of top-grade coping materials like natural stone pavers or tiles for the best outcomes.
If you are based in Melbourne, Sydney, Canberra, Adelaide, Brisbane, Hobart, Geelong or anywhere in Australia and looking for pool coping tiles then there is no better place than STONE PAVERS AUSTRALIA. You will find the quality natural stone pavers for the cheapest prices in the market.
We provide express posted FREE SAMPLES + FREE STONEMASON ADVICE + Door-to-door Delivery Australia-wide. You are just a phone call away from all the DISCOUNTS we have to offer. Call us today on (03) 97069767 and get a FREE Quote on your pavers.
Simply contact us and get your FREE Sample delivered at your doorstep.
Call us for more information on Delivery services.
Hope you enjoy reading our Blog. Wish to see you soon.