Granite Pool Coping Tiles 
Having a swimming pool is always cold, but the designs and the way it is maintained matters the most. The most effective way to increase the quality of a swimming pool is to use pool coping tiles. And among all coping materials, graphite is the most chosen one and a reliable one.
Coping means to cover a wall by stones, brick, wood, clay, concrete, etc. It is done in order to increase the strength of the surface, which is to be covered. Not only do they make the surface strong but also beautiful and weather durable. They can be available as even colour and even shape to random shape and multi-coloured. Sparkling in sunlight in these coping surfaces is due to the presence of mica in them.
Granite Pavers and stones are also a naturally occurring stone that has found widespread use in the construction sector. While the stone is used beside pools, lawns, patios, driveways, walkways, and many more, the pool coping tiles have found more popularity with the users.
Most Chosen Tiles
Granite Pavers are the most selected and chosen one for coping because of its texture and durability, which gives a relaxing sensation in a pool. Swimming pools with granite coping tiles will radiate elegance, style, and class. There are many types of coping that uses granite only. Granite is massive due to the lack of internal structure and malleable to be beaten into any shape.
"Installation Image of Raven Grey Granite Bullnose Pool Coping"
Granite also holds the title of a smooth material for which it is chosen as a design material in many constructions. It is available in many colours, and so every colour will give a new design and a new view as a result. Also, granite has various names and types in the market.
Black Granite 
It is preferred when non-slip is a priority. It gives a modern, urban look with its cool tones as dark objects retain more heat, so it is not preferable in places where there is a long exposure to the sun.
"Installation Image of Midnight Granite Drop Face Pool Coping"
Grey Granite
It is a durable and dense stone with high resistance to slip. It is a grey tone stone, so the heat retention of this stone is high and is not preferred with long exposure to the sun.
"Installation Image of New Raven Grey Granite Drop Face Pool Coping"

"Installation Image of Raven Grey Granite Bullnosed Pool Coping"
White Granite
This exotic granite tiles and pavers is one of our most popular granite range. Stones can also warm up during a hot summer day therefore we recommend this lighter colour granite.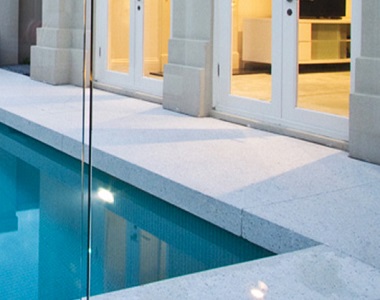 "Installation Image of Dove White Granite Drop Face Pool Coping"
"Installation Image of Smokey Quartz Granite Drop Face Pool Coping"
Yellow Granite
It can be used for both traditional and modern style because of its warm colour tone. It is stain-resistant and is cooler than other darker shades. Also, it has very minimal maintenance.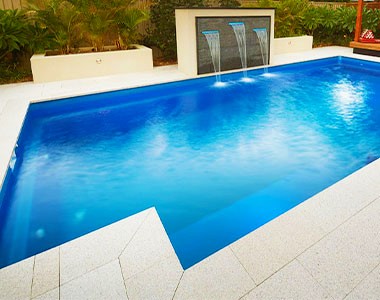 "Installation Image of Summer Daze Drop Face Pool Coping"
Conclusion:
There are many stones and slabs which can be used for coping as pool tiles, but granite is chosen mostly because of its variation and different characteristics. [Read more about What is Granite? ]
That is why it is one of the most popular natural stone tile choices of Australian Homeowners. [Read Granite Frequently Asked Question to learn more. ]
Get FREE Quotes + FREE SAMPLES by Stone Pavers Australia
Stone Pavers are the LARGEST Natural stone providers across Australia. We are known for providing quality products at low prices.
If you are looking for buying granite tiles or granite pavers or any other stone tiles in Melbourne, Sydney, Brisbane, Adelaide, or anywhere across Australia.
Give us a call today on 03 9706 9767 and receive a FREE QUOTE or you can request an express posted FREE SAMPLE before purchasing our products.
Simply fill our contact us form for the orders or free sample enquiries.
Get some installation ideas from our beautiful stone tiles Granite Image Gallery.