Granite Tiles
Granite Pavers is not a new term in the construction sector. People have used granite tiles for many years altogether, which is a versatile and popular choice in the housing business. The stone is used as a decorative stone, architectural stone, and has also been used to manufacture various products.
Granite Tiles are most widespread use is in buildings, bridges, pavements, and exteriors of homes and apartments. The elegance and superior quality of the material make it a superior choice for every building and homeowner. Some of the other aspects of the granite paving stone are mentioned below.
What are Granite Tiles?
There are many definitions that Granite has. It is a coarse-grained rock that is formed during rigorous volcanic activity. One of the most familiar uses of Granite is through tiles.
It is an already known fact that Granite is one of the hardest materials found on earth. The rock is found in different colours and designs, which makes it a reliable option for exterior house works.
"Installation Image of Dove Granite Pavers and Tiles"
Apart from the prime reason why Granite is popular in all aspects is due to the fact that it is versatile and durable.  But like in every type of natural stone, Granite also has various aspects which makes it popular among users:
Charming: Granite tiles have a cool sense of charm and aesthetic designs that give a sophisticated look to your home's exteriors. The tiles are packed with textures and variable designs, which is difficult to find in any other stone.
Versatile: Granite is versatile in nature and thus find use in a variety of applications. These can are driveways, patios, walls, and stepping stones.
Durability: Granite is one of the sturdiest materials found in the earth mantle. Due to the rock's natural formation under high pressure, the stone is heat and damage resistant. This makes it best for using it for driveways.
Can be used everywhere: Due to the high amount of heat and damage resistant property, granite tiles can be used in paving, curbing, cladding, and other purposes.
Easy To Maintain: The naturally formed rocks are easy to maintain because of their high resistance to spills and damages.
Why Go For Granite?
As mentioned earlier, like a rock, Granite is blessed with many features that are not to be found in any other stone. The rock is perfect for outdoor use and is quarried across many continents around the globe.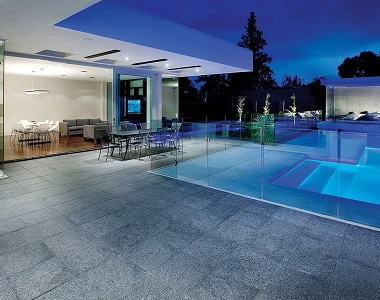 "Installation Image of Raven Grey Granite Pavers and Tiles"
Out of all places, Australian Granite is said to have the most top-notch quality. The various shops across the country's major cities have access to all sorts of granites, which are difficult to find anywhere else. Due to these factors and economic prices, Granite from Australia is the only choice for people in and across the world.
Conclusion
There are many stones and slabs which can be used for coping as pool tiles, but granite is chosen mostly because of its variation and different characteristics. [Read more about What is Granite? ]
That is why it is one of the most popular natural stone tile choices of Australian Homeowners. [Read Granite Frequently Asked Question to learn more. ]
Get FREE Quotes + FREE SAMPLES by Stone Pavers Australia
Stone Pavers are the LARGEST Natural stone providers across Australia. We are known for providing quality products at low prices.
If you are looking for buying granite tiles or granite pavers or any other stone tiles in Melbourne, Sydney, Brisbane, Adelaide, or anywhere across Australia.
Give us a call today on 03 9706 9767 and receive a FREE QUOTE or you can request an express posted FREE SAMPLE before purchasing our products.
Simply fill our contact us form for the orders or free sample enquiries.
Get some installation ideas from our beautiful stone tiles Granite Image Gallery.