What is Granite?
Granite has become the most sought-after material for home décor industries. Homeowners in large numbers consider granite surfaces as they are easy to maintain and enhance the curb appeal of their home.
Granite happens to be a centuries-old stone. Earlier, it was mainly used for construction requirements.
It is specifically known for its volcanic properties that make it as robust as a diamond. This light-colored and strong stone comprises amphiboles, mica, feldspar, quartz, and other crucial minerals.
Granite is a common yet ubiquitous stone or granite pavers that has multiple applications. The stone is used to manufacture an extensive range of products that we use in our everyday life, such as paving stone, countertops, cemetery, tiles, stair treads, curbing, and so on.

Installation Image of Raven Grey Granite Pavers
Let's learn more about the multiple applications of this traditional stone.
Multiple Uses of Granite
As mentioned above, people have used granite for multiple applications in the past centuries. It is used as the decorative stone, construction stone, and architectural stone for thousands of years.
The special properties of Granite make it strong enough for the manufacturing of a host of daily-use products.
Monuments and Ancient Buildings
The centuries-old temples and gravestones that have stood the test of time are all made of granite.
Today, the advanced tools have made it quite easy for the miners to extract this powerful stone. In the past centuries, carving granite was considered a challenging and time-consuming task. So, the stone was reserved for special and crucial projects.
People used this stone for the construction of the monuments that were supposed to last for years. The temples made of this strong stone have survived the ravages of time and still stand intact.
Granite is mainly found in monuments, temples, cathedrals, and other ancient buildings.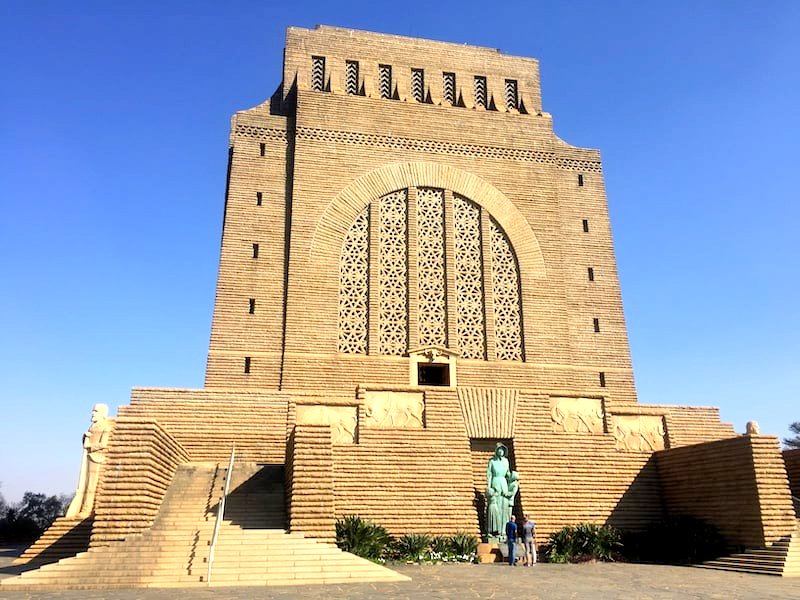 The Voortrekker Monument – Granite colossus that stands proudly over the city of Pretoria
You must have seen the Cathedrals, great pyramids, and roman bridges. Well, one common thing in all these monuments is Granite.
Natural Split granite is considered one of the most impressive natural stones for driveways and pathways. In addition to being used in monuments, sandblasted and natural split cobblestone granites are perfect for driveway pavers.
This versatile material is used in conjunction with Bluestone cobblestones. Mostly cobbles are made of granite and bluestone because of the durability and strength of stone to deal with heavy vehicles.
Bluestone cobbles and granite are often used together in driveways and pathways for decoration as well as for multiple strengths.
The striking properties of Bluestone and the subtle design of granite make these stones a perfect combination for driveways, pathways and walkways requirements.

Installation Image of Golden Quartz Cobblestones
Granite is especially known for its high resilience properties. This strong stone is extensively used as the granite paving material for walkways.
Being a highly durable material, Granite helps construct hard-wearing paving. Additionally, the stone is also found in patios.
It looks quite mesmerizing on terrace and patios. Another ideal application of Granite tiles is the paving around the swimming pool.

Installation Image of New Raven Grey Granite Pavers
Granite is an ideal material for patio because of its weather-resistant properties.
The best part about this hard-wearing stone is its broad range of shades and granite colors. The slabs come in a wide range of colors including but not limited to red, green, grey, and black.
Homeowners often prefer granite for patio from the leading granite suppliers Sydney.
Homeowners mostly prefer granite pavers for all the wet areas in their property. This mainly includes the garden area and the swimming pool area. This is because granite is resistant to moisture.
It preserves your pool paving wet tiles from unnecessary moisture. Granite has the potential to protect your floors from standing liquid and excess moisture.
It is an ideal stone for people who have allergy issues.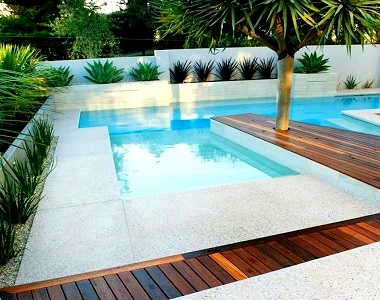 Installation Image of Dove White Granite Pavers
Being an easy-to-maintain material, Granite reduces the risk of allergens and contaminants in your home.
Experts recommend washing and mopping the floor once a week is sufficient to remove dust and grime.
There isn't a better way to showcase the beauty of this hard-wearing and durable stone than by using large slabs of granite on your staircases.
Granite is a fire-resistant material. Perhaps, it is one of the best qualities of this stone.
Granite staircases and mantelpieces tend to last for years without showing the sign of wear and tear.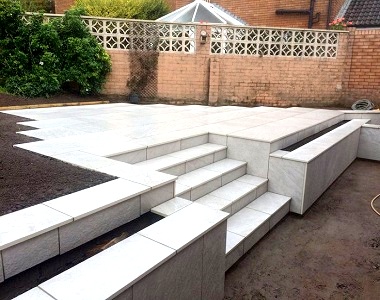 Installation Image of Smokey Quartz Granite Pavers
Granite Pool Coping Tiles
Only a few natural stones can match the beauty and properties of Granite. This fire-resistant, water-proof, easy-to-maintain, and heat-resistant stone is an ultimate option for coping around the pool.
The stone doesn't catch scratches and stains.
Installation Image of Dove White Granite Pavers
Being a hard material, Granite survives normal wear and tear effectively. It is far better and durable as compared to artificial paving materials like porcelain.
Another interesting benefit of the Granite pool coping is that its color does not fade.
Conclusion
Looking for granite paving for your next renovation project? Great! get in touch with us as we are Australia #1 Natural Stone Paving Suppliers and supply tiles and pavers in Victoria, New South Wales, Queensland, Southern Australia and Tasmania.
If you would like to check our stone quality you are most welcome to order our Express Posted FREE SAMPLE services. Just simply fill out our contact form and request a sample of your choice of tile. 
We also provide FREE STONEMASON advice over the phone or in person. There are many other services that we provide that you can take advantage of. Call us on (03) 9706 9767 for more information.
Meanwhile, browse our range of Granite pavers and enjoy shopping on SALE prices.