Why is granite good for paving?
Why is Granite Good for Paving?

Granite pavers is one of the highly recommended natural stone pavers for your indoor and outdoor paving projects. It does not cost a fortune and your investment in these granite outdoor tiles is totally worth the outcome when it comes to selling your house. Considering the extraordinary properties and unmatchable aesthetic appeal of granite pavers Melbourne, it wouldn't be wrong to say that granite is an ideal choice for all kinds of outdoor paving areas- be it granite pool pavers or granite driveways.
The most notable feature of granite pavers Brisbane is its contemporary look. These pavers are used extensively in the construction project, granite paver happens to be a reliable and versatile paver that is suited towards all outdoor areas.
Granite pavers comes in an array of colours and patterns. Given the durability and hardness of granite pavers, it isn't surprising to say that some many homeowners are leaning towards the idea of using granite as their outdoor paving area. These pavers look gorgeous and are highly functional. They require minimal cleaning and maintenance.
Granite Pavers- A Durable and Versatile Paver for all Landscaping areas
Granite have been getting a lot of attention from homeowners. Contractors recommend granite pavers to be used as granite driveways, granite pool pavers, granite pool coping, and other exterior applications. In fact, granite pavers around a pool is one of the few natural stones that does not look dull even when it ages.
Durability is never a concern with granite pavers because the material is designed to resist the harshest weather conditions. It can outlast the building you are installing these pavers in. It is a perfect choice for homeowners who want their outdoor pavers to lasts for generations. Granite stepping stone do not show any sign of disruption in the long run, these granite pavers can tolerate any climate seamlessly.
The Natural Character of Granite Pavers
Due to it being a high quality stone paver, granite pavers are often seen as a luxury material for your residential or commercial building material. The subtle beauty of granite paving can brighten up any dull space while adding a modern look to your outdoor paving area. Like other natural stone pavers, granite Melbourne has gained popularity because of its durability. Granite outdoor tiles seems to be the most preferred natural stones out in the Australian stone market. Granite pavers are available in grey, black, white, yellow. The most popular granite are black granite paving and grey granite paving.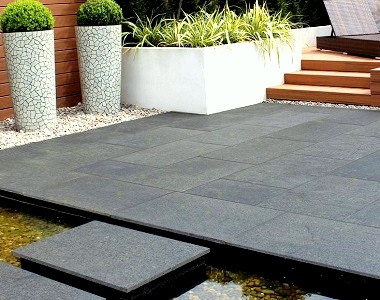 Installation image of Midnight Black Granite Pavers
No matter which colour you choose, granite pavers will look good due to its minimalistic design. That's the beauty of granite. You can order granite pavers featuring consistent colours and a unique design to give your place a touch of sophistication and elegance. If you want to create a contrast or a pattern, you can use granite crazy paving for your outdoor paving area.
Versatility and Maintenance
Versatility is another beautiful feature of granite pavers. Whether you want to create an ultra-modern swimming pool or a retro-inspired driveway, granite pavers in regular and irregular shapes will make a great choice. In addition to colours, granite comes in multiple finishes. You can choose the material that fits your individual taste and budget. Flamed and exfoliated granite pavers are quite popular for patio and driveway paving. They can be used for outdoor landscaping projects. Meanwhile, you also get to select from a wide range of styles and patterns, such as bullnose, drop face, and arris-edge pavers for your swimming pool.
Installation image of Grey Granite Pavers
Contrary to what people believe, granite Melbourne is not only for luxury homes. Even homeowners with a tight budget can get granite pavers. You can use the same pattern or choose a combination of granite cobblestone and granite crazy paving to give your space an aesthetic lift.
Why Choose Granite Paving?
Granite paving is undoubtedly the ultimate choice for a unique and gorgeous landscape. It can help you design a patio or driveway that stand out for their aesthetic appeal and durability.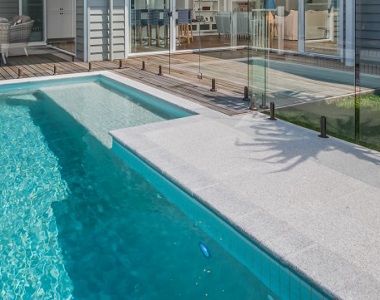 Installation image of Raven Grey Granite Pavers
Dove white granite pavers happens to be the most liked paving material out there, its durability combined with low-maintenance properties can offset your upfront investment in no time. Unlike artificial pavers, granite does not need to be replaced every now and then. It doesn't crack or get stained from changing weather conditions, which means you don't need any paver repairing and replacement for years.
Conclusion
Looking for granite paving for your next renovation project? Great! get in touch with us as we are Australia #1 Natural Stone Paving Suppliers and supply tiles and pavers in Victoria, New South Wales, Queensland, Southern Australia and Tasmania.
If you would like to check our stone quality you are most welcome to order our Express Posted FREE SAMPLE services. Just simply fill out our contact form and request a sample of your choice of tile.
We also provide FREE STONEMASON advice over the phone or in person. There are many other services that we provide that you can take advantage of. Call us on (03) 9706 9767 for more information.
Meanwhile, browse our range of Granite pavers and enjoy shopping on SALE prices.
SHOP OUR BEST SELLING GRANITE PAVERS
Read More about Granite Pavers – Learning Centre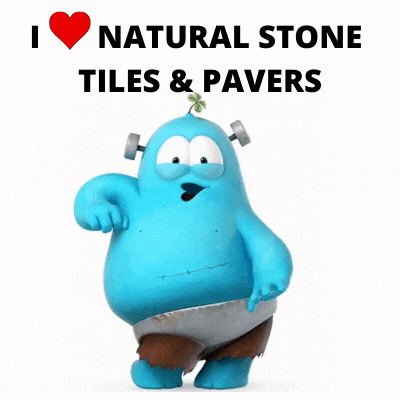 CALL US TODAY! Order Your FREE SAMPLE – Express Posted