Granite Pool Pavers
Homeowners looks for quality and durable options for their floor area in the garden, deck, patios, and outside area. Inside the home, they look for flooring, which can withstand regular foot traffic in it along with the comfort to feet.
While for outdoor and parking areas, they look for paving which can withstand heavy vehicle load without any regular repairing and maintenance in the floor. Granite pool pavers are the best choice for all these requirements at a cost-effective rate.
Granite Pavers and stones are also a naturally occurring stone that has found widespread use in the construction sector. While the stone is used beside pools, lawns, patios, driveways, walkways, and many more, the pool coping tiles have found more popularity with the users.
Performance of quality Pool Paving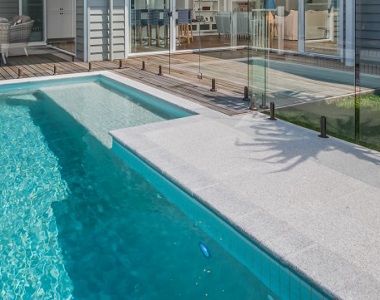 "Installation Image of Dove White Granite Bullnosed Pool Coping"
The surface area around the pool is one of the important regions of your pool space. To have the right pool paving on the surface of the pool area is important not only from an aesthetic point of view but also from the view of overall functioning in it.
To have quality pool paving around the pool area will allow exposure to salty and chemical surroundings in the floor area without any compromise in its condition.
It will not be too hot and slippery under your wet feet. There is a variety of natural and synthetic material available, which creates a superior pool deck, patio, and garden flooring, but the granite paving is a matchless option with a sophisticated pool setting and durability.
Characteristics of Granite stone:
Granite is one of the hardest natural stones.
It is made up of quartz and has a tendency to repel water and holding its shine for a long period of time.
It provides non-slippery holding to your feet, so it is an ideal option for pool deck and patio.
It is one of the strongest paving options in your pool area, so its design remains the same throughout its life without any deterioration.
To have higher strength, make it a suitable option for handling vehicle load in your outdoor and parking area without any rupture.
Surface quality in granite flooring
"Installation Image of Grey Granite Drop Face Pool Coping"
Granite paving stones are available in various geometric shapes to add no restriction while selecting it for your specific designing in the surrounding of the pool area.
They are available in infinity edge, perimeter overflow, freeform, geometric, kidney-shaped, or classic rectangular shape design. Granite has a good sealing tendency with other coping material on the floor and also has low porosity, which doesn't allow any effect of salty and chemical material on your floor.
Having the good sealing quality of Granite makes it the best choice for withstanding harsh environments. It is easy to provide any specific contour and to rivet in edges of the granite floor, which makes it a suitable choice for complicated designing in the floor area of your patio with a high surface finish.
Along with all these benefits, granite paving has low cost in terms of quality and performance it is providing in your paving area. It does not require any refinishing, hard maintenance, and upkeep tasks throughout its life span.
Conclusion:
There are many stones and slabs which can be used for coping as pool tiles, but granite is chosen mostly because of its variation and different characteristics. [Read more about What is Granite? ]
That is why it is one of the most popular natural stone tile choices of Australian Homeowners. [Read Granite Frequently Asked Question to learn more. ]
Get FREE Quotes + FREE SAMPLES by Stone Pavers Australia
Stone Pavers are the LARGEST Natural stone providers across Australia. We are known for providing quality products at low prices.
If you are looking for buying granite tiles or granite pavers or any other stone tiles in Melbourne, Sydney, Brisbane, Adelaide, or anywhere across Australia.
Give us a call today on 03 9706 9767 and receive a FREE QUOTE or you can request an express posted FREE SAMPLE before purchasing our products.
Simply fill our contact us form for the orders or free sample enquiries.
Get some installation ideas from our beautiful stone tiles Granite Image Gallery.