Granite Pavers are a naturally occurring stone that has found widespread use in the construction and residential sector due to its hard wearing qualities. Granite pavers Melbourne are suitable for pools, lawns, patios, driveways, walkways, and many more.
When it comes to paving or renovating any pool areas, granite pool pavers and its matching granite pool coping tiles is one of the best choices for any swimming pool areas due to its non slip and scratch resistant features. We offer a large range of granite pavers and our best sellers are black granite pavers and grey granite pavers.
SHOP GRANITE POOL PAVERS ON SALE
Why Choose Granite for Pool Pavers?
The area around the pool is one of the important factor to consider when choosing your pavers and pool coping. Having the right pool pavers on the surface of the pool area is important not only from an aesthetic point of view but also from the overall function.
Having quality pool pavers around a pool is important in the long run therefore, we recommend going with granite pool pavers. If you are worry that black granite pavers may be hot under the foot. Not to worry!  Here at Stone Pavers we are the largest granite suppliers and we offer a wide range of granite pavers for sale at the moment. If you are worry we recommend going with white granite pavers or grey granite pavers as it will not be too hot under your wet feet.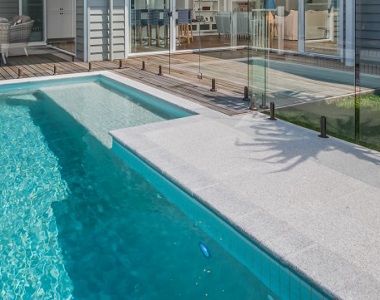 "Installation Image of Dove White Granite Pool Coping"
Characteristics of Granite Paving Stone
Granite Pavers Melbourne is one of the hardest natural stones.
It is made up of quartz and has a tendency to repel water and holding its shine for a long period of time.
It provides non-slippery holding to your feet, so it is an ideal option for swimming pools and driveways.
Granite Pavers is one of the strongest paving options in your pool area, so its design remains the same throughout its life without any deterioration.
Granite Melbourne also has higher strength, making it a suitable option for handling vehicle load in your outdoor and parking area without any rupture.
Surface Quality in Large Granite Pavers 
The most popular granite paving sizes are available in either 500×500 and 800×400. Granite paver prices starts from $60 approximately. The matching granite pool coping are available in drop face edges, arrised edges and bullnose edges. If you want granite pavers to withstand harsh environments, sealing your granite pool pavers its matching pool coping is highly recommended.
"Installation Image of Granite Pool Pavers Drop Face"
Granite pavers also requites less cleaning and maintenance in the long run. However, like any pavers around your house, it is important to give it a clean once in a while,
Conclusion
Granite is chosen mostly because of its durability and other hard wearing qualities for paving. [Read more about What is Granite? ] That is why granite is one of the most popular natural stone pavers choice of Australian Homeowners. [Read Granite Frequently Asked Question to learn more. ]
We are known for providing quality granite products at low prices. If you are looking to buy granite pavers in Melbourne, Sydney, Brisbane, Adelaide, or anywhere across Australia. Give us a call today on 03 9706 9767 or contact us and receive a FREE QUOTE or you can request an express posted FREE SAMPLE before purchasing our products. Get some installation ideas from our beautiful stone tiles Granite Image Gallery.
Similar Granite Installations
Granite Pavers | Granite Tiles | Granite Outdoor Pavers | Granite Pool Coping Tiles | Granite Stairs | Granite Stepping Stones | Granite Pool Pavers | Granite Pavers Prices