Granite Stepping Stones
For all those who remained lucky to have spent most of their childhood days near riverside undeniably understand the inevitable requirement
With the gaining popularity, there are now fancier stones available in the market that goes profoundly by the name of Granite Stepping Stones for as little as crossing the river/stream on normal working days.
For ages, mankind has used the formula of placing such stones strategically inside or around the field to maintain water flow since an excessive amount of water could easily destroy the crops. And now, mountaineers and hikers are taking advantage of this primitive method to overcome a flowing river (forming a pavement instead that looks more like a bridge), which otherwise becomes an impossible task to do, while en route to their destination.
SHOP GRANITE STEPPING STONES ON SALE
Why Granite Steppings and not bricks?
Well, for starters, bricks are deteriorating and will stop doing their job efficiently over a while. Unlike granite pavers, bricks are not water-resistant and tend to absorb a lot of water. Try placing bricks for as minimum as seven days inside a pretty normal water flow, perhaps in your lawn or backyard.
"Installation Image of Raven Grey Granite Steppers"
First of all, you will begin to notice they move a lot. You will then realise the slow deterioration due to the sharp impact of the ongoing flow of water. Water in motion is sharper than we think! Take waterfalls for an instant. A closer look will make you wonder what caused the formation of sharp edges on such magnanimous rocks.
Where could one use granite stones?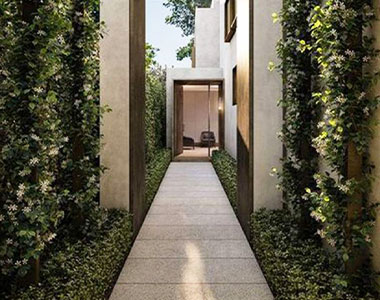 "Installation Image of Summer Daze Granite Steppers"
For those who enjoy gardening but are tired of the continuous maintenance that it requires, installation of granite stepping stones could provide a structure to the area as well as some relief from extra weeding. Especially during monsoons when the path tends to overgrow, turning it bushier & muddier that it is nearly impossible to walk without ruining those perfect pair of shoes, granite stones work as a saviour.
Have you got a lawn sitting formless with no clue of entry/exit? If yes, then one might use stones to categorize the overall area around the house. It is quite a walk to cherish while effortlessly walking over granite stepping stones.
What varieties are these stones available in?
Given the demand for granite stones, there is a variety you could pick your favourite type of stone from. Granite stepping stones are available in a variety of shapes & sizes i.e., rectangular shaped, small and large squares and irregular natural looking shape. One could also select a colour of their choice among Black, Grey, White, and Yellow. 
Rectangular Shaped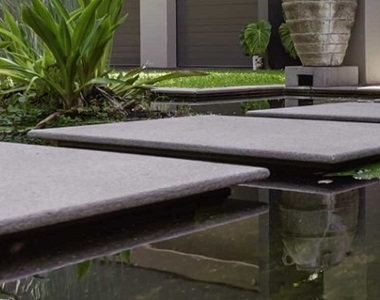 "Installation Image of Midnight Granite Steppers"
Square Shaped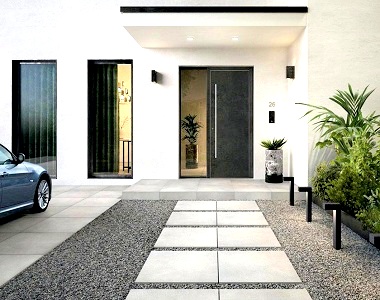 "Installation Image of Dove White Granite Steppers"
Irregular Shaped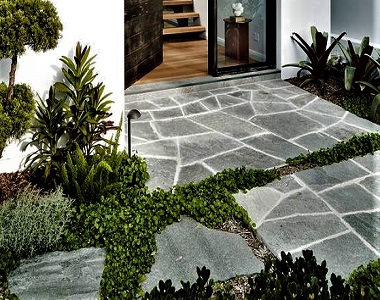 "Installation Image of Midnight Granite Crazy Paving Steppers"
Now that you know enough about the use of granite stones in a practical environment get over that pondering and be up & running with managing the overflow of water already. Your garden/lawn will be equally grateful to you. Happy installing!
Conclusion:
There are many stones and slabs which can be used for coping as pool tiles, but granite is chosen mostly because of its variation and different characteristics. [Read more about What is Granite? ]
That is why it is one of the most popular natural stone tile choices of Australian Homeowners. [Read Granite Frequently Asked Question to learn more. ]
Get FREE Quotes + FREE SAMPLES by Stone Pavers Australia
Stone Pavers are the LARGEST Natural stone providers across Australia. We are known for providing quality products at low prices.
If you are looking for buying granite tiles or granite pavers or any other stone tiles in Melbourne, Sydney, Brisbane, Adelaide, or anywhere across Australia.
Give us a call today on 03 9706 9767 and receive a FREE QUOTE or you can request an express posted FREE SAMPLE before purchasing our products.
Simply fill our contact us form for the orders or free sample enquiries.
Get some installation ideas from our beautiful stone tiles Granite Image Gallery.