Granite Cobblestones
Granite cobblestones are used in making the floors look colourful, strong and beneficial at the same time. It also gives a historical feeling to the floors, which brings out a different vibe from your house, apartments or building.
The origin of granite pavers for cobblestones is from Europe, and later many industries started evolving in America and other countries. It has been used as a major material in building road surfaces since the 19th century.
Applications of Granite Cobble Stones
Initially, only round stones had been used to make roads so that the horses could get a good grip. After a while other shapes, specifically rectangular stones, were used, which replaced the round ones in a gradual manner. A major factor of these stones is its durability. The fact that it has tremendous strength helps it stand out among the other products in the market.
"Installation Image of Dove White Granite Cobblestones"
They are slip-resistant, which makes it way more useful than the other stones that are available today. These stones never fail to provide strong borders that are thick enough to make sure mowing your lawn becomes risk-free. These stones are also good for high traffic areas and walkways due to their ability to provide textured finish and strong borders.
"Installation Image of Raven Exfoliated Granite Cobblestones"
These stones can make your outdoor space a classic one with its unmatchable textures and durability. Even various unique water features can be created with granite cobblestones. It connects water with nature in a natural way, which makes gardening the related activities way easier for you to handle on a regular basis.
A classy look and clean appearance throughout the exterior property
 Apart from that, it never fails to give you a classic look with a maintained and clean appearance no matter what the size of your property is. Granite cobblestones keep grass away, which eventually ends up giving you a crisp lawn for driveways and walkways. There are various colours that are available in the market of these stones. However, the colour range depends entirely on your location. The available primary colours are grey, white, black, and yellow.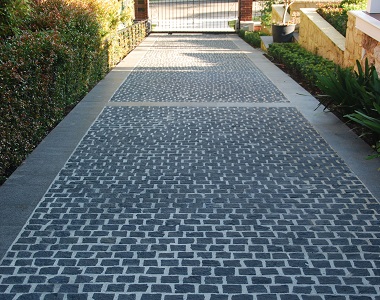 "Installation Image of Midnight Exfoliated Granite Cobblestones"
Accentuating the exterior look of your home, the granite cobble stones are here to offer the much needed remarkable touch to your home. Offering the perfect finish, the granite cobble stones are a texture of the finest kind.
"Installation Image of Grey Natural Split Tumbled Granite Cobblestones"
Granite cobblestone is undoubtedly one of the best natural stones available out there, which not only gives you a classic and historical vibe but also ensures that it stays strong enough to protect it in every possible way. Therefore, there should be no second thought before picking it up as your next property material! Do not forget to check out reliable suppliers offering granite cobble stones in an affordable price in Australia.
There are many stones and slabs which can be used for coping as pool tiles, but granite is chosen mostly because of its variation and different characteristics. [Read more about What is Granite? ]
That is why it is one of the most popular natural stone tile choices of Australian Homeowners. [Read Granite Frequently Asked Question to learn more. ]
Get FREE Quotes + FREE SAMPLES by Stone Pavers Australia
Stone Pavers are the LARGEST Natural stone providers across Australia. We are known for providing quality products at low prices.
If you are looking for buying granite tiles or granite pavers or any other stone tiles in Melbourne, Sydney, Brisbane, Adelaide, or anywhere across Australia.
Give us a call today on 03 9706 9767 and receive a FREE QUOTE or you can request an express posted FREE SAMPLE before purchasing our products.
Simply fill our contact us form for the orders or free sample enquiries.
Get some installation ideas from our beautiful stone tiles Granite Image Gallery.