Granite Outdoor Tiles
Granite outdoor tiles has widely gained its use in human history as a construction stone. Granites are modified by cutting stones and giving them a flat appearance. Granite pavers are extremely preferred by property developers, Landscapers, Builders and Architects. Granite outdoor tiles are tough, durable, and reliable making it great for commercial and residential build.
SHOP GRANITE OUTDOOR TILES ON SALE
Top practical uses of Granite Outdoor Tiles
Considering the versatile character of granite, pavers that are made of granite can be put to plenty of uses. Find below a list of possible places where granite happens to come across as a preferred choice.
As a stand out element around the pool
Since granite comes in all possible shades, it is easier to mix and match to form a pattern. In order to form an edge around the swimming pool, such patterns could be implemented. A patterned edge is meant to stand out compared to a normal plain one and adds brilliantly to the ambiance of the space.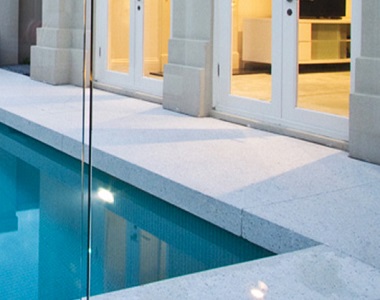 "Installation image of Dove White Granite Pavers and Tiles"
Besides the swimming pool, granite pavers are often used in contrasting colours to edge a modern walkway.
Pavers take a form of art!
For enthusiasts, the implementation of granite pavers on the pathways calls for an opportunity to showcase one's artistic skills. A variety of available shades are put to better use, yet again in order to create a compelling visual.
Create your perfect outdoor space
Granite pavers are surely qualified to bring back that lost charm of your old patio or even better, create a brand new. It can seem confusing at first given the number of shades granite pavers are available in, but it is often easier to match them with the outlook of your house.
"Installation of Raven Grey Granite Pavers & Tiles" 
Generally, these granite outdoor tiles are perfect for both small and large outdoor areas. Since Granite pavers comes in black, grey, white and beige. It is easy to mix and match. You can choose the colour of plants and flowers in the garden and will have have to worry too much about which granite you will go for as we offer a wide range of granite colours. 
A casual walkway in the lawn
If incorporated wisely while considering all aspects of convenience while walking, granite pavers do a great job for casual walkways.
The silver grey ones complement the green grass right; hence you might want to purchase that one for your green lawn. Other than that, one could also select the size of the paper, a square or a rectangular slab.
The versatile character of Granite Pavers makes them a top choice for all sorts of outdoor pavement requirements as well as appealing to anyone who is persistent on quality.
Since these pavements are mostly flooded with foot traffic, granite fulfills the purpose of a tougher common ground to walk and does equal justice to the aesthetic appearance that a modern structure requires.
Conclusion
There are many stones and slabs which can be used for coping as pool tiles, but granite is chosen mostly because of its variation and different characteristics. [Read more about What is Granite? ]
That is why it is one of the most popular natural stone tile choices of Australian Homeowners. [Read Granite Frequently Asked Question to learn more. ]
Get FREE Quotes + FREE SAMPLES by Stone Pavers Australia
Stone Pavers are the LARGEST Natural stone providers across Australia. We are known for providing quality products at low prices.
If you are looking for buying granite tiles or granite pavers or any other stone tiles in Melbourne, Sydney, Brisbane, Adelaide, or anywhere across Australia.
Give us a call today on 03 9706 9767 and receive a FREE QUOTE or you can request an express posted FREE SAMPLE before purchasing our products.
Simply fill our contact us form for the orders or free sample inquiries.
Get some installation ideas from our beautiful stone tiles Granite Image Gallery.