Granite Pavers Benefits
Granite Pavers gives any area an authentic feel that no other pavers could beat and one of granite pavers benefits is its hard wearing qualities which often makes it the primary choice of homeowners when it comes to both indoor and outdoor areas. Granite Paving is one of the oldest and most popular natural stones, granite comes with a set of unique properties that make it an excellent choice for nearly all types of construction and home renovation projects.
The best thing about granite pavers is that you can lay them as granite pool coping, granite driveways, granite pool pavers and other outdoor paving areas. Whether you want to give a quick makeover to your outdoor patio or pool area, we recommend going with granite pavers as they can withstand harsh weather conditions. If you are still not sure whether granite will make the best fit for your landscape, you have come to the right place. In this post, we will take a look at the top reasons why you should choose granite.

Installation Image of Raven Grey Flamed Granite Pavers
Versatile
What's the first thing you consider when shopping for pavers for your exteriors? Well, a vast majority of Australians want pavers that can blend well with just about any surroundings. You want a material that looks flawless with all types of décor elements. Whether you want to give your exteriors a retro feel or a modern touch, granite pavers Melbourne is your best bet.
Granite pavers has the ability to blend in with any areas seamlessly. You can pair flamed or exfoliated granite pavers with just about any furniture and décor elements, and rest easy knowing that your outdoor space will look wonderful. In addition, granite is sold in a wide variety of shapes and colours, giving you many options to choose from. We offer a huge range of granite colours such as black granite pavers, grey granite pavers, white granite pavers and yellow granite pavers.
Contemporary/ Modern Look
The minimalistic look of granite makes it the best choice for all types of hardscapes. The beauty of granite pavers Brisbane can transform any dull exteriors into a beautiful space. No matter where you use these pavers, rest assured that granite has the potential to add a touch of elegance and versatility to any outdoor paving areas. Granite is a luxury stone that gives a smooth touch to your space. You can never go wrong with granite pavers – no matter how large the area is and how much traffic it will be exposed to.
Granite Pavers – Safe for outdoor areas
Safety is the number one concern of all Australian homeowners installing pavers for any outdoor areas. You need a natural stone that is safe to walk on and has a non slip feature.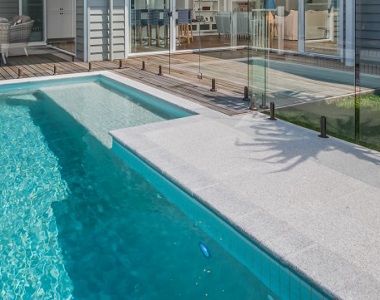 "Installation Image of Dove White Granite Pool Coping"
One quality that sets granite pavers apart from other pavers is their high non slip feature due to the granite having a flamed or exfoliated finish. Rest assured you can lay granite pavers around pool areas, patio area, driveway areas and any other outdoor paving area. There is no denying that granite is designed to withstand extreme rainfall and just about any other harsh weather conditions.
Durability
Granite pavers can resist scratches, stains, moisture, and damages from the weather and temperature beautifully. It is one of the most durable materials out there. You must have seen the centuries-old structures and monuments built with granite. Most of these buildings have stood the test of time and are still standing intact today after several years of use. Durability is the major benefit of granite paving. It is the hardest stone available in the Australian stone market. Plus, granite is great for places that receive heavy traffic, especially the areas exposed to the weight of the standing and moving vehicles like your driveway.
Easy Maintenance
Another great quality of granite pavers is its ease of maintenance. Granite is incredibly easy to maintain, as it requires the least amount of attention and care. Just give your granite pavers a good wash every few days with soap and warm water, and the pavers look as fresh as new. Every homeowner wants to keep their granite in pristine condition so that it looks the same even after several years of use.
One way to achieve that is by looking after the maintenance of these pavers. You can wash granite with any detergent or stone-special cleaner – whichever is readily available and mop the floor gently. You could also scrub the stained area gently to remove the stubborn stains from the floors.
These were only to name a few! Granite pavers offer a plethora of benefits. Plus, the material comes packed with many interesting properties that give it a unique feel and transform your landscape into something extraordinary.
Conclusion:
There are many paving option to choose from, but granite is chosen mostly because of its durability and other hard wearing qualities. [Read more about What is Granite? ]
That is why it is one of the most popular natural stone tile choices of Australian Homeowners. [Read Granite Frequently Asked Question to learn more. ]
Get FREE Quotes + FREE SAMPLES by Stone Pavers Australia
Stone Pavers are the LARGEST Natural stone providers across Australia. We are known for providing quality products at low prices.
If you are looking to buy granite pavers in Melbourne, Sydney, Brisbane, Adelaide, or anywhere across Australia.
Give us a call today on 03 9706 9767 and receive a FREE QUOTE or you can request an express posted FREE SAMPLE before purchasing our products.
Simply fill our contact us form for the orders or free sample inquiries.
Get some installation ideas from our beautiful stone tiles Granite Image Gallery.
SHOP OUR BEST SELLING GRANITE PAVERS
Read More about Granite Pavers – Learning Centre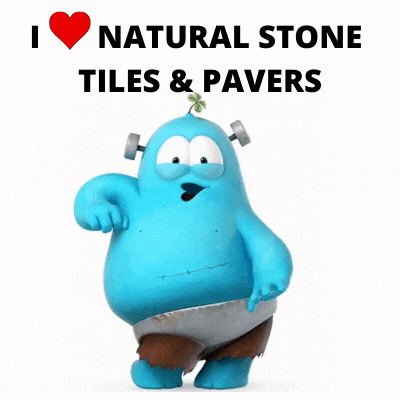 CALL US TODAY! Order Your FREE SAMPLE – Express Posted