Granite Pavers Melbourne
Granite Pavers is one of the oldest natural stone on earth that has gained immense popularity over the past few decades and it's all because of its durability, non slip and scratch resistance feature. For all outdoor paving areas builders, architects and landscapers recommend granite pavers Melbourne as their preferred choice for all kinds of outdoor paving areas. Granite can sustain harsh weather conditions as their strong texture and sturdy nature of these granite outdoor tiles make it one of the few pavers that can survive Melbourne's weathering easily. The best selling granite pavers are white granite pavers and grey granite pavers.

Installation image of Raven Grey Granite Pavers
Granite for Residential and Commercial Builds
Like other natural stones, it takes thousands of years for granite to form and get its colours, texture, and design. It is a perfect building material for homeowners who plan on turning their plain patio into something exciting and extraordinary.
Granite Pavers is often linked to the granite stepping stones, granite pool pavers, granite pool coping and other granite outdoor tiles. While that happens to be the most common application of this natural stone, it isn't the only place where granite pavers are found. In Melbourne and Sydney, architects use granite pavers to decorate their exterior areas. Being one of the most durable stones out there, granite pavers never fails to capture the attention of builders.
What makes Granite a Popular Natural Stone?
The days where homes were confined to the four walls are long gone. Today, homeowners focus as much on the details and design of their exteriors as interiors. The trend of building entertainment areas is growing in Australia. And, it is quite important to have some free space where you could relax and spend some quality time with your family. That's what patios and pool decks are for. They don't only enhance the curb appeal of your home but give your exteriors a perfect finish. For designing the entertaining areas, most contractors recommend natural stone pavers.
What makes granite paver a popular option for interior and exterior landscaping projects is its durability, versatility, low maintenance, and a variety of design and colour options. From beige shades that create a warm space to dark tones for a bold design, with its colour variations and different patterns, granite paving can help you achieve your desired landscape.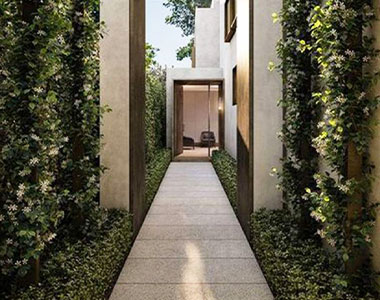 Installation image of Beige Flamed Granite Pavers
Granite is also the most popular natural stone that is known for lending sophistication and an old-world charm to just about any space. Granite pavers does not lose its charm and durability when it is used in your exteriors. It rather gives a touch of elegance to your patios and driveways. As it originates from earth and experiences the harshest possible weather, it goes without saying that granite pavers can handle harsh weather conditions quite well.
Another great quality of granite pavers is that it is a versatile stone, meaning you could lay these pavers anywhere. They have the exceptional ability to blend with any landscape and surroundings. Besides, you have a large variety of colours to choose from. You can select granite outdoor tiles based on your landscape and preference.
Aesthetics Look
Durability isn't the only quality that makes granite the homeowners' and builders favourite pavers. It's rather a combination of its natural characteristics that people admire and the contemporary look is one of those features. No paver can compete with granite when it comes to modern pavers. The timeless beauty of granite pool coping sets this natural stone apart from concrete and man-made pavers.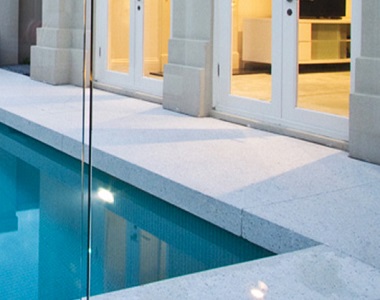 Installation image of Dove Granite Pool Coping Tiles
There couldn't be a better way to give a luxury feel to your exteriors than by installing granite pool coping tiles and matching granite pavers. Plus, it is a perfect way to incorporate natural stone into your landscape. The seamless beauty of natural stone combined with its functional properties and durability make granite an ideal option for flooring and landscaping projects. You can use granite for the garden edging or lay it on your entire driveway and patio.
The high non-slip rating of granite pavers ensures that the material will not get slippery around the pool deck. This makes granite a perfect fit for your pool surrounds and other outdoor areas that are exposed to moisture and water. No matter how wet it gets, you can walk barefoot on granite without the fear of slipping. With that being said, if you have a swimming pool, then consider flamed granite for pool coping and granite pavers around your pool. You can decorate the entire deck with granite pavers or use the material only for the coping. Either way, you can't go wrong with using granite as a paving material.
Conclusion
Looking for granite paving for your next renovation project? Great! get in touch with us as we are Australia #1 Natural Stone Paving Suppliers and supply tiles and pavers in Victoria, New South Wales, Queensland, Southern Australia and Tasmania.
If you would like to check our stone quality you are most welcome to order our Express Posted FREE SAMPLE services. Just simply fill out our contact form and request a sample of your choice of tile.
We also provide FREE STONEMASON advice over the phone or in person. There are many other services that we provide that you can take advantage of. Call us on (03) 9706 9767 for more information.
Meanwhile, browse our range of Granite pavers and enjoy shopping on SALE prices.
SHOP OUR BEST SELLING GRANITE PAVERS
Read More about Granite Pavers – Learning Centre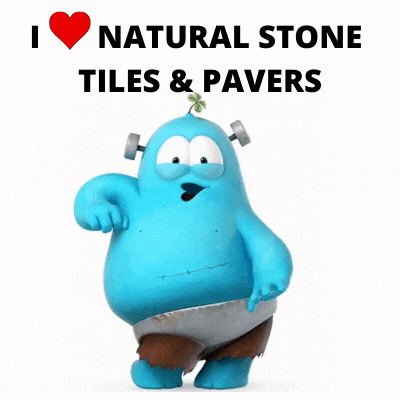 CALL US TODAY! Order Your FREE SAMPLE – Express Posted