Where to lay Granite Pavers?
Where to Lay Granite Pavers?
Granite Pavers look incredibly beautiful, no matter where they are installed. It is hard not to fall in love with granite Melbourne. From driveways to patios and from pool pavers to granite pool copings, you can jazz up any space with granite pavers. Granite paving is different from other natural stones in terms of durability and aesthetics. Not only does granite pavers Melbourne look magnificent in nearly all settings, but it has the ability to last for several decades. The best part is there are many ways you can incorporate granite pavers Brisbane into your traditional or modern homes.
All you need is a little planning and the selection of the best granite pavers, and there you go! Today, granite is found in almost all the states like Melbourne and Sydney. In fact, it comes in a multitude of colours and shapes, giving your home a minimalistic look.  Let's check out the common areas you can lay granite as pavers.
Granite Pool Coping & Granite Pool Pavers
Considering the slip-resistant nature and durable properties of granite, it goes without saying that granite pavers is your ideal option for pool coping. If you have a swimming pool on your terrace or deck, then you must lay granite pool coping on its edges and lay pavers around your pool. Not only will it help protect your kids and family from pool accidents due to is high no slip rating, but the right pavers can make the process of cleaning and maintaining a quick one. 
Installation Image of Raven Grey Granite Pavers
With granite pool pavers in place, you can play with your kids in the pool, splash water, or allow your pets and children to play around the pool. These pavers have a high non-slip rating, which means they have a tough surface that doesn't get slippery even if you walk with wet feet on the pavers. The most popular granite colours are black granite pavers and grey granite pavers. The quality of granite makes it a perfect choice for swimming pools and other outdoor areas.
Granite pavers are the best pavers for the areas that receive vehicular traffic as these pavers are designed to be durable and strong.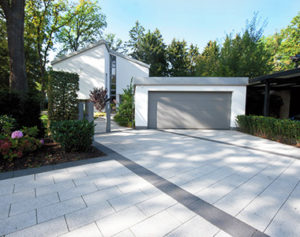 Installation Image of Dove White Flamed Granite Pavers
For that reason, it is absolutely important to consider natural stones for granite driveway. Granite paver makes a great fit for your driveway. They help create a strong driveway that can last for decades without cracking, chipping, and getting stained.
Granite Paving is the better alternative to manufactured pavers that hardly manage to last for a few years. If you are planning to replace your outdoor pavers, consider using granite for all your paving areas. They are really affordable when it comes to the quality you will be getting and most importantly, it is an ideal choice for those who want the pavers that can stick around for decades.
Choosing a paver for a patio is often a challenging task as there are so many paving options out in the market. If you are after a low-maintenance and durable pavers then granite pavers build a great patio. Besides, granite is available in the broadest range of colours, giving you plenty of options to choose from. You can select the pavers that match your landscape and complement the surroundings or create a contrast with the dark pavers. There are countless options. 

Installation Image of Raven Grey Flamed Granite Pavers
Granite paving happens to be a scratch-resistant stone, meaning you can place furniture sets and plants on the patios without having to worry about the pavers getting chipped or cracked. Once you have lay granite as your outdoor patio you will just have to give your patio a good clean every once or twice a month and the pavers will look fresh and new.
There is something about granite pavers that makes any area looks aesthetically appealing. Perhaps, it is the fact that there's many colour option to choose from which makes it easier match with all type of homes.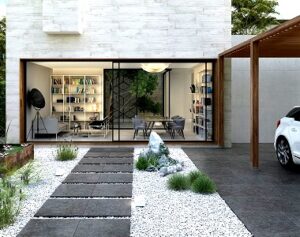 Installation Image of Midnight Black Granite Pavers
These granite pavers leading your guests to the entrance door or other space looks great. It looks better when you use granite stepping stones. If you are after a unique look you can choose to use granite crazy pavers for building a walkway in your front yard or lawn. 
Conclusion
Looking for granite paving for your next renovation project? Great! get in touch with us as we are Australia #1 Natural Stone Paving Suppliers and supply tiles and pavers in Victoria, New South Wales, Queensland, Southern Australia and Tasmania.
If you would like to check our stone quality you are most welcome to order our Express Posted FREE SAMPLE services. Just simply fill out our contact form and request a sample of your choice of tile.
We also provide FREE STONEMASON advice over the phone or in person. There are many other services that we provide that you can take advantage of. Call us on (03) 9706 9767 for more information.
Meanwhile, browse our range of Granite pavers and enjoy shopping on SALE prices.
SHOP OUR BEST SELLING GRANITE PAVERS
Read More about Granite Pavers – Learning Centre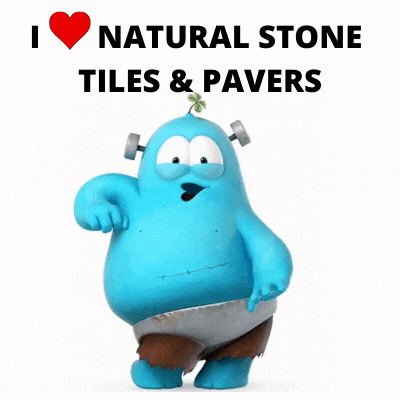 CALL US TODAY! Order Your FREE SAMPLE – Express Posted