Bluestone pavers in Australia are used for a wide range of architectural as well as design projects. These pavers are usually utilised for outdoor applications –including courtyards, patios, driveways, stepping stones, stairs and steppers, wall cladding and so more.
Bluestone pavers are made out of natural stones that are quarried across various parts of the world.
If you are going to implement a landscaping project –especially for the patio area, you can consider installing bluestone pavers for a variety of reasons.
Outdoor patios & walkways that are constructed with bluestone pavers appear lovely, easy to maintain, and highly functional. Some of the top reasons to make use of bluestone pavers for your patio area are:
SHOP BLUESTONE PATIO PAVERS ON SALE
#Range of Colors by Bluestone is Unmatched
Unlike concrete pavers, bluestone pavers are known to feature a beautiful range of colors that never tend to fade. The hues of this natural stone remain consistent throughout the entire stone piece and last for its lifetime.
Bluestone pavers are primarily available in grey-blue combinations. However, you can also come across other variants of colors to suit your project requirements. You can also come across bluestone pavers featuring hints of green, rust, or brown.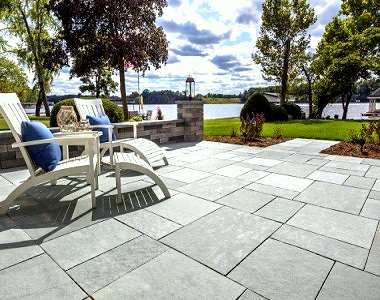 "Installation Image of French Pattern Bluestone"
#Bluestone Pavers are Highly Functional
When bluestone pavers are to be utilized for patios, these can be installed in two basic styles. These are:
Rectilinear –bluestone pavers are cut in square or rectangular pieces. Cut or patterned bluestone pavers are used for creating a clean, classic, or contemporary style.
Irregular –bluestone pavers are collected together in multiple pieces or shapes as they have been pulled out from a quarry. The given look is known to go well with informal or natural landscape.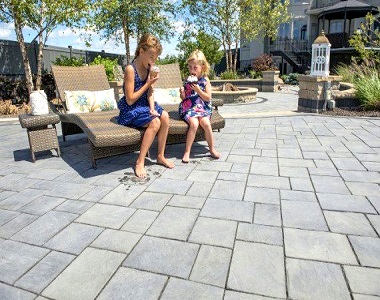 "Installation Image of Bluestone French Pattern Tiles"
Bluestone pavers for patios are also known to be finished in a smooth, bumpy, or thermal natural finish –referred to as the natural cleft. Bluestone cut drywall, tumbled bluestone pavers, bluestone outcropping, and bluestone veneer are all great landscape materials for patios.
#Easy to Maintain
The maintenance and care requirements for bluestone pavers when installed in patios are just too minimal. Bluestone pavers are all-natural. Therefore, they never fade. Even if they get dirty, you can simply wash them off.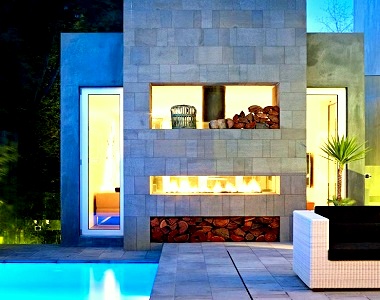 "Installation Image of European Bluestone Wall Tiles"
#Bluestone Pavers are Highly Affordable
Bluestone pavers are known to appear highly luxurious, still they are immensely affordable across Australia. This is true especially when you buy top-quality bluestone pavers from reliable bluestone pavers suppliers in Australia.
You can consider installing these natural stone pavers over your existing concrete patio for updating the landscape on a budget.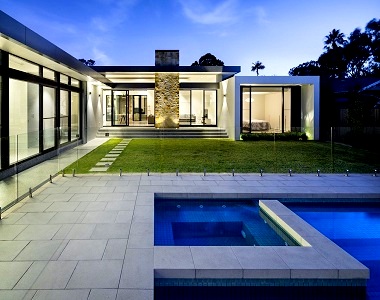 "Installation Image of European Bluestone Pavers"
Moreover, most of the popular designs and sizes for bluestone pavers are easily available while being less expensive in comparison to custom-made blended pavers.
Additionallz, the reduced long-term maintenance costs for natural stone pavers deliver great cost sustainability.
Make the most of the bluestone pavers for your patio area.
Conclusion:
Bluestone is one of the sturdy and durable materials that have the potential to last for years without showing signs of wear and tear. [Read more about What is Bluestone? ]
That is why it is one of the most popular natural stone tile choice of Australian Homeowners. [Read Bluestone Frequently Asked Question to learn more. ]
Get FREE Quotes + FREE SAMPLES by Stone Pavers Australia
Stone Pavers are the LARGEST Natural stone providers across Australia. We are known for providing quality products at low prices.
If you are looking for buying bluestone tiles or bluestone pavers or any other stone tiles in Melbourne, Sydney, Brisbane, Adelaide or anywhere across Australia.
Give us a call today on 03 9706 9767 and receive a FREE QUOTE or you can request an express posted FREE SAMPLE before purchasing our products.
Simply fill our contact us form for the orders or free sample enquiries. 
Get some installation ideas from our beautiful stone tiles Bluestone Pavers Image Gallery. 
Similar Bluestone Installations