Are you considering an outdoor landscaping project? Bluestone outdoor pavers can be your ultimate choice –especially when it comes to implementing projects related to pathways, driveways, patios, backyards, and so more. Bluestone Pavers are known to be attractive, all-natural, and highly durable when it is to be used for outdoor projects of all scales and sizes.
SHOP BLUESTONE OUTDOOR PAVERS ON SALE
Bluestone Pavers Colors & Shapes
Bluestone Paving & Tiles are known to be available in several shapes and sizes. They can be cut in uniform shapes or sizes like rectangles or squares. On the other hand, they can also be cut for achieving a highly natural look with irregular shapes and jagged edges. What you aim at using for the paving project is a matter of your own taste & preference. Indeed uniform pieces are easier to work upon as mapping out the entire area for covering the same will require minimal work.
Benefits of Using Bluestone as Outdoor Pavers
Bluestone is known to be durable and therefore, will last for several years. The all-natural, earth-tone colors of bluestone pavers are highly attractive and gracious. As such, these natural color tones tend to complement almost all types of landscapes. The rough surface of bluestone also implies that it would rarely get slippery or slick. To top it all, bluestone pavers are readily available across Australia from the leading suppliers.
Bluestone pavers are also known to be highly effective in withstanding all types of weather conditions as well as temperature fluctuations. Therefore, you can consider installing the same in your landscape wherever you tend to live –whether it is about hot, desert-like temperature or snowy there.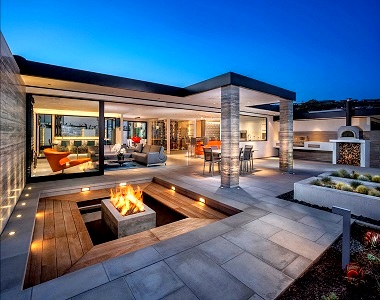 In addition to the given specifications, bluestone is also known to be utilized as building stones, veneers, and paving flagstone. Many experts believe that bluestone pavers serve to be one of the most versatile natural stones and have been used for various projects throughout centuries.
Tips for Buying & Installing Bluestone Pavers for Outdoor Landscaping
Before you go ahead with the option of choosing bluestone pavers for landscaping, you should aim deciding whether you are seeking uniform-sized pavers or irregular pavers. Irregular pavers can be harder to install. However, they are also known to fit better into any landscape out there.
It is important to note that bluestone is an all-natural stone. Therefore, even when you go for buying & installing the pavers with uniform sizes, you will encounter small cervices or clefts, or even rust stains throughout. You should consider the given irregularities as the natural beauty of the stone. You can consider installing bluestone pavers over a wide range of materials including sand, gravel, or cement –just like other pavers.
While buying bluestone pavers, it is imperative for you to choose the best bluestone paver suppliers in Australia.
Conclusion:
Bluestone is one of the sturdy and durable materials that have the potential to last for years without showing signs of wear and tear. [Read more about What is Bluestone? ]
That is why it is one of the most popular natural stone tile choice of Australian Homeowners. [Read Bluestone Frequently Asked Question to learn more. ]
Get FREE Quotes + FREE SAMPLES by Stone Pavers Australia
Stone Pavers are the LARGEST Natural stone providers across Australia. We are known for providing quality products at low prices.
If you are looking for buying bluestone tiles or bluestone pavers or any other stone tiles in Melbourne, Sydney, Brisbane, Adelaide or anywhere across Australia.
Give us a call today on 03 9706 9767 and receive a FREE QUOTE or you can request an express posted FREE SAMPLE before purchasing our products.
Simply fill our contact us form for the orders or free sample enquiries.
Get some installation ideas from our beautiful stone tiles Bluestone Pavers Image Gallery.
Similar Bluestone Installations