Architecture and décor today has grown leap and bounds since the primitive ages. Gone are the days when only one type of design was famous in the market. With the continuous advancement in the construction business, the house's interior and exterior décor is seeing a change.
One of the most suitable ways of giving your home exteriors an aesthetic look is by opting for pavers, driveways, and wall claddings made up of natural stones. The Bluestone wall claddings are very famous these days due to their striking aspects like durability and perfect finish.
SHOP BLUESTONE STEPPING STONES ON SALE
Why Are Natural Wall Claddings Popular?
Natural Wall Claddings are not new in the architecture sector. They have been used for ages. Visually appealing and artistic, the wall claddings lend a sophisticated look to the exteriors of the house.
The word cladding means to decorate a wall or an area with some impressive work. Although cladding has been used for ages now, it is mostly used to enhance the safety features of the walls in today's time.
While wall claddings can help establish the durability, safety, and efficiency, the natural stones used in the process lend an aesthetic look to the domestic and commercial buildings very easily.
Bluestone is very much popular for the wall cladding work nowadays. Blame it on the strength, texture, and natural color of the stone; when you stud bluestone to your house's external wall, it really increases its beauty for about ten folds.
What Are The Types Of Bluestone used in Wall Cladding?
Mushroom Bluestone Wall Cladding:
The mushroom wall cladding is called so because of the tiles which have a distinctive texture. The wall tiles or panels come in a variety of colors and can be found in all major cities of Australia.
The most prominent part of Mushroom Wall cladding is that they give a gorgeous look to the house exteriors and are thus opted by many people worldwide. These tiles are weather-resistant, strong, and protect the walls for many years in a row.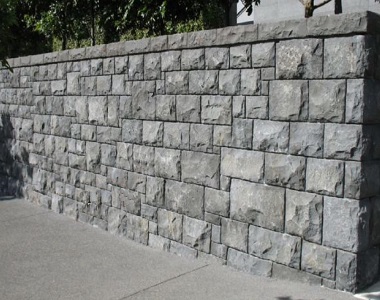 "Installation Image of Bluestone Mushroom Wall Cladding"
Harkaway Bluestone Wall Cladding:
The Harkaway Bluestone is another type of tiles that can be used for wall cladding works. These tiles have a different texture on the surface, and unlike mushrooms, wall claddings have a slightly darker appearance.
These natural stones look great on walls and other house exteriors as they are more resistant to extreme weather conditions. The Harkaway Bluestone is found across all cities in Australia, and thus it will not be difficult for you to make a quick purchase.
"Installation Image of Harkaway Bluestone Wall Cladding"
Conclusion:
Bluestone is one of the sturdy and durable materials that have the potential to last for years without showing signs of wear and tear. [Read more about What is Bluestone? ]
That is why it is one of the most popular natural stone tile choice of Australian Homeowners. [Read Bluestone Frequently Asked Question to learn more. ]
Get FREE Quotes + FREE SAMPLES by Stone Pavers Australia
Stone Pavers are the LARGEST Natural stone providers across Australia. We are known for providing quality products at low prices.
If you are looking for buying bluestone tiles or bluestone pavers or any other stone tiles in Melbourne, Sydney, Brisbane, Adelaide or anywhere across Australia.
Give us a call today on 03 9706 9767 and receive a FREE QUOTE or you can request an express posted FREE SAMPLE before purchasing our products.
Simply fill our contact us form for the orders or free sample enquiries.
Get some installation ideas from our beautiful stone tiles Bluestone Pavers Image Gallery.
Similar Bluestone Installations