Bluestone is not a new name in the construction industry. The naturally formed rock has been used for ages in all buildings and construction purposes.
One of the many reasons why Bluestone is preferred is due to the stone's durability and strength.
As the stone has been used in various landscapes till now, it can be said without any doubt that Bluestone cobblestones are timeless classics.
SHOP BLUESTONE COBBLESTONES ON SALE
Why Are Cobblestones Preferred?
The Bluestone Cobblestones are of small size than the normal pavers or tiles. This makes them exert physical strength, versatility, and adaptability on various applications, starting from residential places to commercial areas.
"Installation Image of Bluestone Cobblestones"
What Are The Common Uses Of Bluestone Cobblestones?
It is already a busted fact that Bluestone Cobblestones have inherent strength and versatility than other types of tiles and pavers.
Due to their phenomenal strength, the cobblestones are mostly used on the exteriors.
The impeccable strength makes these a perfect fit for areas where heavy machinery and vehicles daily pass. This means the outdoor pavers, driving areas; patios are the best places to set these cobblestones.
Cobblestones are thicker and small when compared to larger and thinner Bluestone pavers. The cobblestones are built to last and thus can withstand the weight of vehicles and machinery.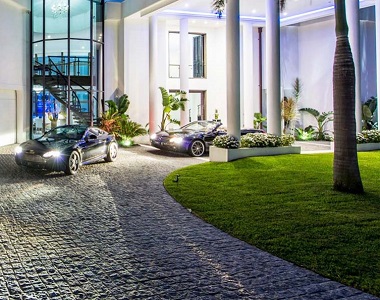 "Installation Image of Midnight Natural Split Cobblestones"
Another plus point of these stones is that they have a life span of ternity if maintained from time to time.
The Bluestone Cobblestones are also used in borders or landscapes. Featuring naturally split edges, the stones' unique appearance and texture make them a go-to-product for any project.
As the stones are blessed with small curves, hence it can also be used to mimic large pavers and tiles.
What Are The Different Type Of Finishes On The Stone?
One of Bluestone's striking aspects is that they are versatile products that can last for a lifetime without any hassles. This makes the stone the most commonly used materials today.
Another point of demarcation lies in the different types of finishes in which the stone is available. The most common type of cobblestone is the ones that are naturally split and are rough on all sides. These stones are widely used in Melbourne, Australia's inner streets and are hundreds of years old.
"Installation Image of Black Natural Split Cobblestones"
The other varieties of Bluestone cobblestones are Flamed Top and Tumbled Bluestone Cobblestones. While the Flamed Top has a more uniform finish, the Tumbled Bluestone, on the other hand, has a soft and worn-out appearance.
Apart from all these features, the prime reason Cobblestones are commonly used is their non-slip exteriors, making it easy for vehicles to pass on.
Conclusion:
With so many features and many more striking aspects, it can be said without any doubt that Bluestone Tiles, Pavers and Cobblestone from Australia is the best for all types of uses.
Bluestone is one of the sturdy and durable materials that have the potential to last for years without showing signs of wear and tear. [Read more about What is Bluestone? ]
That is why it is one of the most popular natural stone tile choice of Australian Homeowners. [Read Bluestone Frequently Asked Question to learn more. ]
Get FREE Quotes + FREE SAMPLES by Stone Pavers Australia
Stone Pavers are the LARGEST Natural stone providers across Australia. We are known for providing quality products at low prices.
If you are looking for buying bluestone tiles or bluestone pavers or any other stone tiles in Melbourne, Sydney, Brisbane, Adelaide or anywhere across Australia.
Give us a call today on 03 9706 9767 and receive a FREE QUOTE or you can request an express posted FREE SAMPLE before purchasing our products.
Simply fill our contact us form for the orders or free sample enquiries.
Get some installation ideas from our beautiful stone tiles Bluestone Pavers Image Gallery.
Similar Bluestone Installations