Bluestone Pavers Pros and Cons
Bluestone Pavers Pros and Cons
Bluestone pavers are quite common for landscaping projects in Australia. The dark and cool shades of this natural stone look flawless in nearly all settings. Whether you are planning to renovate your exteriors or constructing a new commercial building, bluestone is your ultimate choice for flooring applications. The thermal, European, Chinese, and Midnight bluestone pavers are an ideal option for different kinds of paving applications. Many homeowners build their patios and walls around the swimming pool with irregular bluestone tiles.
The unique colours and shapes of bluestone pavers give your space a touch of elegance. The stone can be cut into consistent sizes and shapes, especially for homeowners who want to build a contemporary-style exterior. Midnight bluestone is mainly available in the irregular shapes that are mainly found in vintage-inspired homes. Bluestone is your ideal choice when it comes to enhancing your dull and boring landscape. Usually, homeowners choose bluestones depending on their taste and unique landscape. However, irregular-shaped natural stone looks wonderful in its free-flow pattern. These can be arranged on the ground in the crazy paving pattern.
Now that the uniform pieces feature a consistent paving structure, they are comparatively easier to work with than the irregular-sized stones. While bluestone sounds like a perfect option for interior and exterior flooring applications, it comes with its share of drawbacks. It is best to check the pros and cons of the bluestone before laying it on your patios, driveways, and other areas. Below we have mentioned the best qualities of Bluestones and some drawbacks. Let's take a look:
Pros of Bluestone
Bluestone is one of the gracious natural stones. It looks good in just about any space –be it your patios or the interior floors. As mentioned before, the cool and dark tones of bluestone give it an attractive and sleek finish. The irregular bluestone pavers have a rough surface that can withstand the weather elements and other environmental substances that can stain the floors. As long as you clean and seal it regularly, it will last for decades.
Bluestone is a hard-wearing natural stone that can tolerate all kinds of weather elements and temperatures efficiently. It makes a perfect option for homeowners who want to incorporate natural and traditional stone into their exterior landscape. Whether you live in an area that receives high temperature or below-freezing climate, bluestone pavers can endure just about any weather.
The best quality of bluestone pavers is their non-slippery surface. No matter which bluestone paver you choose, you could lay these tiles around the swimming pools pavers and other areas that remain exposed to the moisture all the time. With bluestone pool coping tiles installed around your pools, you don't have to worry about your pets and children spending time around the pool. These natural stone pavers offer a strong grip.
Attractive and Functional
Bluestone is a functional stone paver. Though it is available in different finishes, bluestone looks the best in its natural form. If you would like to retain the old-world charm of your space, then consider buying the natural cleft bluestone tiles. Irregular stones are a little difficult to install, but they give a perfect finish to your space. Uniform bluestone pavers also have some imperfections, but that's the real beauty of this natural stone.
The inconsistent pattern of bluestone pavers helps you design a traditional landscape. The irregularities in the bluestone pavers, such as their colour variations, are part of its beauty. This functional stone could be laid on sand, gravel, cement, and concrete. Like other natural stones, the material does not demand high maintenance or special cleaning tools.
Cons of Bluestone
One of the main drawbacks of bluestone is its price. Natural stones tiles are sold at a higher price than their man-made counterparts. Bluestone is no exception. The stone is mainly priced for its functional qualities and old-world charm. You can't find concrete in the dark and cool shades or irregular sizes that can give your space a retro feel.
Bluestone is a dense and thick stone, which makes it a durable option for an exterior paving project. However, this also makes the installation process complicated for the contractors. You can DIY the bluestone paving project, but there is a slim chance you will get a perfect finish. If you outsource the project to a third-party, it will cost you a lot.
Even the bluestone pavers that are available in the regular shapes and sizes feature imperfections. The contractor will have to cut the edges of the stones so that they fit with each other. Installation gets even more difficult when you choose irregular bluestone pavers featuring different depths. While bluestone is a great option for the pool surrounds, its dark tones can get hot if they remain exposed to the sunlight for extended periods. You might not be able to walk barefoot on the bluestone pavers that are hot to touch.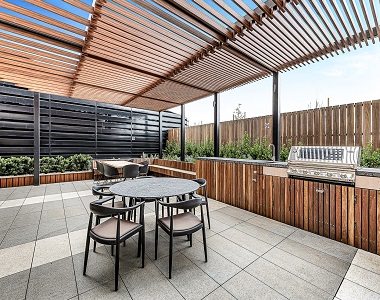 If you have a good budget, then bluestone is the best option for landscaping. Despite being the most expensive stone on the market, it is extensively used for residential landscaping applications.
Contact Us Today!
Looking for quality Bluestone Paving for your next DREAM home, residential or commercial project? Great! You are at the right place. STONE PAVERS provides all types of natural stone pavers for the lowest prices in the market. Our wholesale prices will be worth spending each and every penny. Request your FREE SAMPLE or visit our showroom located in Melbourne, Victoria. Call us today on (03) 9706 9767 for FREE laying/paving advice or request a FREE quote. Take Full Advantage of our ongoing Bluestone Sale.