Travertine – Outdoor Tiles and Pavers
Travertine Outdoor Tiles and Pavers
"Use this Non-slip Outdoor Pavers and Tiles around Your Swimming Pools and Pathways"
There are plenty of options to choose from when it comes to paving the patio and your driveway. Picking the right pavers for your patio can be quite overwhelming considering the countless options available on the market.
The exterior of your home can enhance your property's curb appeal by as much as 10%. The best way to decorate your exteriors is by paving the pathway and the area surrounding your swimming pool.
Nowadays, more and more homeowners are selecting natural stone pavers for outdoor paving. They come in a broad range of shapes, colors, and types. [Read What is Travertine?]
"Ivory Travertine Image in different shape and sizes"
These stones are made of durable and versatile materials. The best options include limestone pavers, bluestone pavers & tiles, granite pavers & tiles, and travertine tiles & pavers. The strength and resistance of the pavers depend on the stone you choose.
For instance, travertine is the contractor's and homeowners' best pick. It's getting quite popular recently. Thanks to its resistance and durability.
Here are some important benefits you get from installing travertine tiles and pavers on your pathways and patio:
Adds a unique and elegant touch to your exteriors
Enhances your home's curb appeal
It has the potential to resist wear and tear as well as corrosion
Easy to install and maintain
Does not get hot in summer
Highly durable
There is no denying that travertine pavers have the potential to last for years without showing any sign of wear and tear.
Take the ancient buildings and some famous travertine-build monuments for example. You must have heard of the Colosseum in Rome. Well, it is made of travertine stone.
"Colosseum Rome in Italy made of Travertine Stone Image"
The fact that the monument is still standing speaks volumes about the strength and durability of this natural stone.
Non-slip Travertine Pavers
Mostly, the decision of choosing between natural and concrete pavers can be a little difficult. Each stone differs in terms of aesthetics and applications.
However, most contractors and homeowners find travertine a better option. Not only is it an eco-friendly and highly durable stone, but the non-slip nature of this natural paver makes it an ideal option for swimming pool and pathway paving.
Travertine has a non-slip texture, which makes it a perfect option for the wet areas in your home.
Now, if you are going to install this stone around your swimming pool, you will need to calculate its SCOF value. SCOF value of stone helps you determine its texture, resistance, and slipperiness.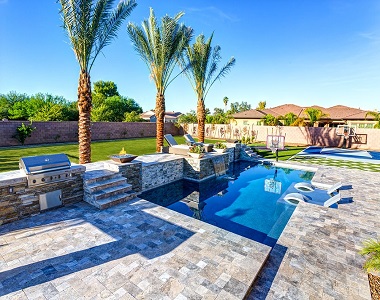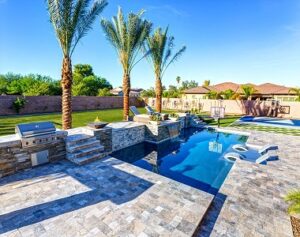 "Silver Travertine Tiles & Pavers Installation Image around the Pool"
Any stone with a SCOF value of around .50 is considered as a slip-resistant stone. Travertine's SCOF value can vary depending on the type of travertine you choose.
For instance, tumbled and brushed travertine pavers have the highest SCOF value. Thus, they are the least slippery stones on the market. Honed travertine, on the other hand, has a SCOF value of .50 to .60, which is decent. Polished travertine has a slippery finish.
So, if you are planning to install the pavers near the wet areas, such as your bathroom and swimming pool, then we recommend you avoid polished travertine. Note that these are only general rules. Not each stone has the exact same SCOF value as mentioned above.
Another important thing to note is that travertine tiles can be quite slippery when they are wet.
However, it does not apply to all types of travertine stones. We are talking about the polished ones with the lowest SCOF value.
You can increase the strength and durability of these stones by sealing the tiled area with a quality sealant.
Why Choose Travertine Stone for Pathway and Swimming Pool?
If you are planning to pave the area around your swimming pool, then travertine pavers can be the best pick. It enhances the aesthetic of your property and looks unique.
Usually, travertine is sold in neutral colors. But, you could pick bright and vivid tones for pathway paving.
The stone is available in an extensive range of colors. You can choose the color that complements the exteriors.
The best quality of travertine is its resistance of dirt, grime, filth, and dust. Now that it resists dirt and moss, this natural stone does not need high maintenance.
Basically, travertine falls into the category of limestone [Read what is limestone?]. Despite being a little heavy, travertine is a user-friendly natural stone.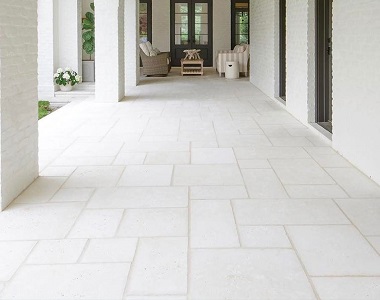 "Capri white Limestone / Travertine Installation Image"
You don't need to call a professional for the installation process. Just follow the basic DIY steps to install the pavers on your pathway, patio, and other space.
The only drawback is its porous nature. The stone is likely to get stained from liquid spills.
So, make sure you keep vinegar, acid, juices, and other chemicals away from the stone.
In fact, its porous nature is one of the main reasons why contractors do not recommend travertine for kitchen and other interior space.
Conclusion
Many shops, businesses, and malls consider travertine for their pathways. Likewise, many homeowners install travertine pavers around the swimming pool area.
It is one of the reliable natural stones that offer a great level of resistance and versatility. You could install travertine pavers anywhere. These stones prevent unnecessary accidents around wet areas.
That is why it is one of the most popular natural stone tile choice of Australian Homeowners.
Get FREE Quotes + FREE SAMPLES by Stone Pavers Australia
Stone Pavers are the LARGEST Natural stone providers across Australia. We are known for providing quality products at low prices.
If you are looking for buying Travertine Tiles or Pavers or any other stone tiles in Melbourne, Sydney, Brisbane, Adelaide or anywhere across Australia.
Give us a call today on 03 9706 9767 and receive a FREE QUOTE or you can request an express posted FREE SAMPLE before purchasing our products.
Simply fill our contact us form for the orders or free sample inquiries.
Get some installation ideas from our beautiful Travertine image gallery.
Read More about Travertine Tiles- Learning Center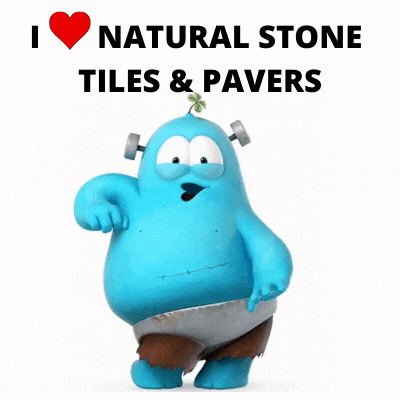 CALL US TODAY! Order Your FREE SAMPLE – Express Posted