What is Limestone?
A light-colored chemical rock made of calcium carbonate is limestone. Available across different corners of the world, limestone is one of the common sedimentary rocks.
Among all types of sedimentary rocks extracted from the earth, approx 10% belong to the limestone category.
This rock has multiple applications. Since it is available in large volumes, people have been using limestone for different purposes.
It is used as a strong building material as feedstock, soil conditioner, and more.
Homeowners use limestone tiles or pavers to design their home exteriors.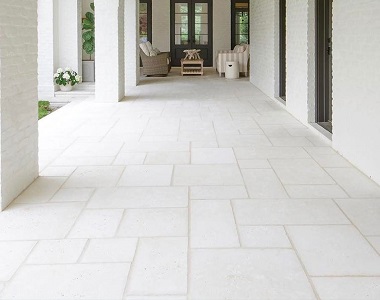 "Installation Image of Capri White Limestone Pavers"
Limestone is one of the most popular natural stones which is used across Australia for structural and decorative purposes.
It is a very strong natural stone as it is hard enough to resist abrasion, inert enough to resist fluctuating weather conditions, strong enough to bear significant weight and it accepts a brilliant polish with ease.
All these advantages make limestone tiles and limestone pavers highly desirable for homeowners, architects, builders, interior designers, property developers and contractors in Australia and across the world.
In this post, we are going to walk you through the most common uses of this sedimentary rock. Let's get started:
Ancient Monuments
You must have seen the centuries-old monuments featuring the plates of limestone.
Well, another important application of this sedimentary rock is in the construction of buildings or ancient monuments because of its durability.
The blocks of limestone are used to construct buildings. Many traditional and decades-old churches in the United Kingdom are made of this sturdy rock.
The best example is the Great Pyramid of Giza.
"The great pyramid of Giza Image"
It has stood the test of time and still stands intact. The pyramid is made solely of limestone blocks.
It isn't only the churches and monuments of the ancient times that are made of limestone.
The stone had also been used extensively for the construction of banks, railway stations, and other modern buildings during the 20th century.
Limestone is still being used in the construction industry and is an important building element.
Currently, the crushed limestone is widely used in road construction.
Benefits of Limestone
#1 Sustainability
Limestone natural stone is reliable and sustainable for sure as it takes millions of years to create a masterpiece like the one going to add shine to your property.
#2 Heat Resistance
Limestone pavers are the perfect natural stone slate tile for outdoor paving as well as indoor tiling. It is a trustworthy and most heat-resistant natural stone in the market.
#3 Scratch Resistance
Like most natural stones, limestone does not accept light scratches on its surface. This makes it an ideal selection for most indoor tiling and outdoor tiling to keep the natural fresh look enact for a longer period.
#4 Easy Maintenance
Limestone tiles and limestone pavers require very little maintenance for installation in places like limestone pathways pavers, limestone swimming pool surrounding pavers, garden walkways, limestone patios and for all other indoor and outdoor tiling areas which allows the limestone tiles to stand out from rest of the natural stone tiles.
Limestone Steppers for Gardens
Limestone stepping stones are a perfect choice if you are looking to decorate your steppers with some greenery around.
Limestone is a type of natural stone which mix really well with the natural surrounding.
"Installation Image of Shell White Limestone Steppers"
Do you notice thin or discolored grass in your garden? Well, limestone tile is definitely a product you should consider using in your garden.
The pulverized limestone is capable of creating an ideal environment for the soil in your garden. It facilitates air circulation and water absorption in the soil.
Now that the roots gather substantial nutrients from the soil as well as the proper amount of water, they grow well.
Limestone Tile colours / style / patterns
Since limestone is a natural stone, there is a limitation on colours the mother-nature produces.
But we do have a bit of variety in colours such as white, grey, cream/beige, silver, charcoal black and a few other combinations of bright colours and solid patterns with granules which gives a beautiful look to the tiles and slates.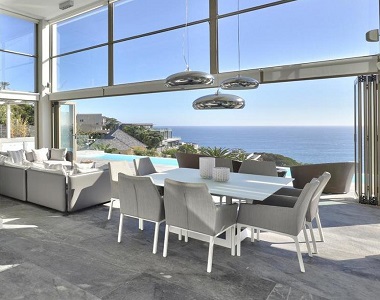 "Installation Image of Pearl Grey Limestone Paving"
Limestone tiles come in various styles and patterns such as polished, tumbled, brushed and honed to add a luxurious look to your property.
Conclusion
Limestone is one of the sturdy and durable materials that have the potential to last for years without showing signs of wear and tear.
That is why it is one of the most popular natural stone tile choice of Australian Homeowners.
Get FREE Quotes + FREE SAMPLES by Stone Pavers Australia
Stone Pavers are the LARGEST Natural stone providers across Australia. We are known for providing quality products at low prices.
If you are looking for buying limestone tiles or limestone pavers or any other stone tiles in Melbourne, Sydney, Brisbane, Adelaide or anywhere across Australia.
Give us a call today on 03 9706 9767 and receive a FREE QUOTE or you can request an express posted FREE SAMPLE before purchasing our products.
Simply fill our contact us form for the orders or free sample enquiries.
Get some installation ideas from our beautiful limestone image gallery.