Cleaning Travertine Tiles and Pavers
Clean Travertine Tiles & Pavers
If you have decided to decorate your patio or driveway with travertine pavers, then you must have also thought about the maintenance of these natural stones.
In order to keep your travertine tiles in good condition, you are going to need to invest your time in regular cleaning.
Travertine tiles are versatile and durable. They are strong enough to withstand weather elements and natural wear.
However, the regular foot traffic and other environmental element can discolour and damage your travertine pavers.
If you want to maintain the look of your patio, driveway, and garden, then you must follow the below-mentioned travertine cleaning and maintenance steps:
Keep Your Pavers from Heavy Furniture
No matter where you decide to lay the travertine pavers, chances are you will place a bunch of furniture pieces on the pavers for the best look.
Note that the bulky furniture sets that are made of glass or metals can chip or scratch the tiles.
You have to lay these stones carefully on the ground to avoid such damage. You will not want the new metal-couch to ruin your travertine tiles.
Dust and Wash the Tiles Regularly
Regular dusting is a must when you have installed natural stones in your exteriors. Even if it doesn't accumulate dirt, you need to wash and vacuum the floor to prevent natural wear. To preserve the beauty and shine of the travertine pavers, you need regular cleaning. No need for chemicals and additives. Grab a clean cloth and dip it in the warm water. You can use this cloth to mop the floor.
You can buy detergents that are made for tile cleaning. You will also find cleaners for natural stones. The cleaning products you use have a great impact on the travertine tiles. So, choose wisely.
Travertine can resist moisture and damages quite well. However, you need to pay special attention to the pavers installed in the exteriors, especially around the swimming pool. A quality sealant will help protect your tiles from harsh weather elements and water damages. If your travertine tiles are exposed to snow, then it makes sense to seal the pavers and protect them from the possible damages due to the constant melting of the ice.
You can clean the travertine tiles using chemical solutions once in a while. The warm water and soap solution will suffice for regular cleaning. However, make sure that you don't expose the tiles to acidic solution, alkaline detergents, and other such harsh chemicals that can cause discoloration. Besides, scrub the surface gently with a soft cloth. You can use a garden hose to clean the area if it hasn't accumulated a lot of dirt.
Cleaning Travertine Tiles & Pavers
A lot of people seem to think all stones are stain proof, If left unsealed spills and everyday messes can easily penetrate the surface of your Travertine. Every once in a while you may need to clean your Travertine, especially if it's in a high traffic area or an outside area.
There are many affordable cleaners available for Travertine, when cleaning be sure to apply with a mop and if stains are persistent use a more concentrated solution.
Do not use any high pressure cleaning equipment when cleaning your tile or paver as it will damage the stone. Removing stains from your Travertine If you have a spillage on your Travertine be sure to remove the stain straight away by blotting it up, do not rub it into the Travertine as it will only make it harder for the stain to be removed as the stone.
IF the stain remains after light cleaning simply apply a poultice to draw the stain out overnight. Do NOT clean your Travertine with cleaners that contain lemon, orange, ammonia or vinegar.
Contact Stone Pavers Today to get the best offer on your Travertine Tiles order.
Looking for travertine tiles Melbourne suppliers in Australia? We are Australia's largest travertine tiles and travertine paving suppliers in Victoria, Sydney, Brisbane, Canberra and Adelaide. Give us a call today on 03 9706 9767 or visit our showroom located in Melbourne.
Want to know more information about travertine tiles and pavers? Check out our recent blogs.
Read More about Travertine Tiles- Learning Center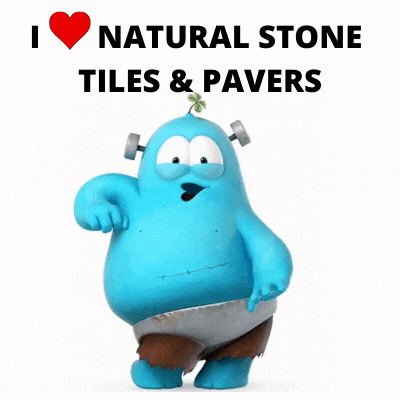 CALL US TODAY! Order Your FREE SAMPLE – Express Posted