Travertine Tile Colors
Paving the exteriors of your home, cladding the interior walls, and using premium materials on your floor are some easy ways to enhance the curb appeal of your home. As much exciting as it sounds – travertine tile colors, choosing the best stone for your interior and exterior décor can be challenging.
You have multiple stones to choose from. The best and most suitable stone for your home depends on your preference and the décor theme.
However, most contractors believe that natural stones have the ability to add warmth to any interior. Their neutral tones and unique look make them stand out from the man-made stones.
One such natural stone that has been embraced by many homeowners recently is travertine.
"Beautiful Travertine Tiles & Pavers – Unfilled and Umbled Image" COLOUR – BEIGE / CREAM
The stone is available in a range of colors and designs. This natural and centuries-old stone can enhance the aesthetic of your home.
Travertine is mainly popular because of its resistance and durability. Despite being a little porous, travertine has a non-slip texture.
This makes it a perfect paver for the wet areas, such as your bathroom walls, kitchen floors, pathways, and the area around your swimming pool.
Colors and Finishes
Mostly, travertine is not used in its natural form. Travertine is available in different finishes, including polished, tumbled, honed, and brushed.
Being a natural stone, travertine is available in warm colors. However, the tile is available in a wide range of natural colors, including but not limited to white, grey, yellow, cream, silver, noce, rustic, brown, black, ivory. The subtle differences in the color of the stone make your floor stand out.
Not only colors, but this centuries-old and premium stone comes in different sizes and shapes. You could choose a mosaic, plank, diamond, arabesque, chevron, and more.
"Ivory Travertine Tiles Image"
Another way to enhance your flooring, wall, and other space is by choosing travertine shapes and colors that make a statement.
As mentioned before, the stone is available in polished, tumbled, honed, and brushed finishes.
If you are looking for a glossy finish, then polished travertine is your best pick. Though it can resist spills and stains, polished travertine has a slippery texture.
It is highly likely to get a little slippery when wet. So, it is best to avoid it in wet areas. If you want a sanded finish, then honed travertine is the best option.
The Best Tone for Travertine Tiles
Travertine tiles feature warm and neutral tones. It comes in a range of neutral shades that include pale creamy, golden, deep mocha, green, walnut honey, silver, and more.
Since the color of these stones depends on the organic material, most travertine stones do not feature a single color. Only a few travertine stones are sold inconsistent colours.
A majority of the travertine stones sport a combination of some warm and neutral tones. For instance, silver travertine is the most common and popular type of natural stone available on the market.
The color of the stone also depends on the area it is extracted from. Most stones, extracted from the same area, feature a consistent color.
These stones look quite good on your floor, wall cladding, patio pavers, pool pavers, pathway, around swimming pool, driveway, and other exterior and interior space.
Travertine looks the best when it is installed in its natural form. So, we recommend you pick the tumbled travertine stones if you need a natural finish.
Unlike polished travertine, the tumbled stones are not glossy or round-shaped. They are mainly installed on the pathway, driveway, garden, patio, deck, and other outdoor areas.
Here is the list of warm and neutral tones of the travertine natural stone is available at Stone Pavers:
Travertine Tile Colors:
Ivory – A variety of mid-range browns from dark tan to milk creamish colour. Ivory Travertine
Noce – Shades of walnut that range from medium gold to dark coffee. Noce Travertine
Antique – Deep tones of brow and touch of antique style. Antique Travertine
Rustic Ivory – Tiles with a hint of gray that creates a silvered appearance with rustic tecture. Rustic Ivory Traverine
White – Pure and Shell white textured Travertine family tiles. Capri White Limestone & Shell White Limestone
Silver Gray – A heavily striated dark gray travertine. Silver Travertine
Classic – A uniform color and patterning that resembles natural cork. Classic Travertine
Oyster Silver – Ranging in color from lightest ivory to pale fawn of silver. Oyster Silver Travertine
Although some colors are darker than others, because Travertine is a porous stone they will all require sealing. Sealing will need to be re-done every 3-4 years depending on how much the area is used. If it is a food and drink area or around a pool these areas will need to be cared for and sealed more frequently or when needed.
We offer two sealers. Both sealers are penetrating which means they seep into the stone to protect it, instead of a surface sealer which sits on the surface of the stone.
Sealers are available in clear or enhance. Neither will effect the texture of the stone but the enhance sealer will darkening the stone up to 40%.
Sealers start at an affordable price of $60 per Liter, you can purchase the sealer in larger quantities for a more affordable option.
If the sealer is stored in a cool dry place it will last up to 24 months.
If you are looking for a travertine tile colors that features variations, then we recommend Mina Rustic's tone. It is a beautiful combination of walnut, yellow, black, and beige.
"Beige / Cream Color Travertine Tile Image"
Basically, there is no such thing as the best travertine color. The stone looks wonderful in all its warm and neutral tones.
The color that fits your space and looks the best will depend on the area you are going to install the travertine tiles. It also depends on your preference.
If you like dark and deep colors, then rich dark brown, coffee, chocolate will work wonders for you. If you like to keep it light and neutral, then walnut, pale cream, and gray can be your ultimate choice.
Another important thing to consider before choosing the color is your interior décor theme. Take other colors into account before selecting a color for your travertine tiles.
If you are still having a hard time deciding the best and most suitable travertine tiles color for your home, then talk to a professional contractor.
Conclusion
Travertine Tile colors are stunning and look stunning upon installation around pool pavers, patio pavers and similar other outdoor areas. It is one of the sturdy and durable materials that have the potential to last for years without showing signs of wear and tear.
That is why it is one of the most popular natural stone tile choice of Australian Homeowners.
Get FREE Quotes + FREE SAMPLES by Stone Pavers Australia
Stone Pavers are the LARGEST Natural stone providers across Australia. We are known for providing quality products at low prices.
If you are looking for buying Travertine Tiles or Pavers or any other stone tiles in Melbourne, Sydney, Brisbane, Adelaide or anywhere across Australia.
Give us a call today on 03 9706 9767 and receive a FREE QUOTE or you can request an express posted FREE SAMPLE before purchasing our products.
Simply fill our contact us form for the orders or free sample inquiries.
Get some installation ideas from our beautiful Travertine image gallery.
SHOP OUR BEST SELLING GRANITE PAVERS
Read More about Travertine Tiles- Learning Center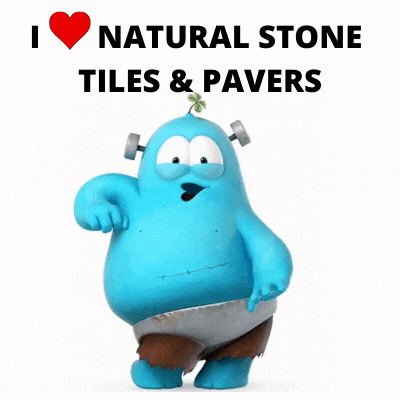 CALL US TODAY! Order Your FREE SAMPLE – Express Posted