Travertine Pool Coping and Pool Paving
Travertine Pool Coping and Pool Pavers
If you want to enhance the curb appeal of your property, you will need to consider decorating the area around your swimming pool. The cement pavers might offer a no-slip texture, but they will not look warm and welcoming on your deck. Pool decks need natural stones that complement the colour, design, and overall exterior of your property.
"Noce Travertine Pool Coping Tiles"
One such stone that is widely used for exterior applications is Travertine pavers. Made of natural stones, these pavers can make a perfect fit for your driveway, walkway, garden, and patio paving requirements. Not only are they versatile, but travertine offers a good grip. That's the reason why travertine pool pavers are considered the number one choice of builders and homeowners. You could install it on your patio and near the pool for a cool and inviting look. The stone is available in a multitude of colours, shapes, and designs.
"Ivory Rustica Travertine Pool Coping"
What sets travertine apart from the man-made and other natural stones is its earthy tones. They are perfect for kitchen backsplash, bathroom walls, and the walls above and around the fireplace. So, not only are travertine tiles used for exterior decor, but they complement your interior theme as well. Let's have a look at the few important reasons why you should opt for travertine pavers for the area surrounding your swimming pool or patio.
Why Use Natural Stones as Pool Pavers?
The cement or bricks installed on the patio can offer a decent grip. However, they get extremely hot under the sun. On hot summer days, the area around your swimming pool will get ridiculously hot, making it nearly impossible for anyone to take a dip. That's the first reason why travertine slabs are considered the most suitable option for pool paving.
No matter how hot the weather gets, rest assured the travertine slabs installed on your patio will not hurt your feet. You could take a dip in the pool and lay on the travertine tiled patio for a while. Nothing could be more relaxing than enjoying a cool summer evening in a warm and welcoming deck. You could even place a lounge for ultimate relaxation.
Some people install travertine slabs on their verandas and patios for vitamin D. You can lay on the floor to get adequate sunlight without burning your feet.
Despite being soft and cool stone, travertine has a non-slip texture. So, not only does it feel cool to your feet, but the travertine slabs installed on your patio will avoid accidents from slipping. Once you have the travertine tiles near the swimming pool, you can enjoy a dip anytime you want without the fear of slipping.
The porous quality of this natural stone makes it a water and heat resistant material. It absorbs moisture quite well and keeps your wet feet from slipping on the deck. If you have kids who absolutely love to swim, then you should definitely invest in travertine slabs. They can protect your kids from falling and hitting their backs. So, why not let your kids have some fun and quality time around the swimming pool?
Natural Stones Look Fantastic
Now, the slip-free surface and heat-resistant quality are not the only perks you get from installing these natural stones on your exterior. Another major advantage of travertine over other stones is its amazing aesthetics. No matter where you install the travertine tiles, rest assured they will blend well with any surroundings and provide you with an aesthetically appealing space.
It adds a touch of natural beauty and elegance to your patio and deck. The best part is that the stone is available in a wide range of colours and shapes. So, even if you have a stylish exterior and some bold colours decor around your swimming pool, you can find the travertine tiles that will complement your exterior.
For instance, you could consider dark hues if you have an aquamarine pool lining. You could also combine a few colours and use different patterns in conjunction. These multiple colours will look beautiful in the sun. With the travertine slabs around the swimming pool, you can create a stylish and natural deck.
Durability and Affordability
Last but not least, travertine pavers are durable. As they are natural stones, they have the potential to endure seasonal elements and poor weather. They can also endure foot and vehicle traffic. However, travertine stones may lose their shine and natural tone if they are not maintained. The best part is that you don't have to spend hundreds of bucks on buying quality or travertine-special detergents to clean your deck. Like other areas, wash your travertine deck with a warm and soapy solution at least thrice a week.
The colour of the stone will never fade. For further protection, we recommend you get the deck sealed with a premium sealant. The sealant will keep the liquid spills and other stains from fading the travertine colour.
Contact Stone Pavers Today to get the best offer on your Travertine Tiles order.
Looking for travertine tiles Melbourne suppliers in Australia? We are Australia's largest travertine tiles and travertine paving suppliers in Victoria, Sydney, Brisbane, Canberra and Adelaide. Give us a call today on 03 9706 9767 or visit our showroom located in Melbourne.
Want to know more information about travertine tiles and pavers? Check out our recent blogs.
SHOP OUR BEST SELLING GRANITE PAVERS
Read More about Travertine Tiles- Learning Center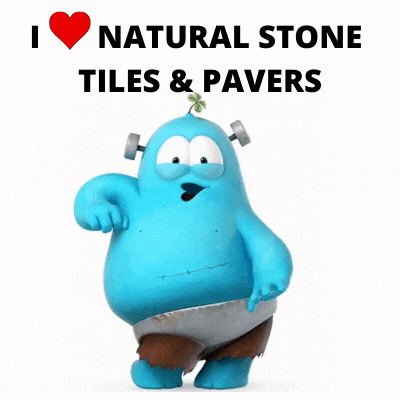 CALL US TODAY! Order Your FREE SAMPLE – Express Posted