What is the price of Travertine Tiles?
Travertine Tiles Prices
Travertine tiles and pavers have a rich heritage dating back to Roman times. They have always had a rich and luxurious allure attached to them.
Travertine was used exclusively in building the Roman Colosseum and was the dominant stone used in building the Roman Forum.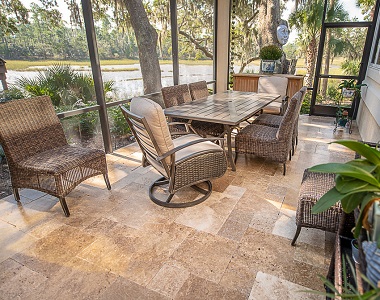 "Noce Travertine Tiles & Pavers Installation Image"
Basically, if you were noble in Roman times your house had a lot of travertine in it. Nowadays Travertine is not used as a building material but as floor and wall tiles and outdoor pavers.
Up until around 2012-2013 travertine tiles and pavers were always VERY expensive and exclusive.
It was around this time that Travertine quarry's in Turkey and Iran doubled production through better mining and production techniques flooding the export market with Travertine tiles and pavers.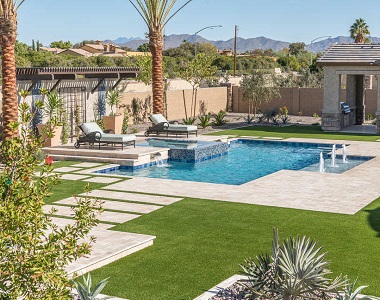 "Beautiful Ivory Travertine Stepping Stone Installation Image"
This glut in the travertine market leads to a decrease in prices in the Australian market in general. Stone Pavers then negotiated directly with one of the quarry owners in Turkey.
Guaranteeing the purchase of very large quantities of pavers and tiles in return for heavily discounted prices.
This has led us to be a market leader in Travertine Tiles and Pavers regarding value for money.
We constantly sell our travertine for less than our competitor's sale prices. An example of travertine prices is as follows:
.
The Cost of Travertine Pavers
The travertine itself might vary significantly in price depending on the overall color, finish, grade, and thickness that you select. For Australia homes and properties, you can expect to pay around $37m2 to $119m2.
Professional installers of the travertine pavers are also expected to charge some service fees –ranging from $45 to $110 per m2. Stone and Slate Discounts sell the cheapest and best Travertine Tiles & Pavers in Australia. 
The material you purchase has a great impact on its price. It goes without saying that you will have to spend a few hundred extra dollars if you would like to get the project done by a professional.
The utilization of additional materials like grout and adhesive tends to be covered by the overall costs per m2. For a rock base that is crushed, you can look forward to spending anywhere between $10 to $100 per m2.
On the other hand, the poured concrete base is priced anywhere between $55 to $95 per m2.  
Likewise, sealing the area can add to the total cost. Some agencies charge for installation and sealing per square foot.
So, the total price will depend on the area you would like to be tiled. Other companies may have a fixed rate per hour.
So, the total amount they charge will depend on the number of hours they take to complete the job.
Travertine is available in different forms. For instance, if you would like a glossy finish, you could opt for polished travertine tiles.
Likewise, it can be brushed, tumbled, and honed. If you want to keep it natural, then you could buy plain travertine stones from the local store.
The natural stones are the cheapest. They will only cost you a few dollars per square foot installation i.e. if you install them on your own.
The tumbled or honed, on the other hand, comes with a higher price tag. They give a rough and glossy appearance.
While natural stones look quite aesthetically appealing and cool, we can't ignore the fact that they are highly prone to wear and tear.
Damage due to weather elements is possible in all types of travertine stones.
To protect these stones from discoloration due to liquid spills and other natural damages, we highly recommend you get the area sealed thoroughly.
The sealant might cost you a few additional bucks, but the results are worth every penny.
Different Types of Travertine Stones
Travertine is available in different colors and types. The prices of the material mainly depend on the quality of the stone. Here, we have listed a few popular options for your exterior and interior flooring. Let's have a look:
If you would like to install the natural-colored stones, then travertine slabs available in white, cream, and ivory hues will make a perfect fit. They look stunning in your exterior and interior space. In general, contractors mainly recommend the ivory travertine tiles for areas that receive low traffic.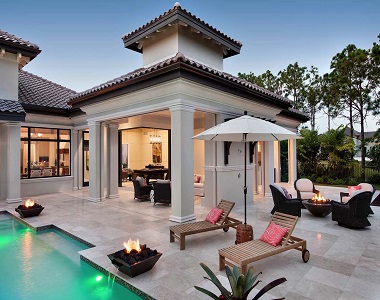 "Ivory Travertine Tiles & Pavers Installation Image"
Another beautiful stone for your landscaping is the silver travertine.
Available in a light grey and white color, this subtle stone makes an ideal option for wall landscaping and the exterior areas.
The silver and creamish stone adds a touch of sophistication to wherever you install it.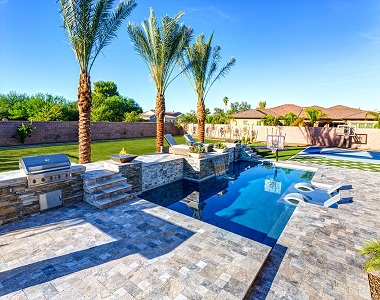 "Silver Travertine Tiles & Pavers Installation Image around the swimming pool area"
Capri Sandblasted Travertine
Available in white or light cream shades, this light travertine stone features ultimate aesthetics.
You could install it on the outdoor areas including patio areas for an improved appearance. Capri White Limestone belongs to the travertine natural stone family is a perfect material for exterior remodeling projects.
"White Limestone pavers and tiles installation image"
Pearl Limestone Grey Travertine
As the name implies pearl grey limestone belongs to the travertine stone family, the given travertine offers limestone slabs of pear-like grey tones that look wonderful on the patio, deck, and other areas.
You could also pick this material as stepping stones for your garden. However, these travertine pavers need high maintenance.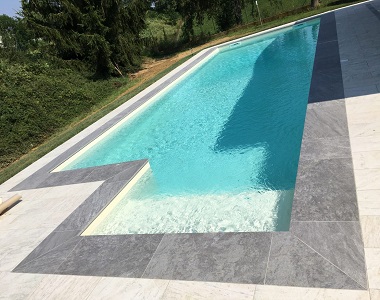 "Pearl Grey Limestone Pool Paving installation Image"
Conclusion
Travertine Tiles Prices are reasonable and pavers look stunning upon installation around pool pavers, patio pavers and similar other outdoor areas. It is one of the sturdy and durable materials that have the potential to last for years without showing signs of wear and tear.
That is why it is one of the most popular natural stone tile choice of Australian Homeowners.
Get FREE Quotes + FREE SAMPLES by Stone Pavers Australia
Stone Pavers are the LARGEST Natural stone providers across Australia. We are known for providing quality products at low prices.
If you are looking for buying Travertine Tiles or Pavers or any other stone tiles in Melbourne, Sydney, Brisbane, Adelaide or anywhere across Australia.
Give us a call today on 03 9706 9767 and receive a FREE QUOTE or you can request an express posted FREE SAMPLE before purchasing our products.
Simply fill our contact us form for the orders or free sample inquiries.
Get some installation ideas from our beautiful Travertine image gallery.
SHOP OUR BEST SELLING GRANITE PAVERS
Read More about Travertine Tiles- Learning Center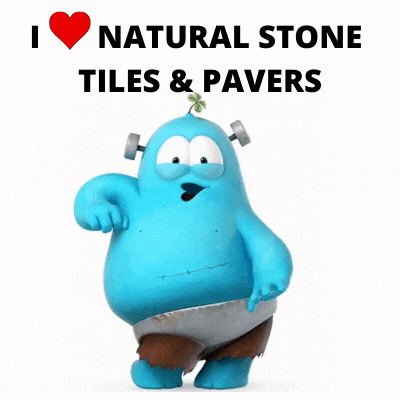 CALL US TODAY! Order Your FREE SAMPLE – Express Posted