WHAT IS THE PRICE OF TRAVERTINE TILES?
Travertine tiles and pavers have a rich heritage dating back to Roman times. They have always had a rich and luxurious allure attached to them.
Travertine was used exclusively in building the Roman Colosseum and was the dominant stone used in building the Roman Forum. Basically if you were a noble in Roman times your house had a lot of travertine in it.
Nowadays Travertine is not used as a building material but as floor and wall tiles and outdoor pavers. Up until around 2012-2013 travertine tiles and pavers were always VERY expensive and exclusive. It was around this time that Travertine quarry's in Turkey and Iran doubled production through better mining and production techniques flooding the export market with Travertine tiles and pavers.
This glut in the travertine market lead to a decrease in prices in the Australian market in general. Slate and Stone Discounts then negotiated directly with one of the quarry owners in Turkey. Guaranteeing the purchase of very large quantities of pavers and tiles in return for heavily discounted prices.
This has led us to be a market leader in Travertine Tiles and Pavers regarding value for money. We constantly sell our travertine for less than our competitors sale prices. An example of travertine prices is as follows:
Ivory Travertine Honed and Filed Tiles have been used for the bathroom above. The stone comes from Istanbul Travertine Quarries in Turkey. We have tiles and pavers in various sizes in 12mm and 30mm thickness, we can custom order sizes to suit your needs.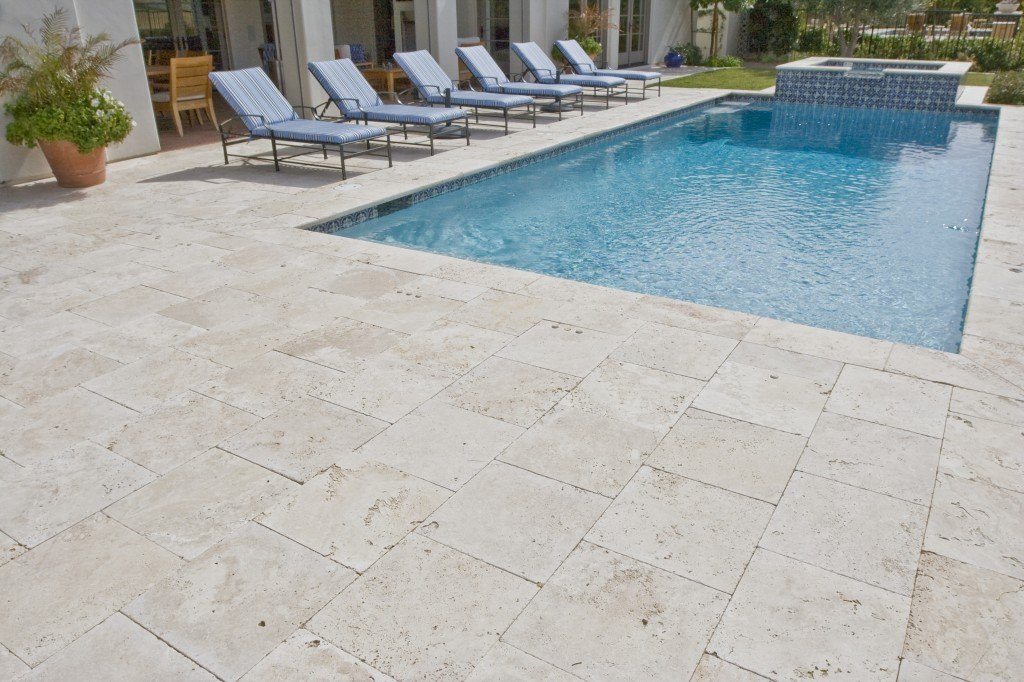 Ivory Travertine unfilled and tumbled honed surface pavers and bullnosed pool coping.