Granite pavers have been used in courtyards, roads, and buildings in the past and in the modern times, it is used in pathways, patios pavers, pool areas, and driveways. With proper planning and purchasing the right amount of granite paving wont be too much of a stress.  Generally granite pavers prices are quite affordable compared to other artificial pavers like concrete and porcelains.
The Cost of Granite Pavers & Granite Tiles
The overall granite paving price really depends on the size of your area. However, Granite Pavers prices itself generally cost between $63-$80 per sqm. whereas the average cost per piece is between $15-$30. At times the use of other installations materials such as sand, cement, and sealer will be required which can affect the overall cost of laying granite pavers.
Installation Considerations
It is important that you use careful planning and consideration before you start with home improvement projects. The very first step that you need to follow is to install these granite pavers in an outdoor setup and map out the plan. Measure and prepare the space where you want to lay the granite outdoor tiles. This is important as you will be able to determine the area that will be acquired by the paving stone and the difficulties that might rise during the process. As granite pavers Brisbane is hard to cut, it is essential that you know determine in case any granite tile will be required so that you can purchase the right equipment if required.
Cleaning and Maintaining Granite Pavers
Granite Pavers is easy to maintain just like any other stone pavers and does not require too much attention. You just need regular sweeping in order to clear the leaves and outdoor debris which is a part of routine cleaning itself. You can also rinse out your garden with a hose and let the air dry using the paver cleaner.
You can easily find the chemical pavers at the hardware stores which would cost you around $20. Use a mild formula to clean up the stains as that would not harm the surface of the granite pavers. It is best to follow up the instructions given by the manufacturer and let the cleaner penetrate into the surface by leaving it for sometime.
When it comes to removing the cleaner, you can use pressure washing and make your granite outdoor tiles and granite pool pavers completely new again. It can be rented from the local hardware store and can be used to rinse your patio. When the surface of these granite tiles gets dry, you can use a protective layer of the granite pavers stone sealer to repel stain and ensure colour fastness. Granite pavers Sealers will cost you around $10- $30 depending on quantity and are perfect for future landscaping projects.
The types of Granite Pavers 
Raven Grey Granite / Grey Granite Pavers
If you would prefer subtle stones, then granite pavers are available in black, grey, and white tones which will make a perfect fit for any paving area. These granite pavers look stunning in both exterior and interior spaces. In general, Landscapers and builders mainly recommend the grey granite pavers for areas that receive higher foot traffic. These granite tile are mainly found in patios, driveways, pool areas and gardens.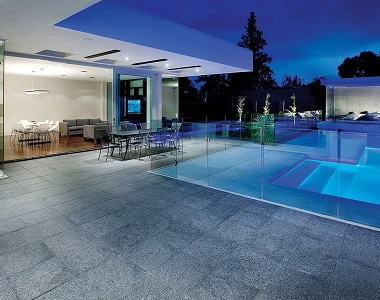 Product: 
Raven Grey Granite Pavers & Tiles from $72m²
Matching Pool Coping Tiles: 
Raven Grey Granite Pool Coping Drop Face from $49 each
Raven Grey Granite Bullnose Pool Coping from $34 each
*Prices are an approximate only
"Installation image of Raven Grey Granite Tiles and Pavers"
Midnight Black Granite / Black Granite Pavers
Another beautiful granite paving stone for your exterior decor is our midnight black granite pavers. Available in a dark grey and black colours. This subtle granite pavers Melbourne makes an ideal option for granite outdoor tiles, granite pool pavers, patio pavers, garden sitting area and the wall around your fireplace. Originated in India, this beautiful grey and black grey coloured exfoliated granite pavers adds a touch of sophistication to wherever you install it.
Product: 
Midnight Black Granite Tiles & Pavers from $82 m²
Matching Pool Coping Tiles: 
Midnight Black Granite Pool Coping Drop Face from $65 each
Midnight Black Granite Bullnose Pool Coping from $44 each
*Prices are an approximate only
"Image of Midnight Black Granite Tiles and Pavers"
Dove White Granite / White Granite Pavers
As the name implies, white granite pavers has recently became quite popular and looks stunning upon installation around pool pavers, pool coping Tiles, patio pavers, garden sitting areas and other similar outdoor tiling areas. You could also pick this material as granite stepping stones for your garden.
Dove White Granite Pavers & Tiles from $69 m²
Matching Pool Coping Tiles: 
Dove White Granite Pool Coping Drop Face from $40 each
Dove White Granite Bullnose Pool Coping from $34 each
*Prices are an approximate only
"Installation Image of Dove Granite Pavers and Tiles"
Conclusion
There are many paving option to choose from, but granite is chosen mostly because of its durability. [Read more about What is Granite? ]
That is why it is one of the most popular natural stone tile choices of Australian Homeowners. [Read Granite Frequently Asked Question to learn more. ]
Get FREE Quotes + FREE SAMPLES by Stone Pavers Australia
Stone Pavers are the LARGEST Natural stone providers across Australia. We are known for providing quality products at low prices.
If you are looking to buy granite pavers in Melbourne, Sydney, Brisbane, Adelaide, or anywhere across Australia.
Give us a call today on 03 9706 9767 and receive a FREE QUOTE or you can request an express posted FREE SAMPLE before purchasing our products.
Simply fill our contact us form for the orders or free sample inquiries.
Get some installation ideas from our beautiful stone tiles Granite Image Gallery.