Crazy Paving Wall Cladding
As the name suggests, crazy paving are irregular stones (of all shapes & sizes) to cover the walls is quite trendy these days. Since the evolution in the décor industry, crazy paving wall cladding has earned some reputation for being a rejuvenating experience. It is fresh, unique, environmentally friendly, and suffices one's creative need as well.
Since the crazy wall cladding is done installing long-lasting natural stones, the durability of such walls under such harsh weather conditions is extraordinary. To your further satisfaction, being versatile in terms of shapes & colours, these stones offer a vibrant end result.
SHOP CRAZY PAVING WALL CLADDING
Have you got walls? Crazy cladding them already!
Whether it is a wall standing against the swimming pool, a boundary wall gone dull over time, or perhaps that entry gate needs a fresh & stunning appearance. Crazy paving wall cladding is the answer to acquire that lost charm along with hints of creativity. And we promise none will look the same! The fact that almost every stone is unique in its shape, size, and colour, the end result will always be different for different walls. Plus, wall cladding is a super seamless experience and would always leave you with a good lasting feeling.  
Top benefits of stones & the types
We are talking about stones such as granite, bluestone, sandstone & quartz. They possess a great amount of withstanding properties. A heavy downpour or worse, the possibility of scratches by pedestrians, these walls are meant to survive & remain untouched by pretty much all of that. They are available both in smooth & grained textures. You could choose the ones that go effortlessly with the ambiance.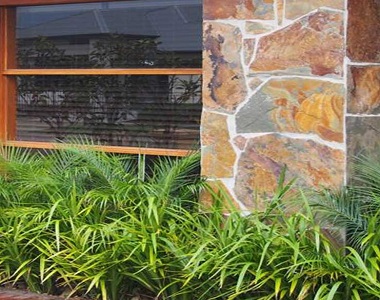 "Installation of Slate crazy paving wall cladding"
Besides that, great value for money. Crazy paving wall cladding is an option to make your spending seem worthwhile since the walls are not going to go anywhere. These stones that are used for cladding are naturally ingrained with lifetime validity.  
There is more!
Apart from qualifying for a suitable choice for covering the walls, a rugged & rustic appearance would be a cherry on the cake. The colours that these stones are available in they are pleasant on eyes and brings out an elegant & sophisticated look.
Had you been staring at the walls long enough now, we suggest getting over it. It might come across as a tedious task initially; however, thinking of the outcome, crazy wall cladding appears to solve the ultimate purpose now, isn't it? Crazy paving wall cladding is handy when thinking of building a new wall instead of renovating. It is essential to know the purpose beforehand and then make your choice. We wish you luck to search a reliable supplier; let the wall do little talking!
Crazy Pavers is one of the sturdy and durable materials that have the potential to last for years without showing signs of wear and tear. [Read more about What is Crazy Paving? ]
That is why it is one of the most popular natural stone tile choices of Australian Homeowners. [ Read Crazy Paving Frequently Asked Question to learn more. ] Get FREE Quotes + FREE SAMPLES by Stone Pavers Australia Stone Pavers are the LARGEST Natural stone providers across Australia.
We are known for providing quality products at low prices. If you are looking for buying sandstone tiles or sandstone pavers or any other stone tiles in Melbourne, Sydney, Brisbane, Adelaide, or anywhere across Australia.
Give us a call today on 03 9706 9767 and receive a FREE QUOTE or you can request an express posted FREE SAMPLE before purchasing our products. Simply fill our contact us form for the orders or free sample inquiries. Get some installation ideas from our beautiful stone tiles Crazy Paving Image Gallery.
Similar Crazy Paving Installation