Crazy Paving Stairs 
Architecture has taken a completely new turn in recent years. People have made a wonderful fusion of their aesthetic sense with modern natural crazy paving stones. One of the most popular among them is Crazy Pavers Stairs. Crazy pavers comes in different forms of shape, sizes and colour.
These eye-catching and stout stairs have become the talk of the town in recent years. Apart from business class buildings, swimming pools, historical places, and sea beaches crazy paving stairs are now in trend.
SHOP CRAZY PAVING STAIRS ON SALE
Benefits of using Crazy Pavers on Stairs
Although most people choose these stairs by just taking a mere look, there are numerous advantages hidden in each step of the stairs. They work perfectly on low maintenance. So, you need not worry about painting and repainting it over the years. They require minimal repair in their lifespan. The stout foundation of these crazy pave stairs is economically efficient in the long run.
Furthermore, they are much safer to use by people of all ages as they are highly non slippery even after a massive rainfall. These crazy paver stairs offer a higher range of friction which is much needed in any stairs.
Crazy Pavers Stairs are long-lasting, with smooth edges at each step, these stairs remain intact over a long, long period. Most of the old monuments are blessed with these Pavers Stairs, which have lasted for more than a hundred years.
Every bespoke paver stairs is a signature piece and a marvellous focal point that will render the visitors a Wow factor. Each step they take through the stairs resonates with the mental peace they get.
Another lesser taken known benefit that needs a special mention is that of a soundproof quality. You must have seen when children run up and down those wooden stairs, an irritating sound creaks. But with crazy pavers' stairs, there is no worry of those creaking noises. They are solid and hence support absolute soundproofing.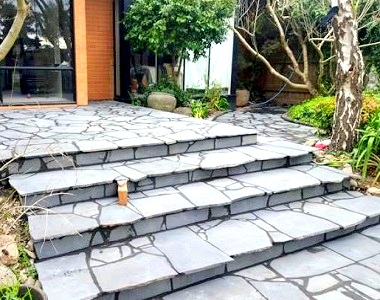 "Installation image of Crazy Paving Stairs" 
Why choose Crazy Paver Stairs for your building?
A person with an appreciable aesthetic sense will always prioritize paver stairs over any other material. There are many reasons because of which you should choose this style blindfolded.
Cost-effective in the long run
The stripes and designs are unique to each setup, which makes them more attractive.
Presents a dashing yet sober look to your building.
Not at all slippery.
Easy to clean and maintain.
Crazy Pavers Stairs have been the personal favourite amongst Australians in recent times. People from all parts of the world have chosen this style of stairs to add a beautiful style statement to their buildings. Apart from residential uses, you can install these crazy paving stairs for commercial purposes too. Whatever the purpose is, there is no better option than these striped Pavers Stairs.  
Crazy Pavers is one of the sturdy and durable materials that have the potential to last for years without showing signs of wear and tear. [Read more about What is Crazy Paving? ]
That is why it is one of the most popular natural stone tile choices of Australian Homeowners. [ Read Crazy Paving Frequently Asked Question to learn more. ] Get FREE Quotes + FREE SAMPLES by Stone Pavers Australia Stone Pavers are the LARGEST Natural stone providers across Australia.
We are known for providing quality products at low prices. If you are looking for buying sandstone tiles or sandstone pavers or any other stone tiles in Melbourne, Sydney, Brisbane, Adelaide, or anywhere across Australia.
Give us a call today on 03 9706 9767 and receive a FREE QUOTE or you can request an express posted FREE SAMPLE before purchasing our products. Simply fill our contact us form for the orders or free sample inquiries. Get some installation ideas from our beautiful stone tiles Crazy Paving Image Gallery.