What is crazy paving?
Landscaping the backyard with top-grade outdoor pavers could take the backyard from appearing sad & dull to a spectacular & beautiful place to chill out, relax, and even host a small get-together with close ones.
If you happen to be an outdoor person and love spending time outdoors, then you should pay attention to the type of paving that you select for the given landscaping project.
One such trending option for outdoor paving that is gaining huge impetus amongst the homeowners is 'crazy paving.'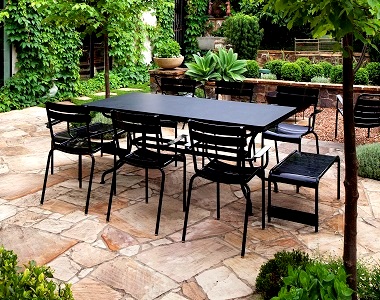 Installation Image of Rio Gold Crazy Paving
In this post, we will help you uncover all that you need to know about crazy paving for your backyard.
All that You Need to Know About Crazy Paving
While crazy paving might appear like a cost-effective alternative to other forms of paving options out there, it is still highly renowned for its bonafide design solutions for a perfect stone finish.
This is the reason why the trend of installing crazy paving for the exteriors of your home is becoming popular more.
Crazy paving can be defined as the method of landscaping that is usually implemented on outdoor areas, including patios, pathways, driveways, gardens, and pool areas.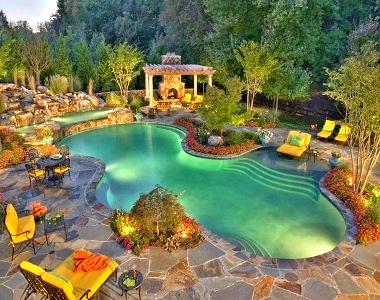 Installation Image of Kakadu Crazy Paving
The concept of this form of paving is believed to have originated in Rome. The paving scenario appears to be highly functional while being decorative and hardwearing at the same time.
This is the reason why crazy paving has proven itself for several suburban gardens while lending itself to a multitude of shapes, colors, and special effects.
Why is Crazy Paving So Popular?
The natural color and texture of the pavers, along with multiple size variations in the given form of paving, are known to make the concept immensely versatile.
Given its versatility and functionality, crazy paving is a leading flooring option for most homes in Australia.
The format for a specialised crazy paving project is known to allow maximum movement in typical flooring aesthetic.
Installation Image of Midnight Crazy Paving
This way, it also serves to be an excellent way to break open the available space visually.
The given paving method can be utilised throughout the internal as well as external spaces of the home.
How does Crazy Pave Work?
Also referred to as the 'flagstone," crazy paving and its concept originated from the theory of using broken pieced or wasted off-cuts during the installation of outdoor pavers and large-sized cut stone.
From a simple renovation of your small courtyard to a large-scale landscaping project, the method of laying stone turns out to be super effective.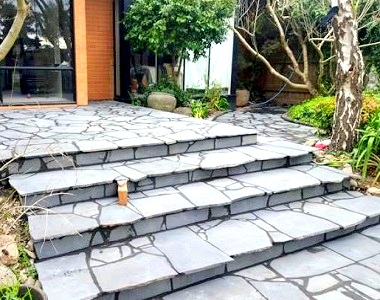 Installation Image of Bluestone Crazy Paving
Depending on the budget, crazy paving can help in making a major difference when it comes to creating specialized, beautiful zones.
Why Use Our Crazy Paving Method?
In addition to the overall effectiveness, the concept of crazy paving that our team provides for Australia homes offers benefits as:
Improved Durability: As the technique is known to make use of stone, the result turns out highly durable as well as long-lasting.

The crazy paving structure for your home is able to resist all weather conditions while standing the test of time effectively.
Low Maintenance: When it comes to using crazy paving, you can maintain the same without any effort.

There is no requirement of hiring a professional maintenance team to take care of the pavers.

You can do the cleaning by yourself. With the help of a garden hose and plain water, the crazy pavers can be easily cleaned effortlessly.
In case there are some stubborn stains, you can pour soapy water on the surface and clean the same using a brush. Rinse off the area with plain water and allow the surface to dry completely.
Sustainability: In comparison to other types of paving solutions, the concept of crazy stone paving turns out to be one of the most sustainable options out there.

While delivering improved sustainability, it also does not compromise on the overall aesthetics of your outdoor flooring.

As there is no standard size or shape of stone for the given technique of paving, you can even consider using recycled materials.
Versatility: In comparison to other paving options that might limit your overall capability of ensuring creativity as they require uniform materials or size, you tend to receive more artistic freedom with the concept of crazy paving.

You can express the overall personality of the exteriors of your home with the help of varying patterns, stones, textures, and designs.
Crazy paving can be laid down across patios, walkways, sides of the walls, and even on top of the retaining walls for improved aesthetics and functionality.
Installation Image of Golden Quartz Crazy Paving
You can also use the same around swimming pools for great functionality throughout its lifecycle. You can also lay the given method of paving on existing cemented paths to add interest and colors.
Make the most of the reliable services by a reputed paving service provider and improve the overall décor instantly.
With the help of various benefits, you can look forward to implementing crazy paving in the outdoor surfaces.
For the best results, it is recommended that you should select services from a reliable supplier offering expert advice and top-quality pavers to help you with the landscaping project.
Conclusion
Crazy paving is the best option if you are looking for a modern and stylish look for your pavers. They are recently gaining popularity among Australian Homeowners because of there crazy, random and mesmerizing look. 
The most popular crazy paving natural stone is bluestone, sandstone and quartz. However, people also prefer some different stone style based on there colour preferences and matching the styling of their home. 
If you are based in Melbourne, Sydney, Canberra, Adelaide, Brisbane, Hobart, Geelong or anywhere in Australia and looking for crazy pavers then there is no better place than STONE PAVERS AUSTRALIA. You will find the quality natural stone pavers for the cheapest prices in the market. 
We provide express posted FREE SAMPLES + FREE STONEMASON ADVICE + Door-to-door Delivery Australia-wide. You are just a phone call away from all the DISCOUNTS we have to offer. Call us today on (03) 97069767 and get a FREE Quote on your pavers. 
Simply contact us and get your FREE Sample delivered at your doorstep.
Call us for more information on Delivery services.
Hope you enjoy reading our Blog. Wish to see you soon.