What are Outdoor Pavers?
Basically, the first thing a homeowner considers when choosing a paving material is the colour of their exteriors. The lighter shades are used to achieve a cohesive look. But you could also opt for bluestone outdoor pavers that are available in cold tones. For perfect outdoor paving, you are going to need to build a strong foundation comprising a layer of compressed gravel as well as compacted sand. Our Natural stone outdoor pavers are available in a multitude of shapes and finishes which can be the best fit for large outdoor paving area.
With the natural pavers installed on your driveway and exteriors, the curb appeal of your home will improve significantly. Like plants and other accessories, pavers add colours and texture to your exterior space. The paving material must not be selected for their aesthetic only. It is important to consider the utility and resilience of the material before making a purchase. You don't want to install the pavers that last only a few months. However, stone pavers like travertine outdoor pavers, granite outdoor pavers and sandstone outdoor pavers are just an ideal choice for large paving areas such as swimming pool pavers, patio pavers, driveway pavers and more. To add some extra charm to your outdoor paving area, you can choose to lay crazy pavers which looks astonishing upon installation.
Natural Stones for Exterior Paving
Outdoor paving is a long-term investment. Some natural stones are known for their reliability and hard-wearing properties, while others give your outdoor space a sophisticated and elegant look. You could choose a material based on your lifestyle and requirements. There is a good reason why homeowners choose natural stones over artificial and man-made materials. The stones are available in a wide range of colours and sizes.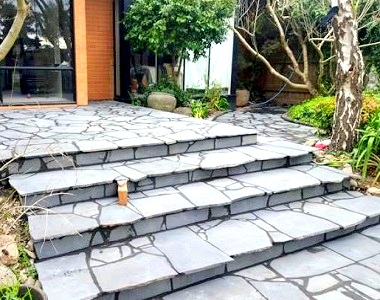 "Installation Image of Bluestone Crazy Paving"
Contrary to what people believe, natural stones are not expensive. It is rather the labour and tool cost that makes the paving project costlier than concrete and brick paving. Natural stones have slight variations, which can be noticed in each slab. Even if you order a single type of natural stone for exterior paving, you will spot colour and size variation in each stone. This adds a natural touch to your space. However, it also makes the installation process a little challenging. There is no denying that stone paving needs creativity. It is physically demanding and tedious.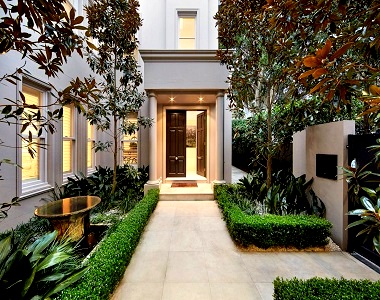 "Installation Image of Himalayan Sandstone Pavers"
Most homeowners hire professional contractors to get the pavers installed on the patio, driveway, deck, and around the swimming pool. It is quite easy to see why labours charge a high price for stone paving. They need to arrange these stones in a uniform pattern, which gets quite challenging considering the irregularity in the sizes and hues of the material.
Installation Ideas for Outdoor Paving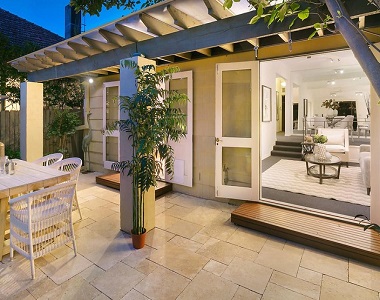 "Installation Image of Ivory Travertine Tiles and Pavers "
You can install natural stones on the driveway, balcony, backyard, walkway, deck, patio, steppingstones, façade wall, and around the swimming pool. For driveway and pathway, you need a tough material that can endure foot traffic.
"Installation Image of Midnight Blue stone Pavers and Tiles"
Bluestone and travertine are the best options for pool coping. For the backyard and patio, you could pick the attractive and functional natural stone that can endure changing weather and extreme temperature.
Conclusion:
There are many quality natural stones tiles and pavers available such as Bluestone pavers, Travertine tiles, Sandstone Pavers, Granite Pavers, Crazy Paving and Cobblestones which can be used for any outdoor paving area.
Get FREE Quotes + FREE SAMPLES by Stone Pavers Australia
Stone Pavers are the LARGEST Natural stone providers across Australia. We are known for providing quality products at low prices.
If you are looking for buying outdoor tiles or outdoor pavers or any other stone tiles in Melbourne, Sydney, Brisbane, Adelaide, or anywhere across Australia.
Give us a call today on 03 9706 9767 and receive a FREE QUOTE or you can request an express posted FREE SAMPLE before purchasing our products.
Simply fill our contact us form for the orders or free sample inquiries.
Get some installation ideas from our beautiful stone tiles Image Gallery.