Travertine Outdoor Pavers
Travertine is a natural stone that has been used for construction, paving, wall cladding, and other such applications for several years. It is known for its strength and durability. Travertine pavers are available in a broad range of colors, shapes, and sizes. The specialty of this natural stone is its adaptability.
You can install the travertine tiles on your backyard, veranda, patio, deck, walkway, driveway, walls, and the interiors.They look wonderful with all types of surroundings. They are quite affordable. The travertine slabs installation per square meter will cost you around $37 minimum. 
Gone are the days when people considered cement pavers for driveway and patio paving. Today, homeowners look for attractive and reliable options. Travertine belongs to the limestone category. Extracted from the earth, this natural and versatile material is considered the builder's number one choice for exterior home decoration.
Whether you need to install the stepping stones in your garden or enhance the look of your driveway with durable and attractive pavers, travertine is an ideal option.
SHOP OUTDOOR PAVERS ON SALE
Travertine Driveway Pavers & Tiles
One interesting quality of the travertine driveway pavers is that they can be installed right above the current driveway. You do not have to spend hours digging the ground or creating the foundation. The stones are durable and can last for many years.
However, they tend to lose their shine as they age. Natural wear and tear can also affect the quality of the material. So, we highly recommend you seal the driveway to keep the travertine stones from weather elements and other damages. Use dark travertine materials on the driveway. It keeps the stones from the hideous stains of your vehicles and foot traffic.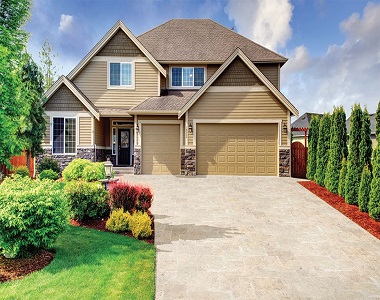 Swimming Pool Pavers & Tile
Travertine is one of the attractive stones that look quite warm and refreshing. That being said, they make a perfect fit for the area surrounding your swimming pools.Unlike common tiles, the travertine does not absorb heat. Even in the summer or hottest days, the travertine stones feel cool.
Travertine isn't slippery, though you need to be careful when walking with wet feet. But, it is far better than granite and marble that increase the risk of accidents due to bad slips.The same color stones look quite boring. Compare the colors and choose at least two shades that complement the area around your swimming pool.
Backyard or Patio Pavers & Tiles
Install travertine pavers on the patio to get a robust and attractive surface. The material is strong enough to support grill stations for barbecues and a cool lounge for a relaxing and cozy evening. You must have noticed the travertine slabs installed on the shower wall and the kitchen backsplash. Well, travertine has a non-slip texture that avoids slips.
You can organize a barbecue, set lounges and outdoor furniture, serve drinks, and spend some time relaxing on the travertine tiled patio. What could be a better way to spend the hot summer days than sipping a fresh cold drink on a refreshing patio? Remove those casual and boring stones from your patio and tile the area with travertine slabs. It will enhance the beauty of your patio and turn it into a rejuvenating space.
You could invite your friends and colleagues and have some fun time on the patio. Travertine tiles also make your patio a perfect space to hold family get-together or relax in a warm evening.
Travertine Stepping Stones
The steps on the garden are more than a path to save your feet from the muddy and slippery grass. They enhance the curb appeal of your exteriors and make it more stunning. If you want your exteriors to stand out, consider installing the travertine stepping stones.They look quite attractive and keep your feet from mud and moisture. Your guests will love to walk on these stones.
As mentioned before, travertine has the potential to resist seasonal elements and spill stains. So, why not install stepping stones on the pathway and give your guests a grand entrance. You can choose the material that complements your front door or the exterior wall paint color. Measure the distance between each tile and use a string line to get your travertine pavers aligned.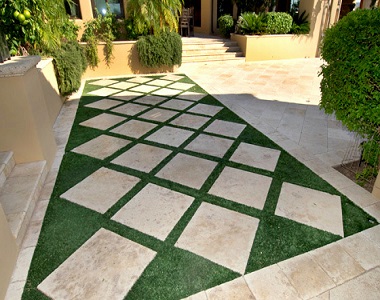 Travertine Stackstone Wall Cladding
Travertine tiles are mostly installed on the wall above and surrounding a fireplace. It acts as the focal point of the room and adds a touch of sophistication to your space. But, do you know the travertine slabs can also be used to decorate your exterior walls? They look beautiful on the entrance gate wall. The travertine pavers can be installed on your exterior walls. You could choose the heavy and neutral slabs or bright tones.
We highly recommend travertine outdoors pavers for brick and stone walls that look a little dull. The stepping stone on the pathway, travertine tiled patio, and exterior wall cladding can improve the aesthetic appeal of your home.