Stack Stone Wall Cladding
Stacked stone is getting the most popular and homeowners' ideal solution to a dull and outdated façade.
Contractors often recommend stack stone for wall cladding. It adds a touch of elegance to a plain wall.
Natural stone tends to last longer than the man-made cladding materials. They can resist weather, moisture, and other such environmental elements.
Stack stock is one such natural stone. Available in different styles and colors, stack stone can add drama to your interiors. Stacked stone is installed on the wall like tiles.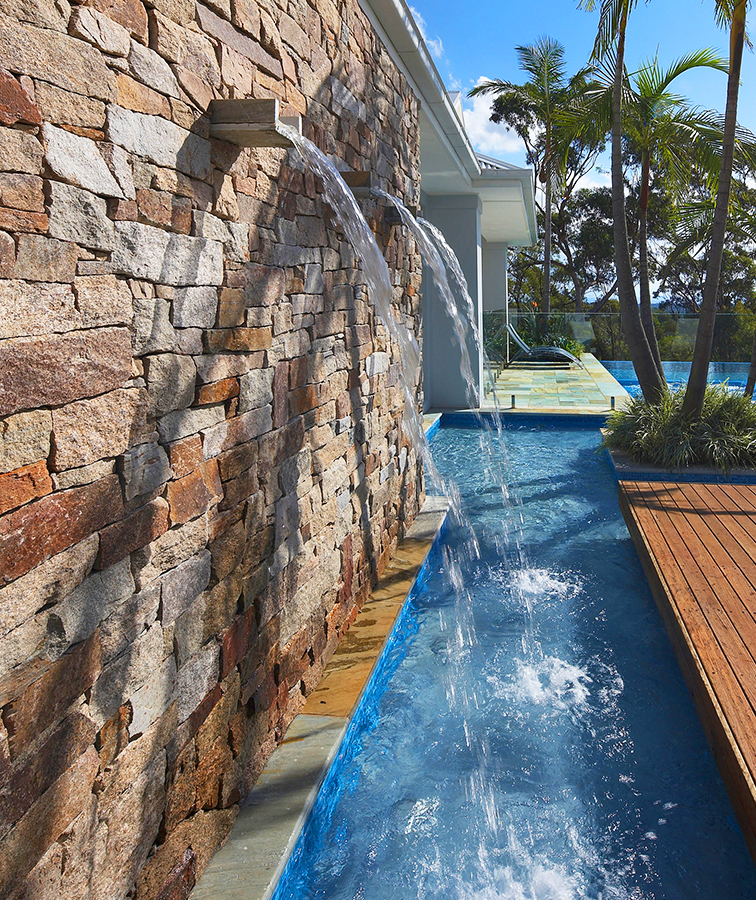 "Stonewall cladding as outdoor water feature Image"
These stones are mainly available in three types i.e. 3-D geometric lightweight stackstone, ledgestone, and loose stones. The total installation cost of the stackstone cladding depends on the material and type of stone you choose.
Overall, it can cost you $3 to $10 for corners and about $30 to $120 per square meter for flats [prices may vary with the sizes]. Though each material comes with some unique features and an exciting look, experts highly recommend ledge stone.
It looks timeless and stunning on the interior and exterior walls. The trends in this industry keep changing. Nowadays, people choose a dry, rough, and rugged stack stone for their walls.
They need a stone that gives a sleek and contemporary finish. This natural stone makes a perfect option for indoors and outdoors installation. Stacked stones are mostly installed in the outdoor wall features, and the wall around the fireplace.
Installing the Stacked Stone
Additionally, the stacked stone is the contractors' and homeowners' number one choice for all types of landscape applications. The installation process is quite simple.
Just like other natural stones, you are supposed to lay out the stacked stone on the ground to arrange them according to their shapes and colors.
"Stone Wall Cladding as around Fireplace Image"
For installation, you will need a strong adhesive that could stick the stacked stone firmly to the wall. You will have to create a strong foundation and stick these stones to the substrate.
The adhesive needs to be applied to the substrate and the stone. Additionally, make sure the wall is clean and free from dirt, dust, and debris.
Once you have placed all the slabs to the wall, leave it to dry for the next 24 hours.
It is important for homeowners to consider sealing the wall. A strong sealant must be used to seal the wall.
Which Stacked Stone is the Best?
Since it is a natural stone, stacked stone is available in a wide range of colors. The color, type, material, and design you choose can determine the final look of your wall.
The stone comes in warm and neutral tones. Coming to the finish, you will find polished and natural stacked stones on the market.
For a polished look, materials like granite and quartzite will be your ideal pick. If you would like to keep the wall simple and natural, then we recommend you go for the natural stacked stone that offers a smooth and clean finish.
The cost of the entire project depends on a few things i.e. the type of stacked stones you choose, the contractors you hire for the project, the total area you would like to tile.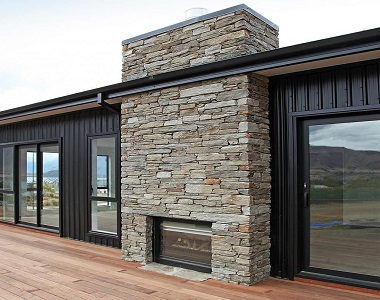 "Stackstone Wall cladding Image"
Now, you could opt for a DIY installation or hire a professional contractor for the job.
Though you might not get the best results, know that it is possible to install the stacked stones on your own. You only need adhesive, sealant, and some measurement tools.
The more you will change the natural stone, the higher the price of the project will be. For instance, polished stack stone is pricier than the natural stone.
Since you are installing these slabs on the wall, the stacked stones are less likely to suffer premature wear and tear. If installed on the interior walls, stack stone will not be exposed to the weather elements; neither do they receive foot traffic.
So, durability is not going to be a concern with stacked stone wall cladding.
Cleaning and Maintenance of Stacked Stones
Regular cleaning and maintenance are needed. The ledgestone accumulate the same amount of dust as your windowsill.
So, using a clean cloth to wipe away the dust will suffice. Some stones, however, need a thorough cleaning.
You might have to use a stone cleaner, mainly if the stones are installed around the fireplace and in the kitchen. You could purchase a typical stone cleaner (pH level should not exceed 8). Spray the cleaner on the wall, wipe it, and that's it.
Additionally, you need to seal the wall with a high-quality and strong sealant.
This will ensure that the stones do not pick dirt and filth. Natural stones can get stained. They also suffer natural wear and tear.
In order to extend their lifespan and enhance their appearance, you need to invest in a sealant. You could apply the sealant in 2-3 days post the wall cladding.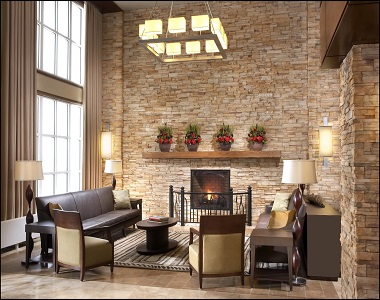 "Stackstone Wall Cladding Image"
Again, you can hire a professional contractor for wall sealing or follow the DIY steps to do it on your own.
You will need to seal the wall annually or twice every year. A high-quality sealant will keep your wall from getting stained.
No matter where you install them, stacked stones have the potential to add warmth to any space. Choose the best stacked stone for your home.
Conclusion
Cleaning and installation of the stack stone wall cladding is easy. But, if you looking for expert advice on your stack stone or loose stone wall cladding installation, feel free to contact stone pavers Australia.
Our expert stone masons can help you a few important tips and if needed can assist you installation for cheaper cost, 
Get FREE Quotes + FREE SAMPLES by Stone Pavers Australia
Stone Pavers are the LARGEST Natural stone providers across Australia. We are known for providing quality products at low prices.
If you are looking for buying Stackstone, Ledgestone or Loose stone wall cladding any other stone tiles in Melbourne, Sydney, Brisbane, Adelaide or anywhere across Australia.
Give us a call today on 03 9706 9767 and receive a FREE QUOTE or you can request an express posted FREE SAMPLE before purchasing our products.
Simply fill our contact us form for the orders or free sample inquiries.
Get some installation ideas from our beautiful Stone Wall cladding image gallery.