What is Ledgestone?
Ledgestone can be defined as blended colored natural stones subtly upon installation in a dry-stack format.
Ledgestone is popularly used for home design or renovation projects when you wish to enhance the overall aesthetics of the given space.
When installed correctly, ledgestone helps in the creation of linear lines featuring stone depths that vary and provide intriguing shadows.
You can consider taking professional help when you wish to install ledgestone for your home design or remodeling project.

"Installation Image of Earth Ledgestone Wall Cladding"
Ledgestone is known to resemble the stacked stones. It is a type of natural stone that is typically used for fireplaces, walls, and borders.
Ledgestone is available as stripes of rectangular shapes made out of natural stones that are arranged in a uniform fashion. It results into the formation of a veneer or a mesh.
When you are looking for the installation of stone wall cladding for your home design project in Australia, some of the most common size options that you can get are 6X24 inch and 6X20 inch variations.
Importance of Using Ledgestone for Home Projects
Ledgestone products have always been quite popular as a form of building stone veneer.
Its overall popularity has skyrocketed in the past few years as more homeowners in Australia are looking forward to including the same in their home projects.
Ledgestone helps in achieving an aesthetic look that is easily capable of translating into the perfect balance of timeless and trendy beauty.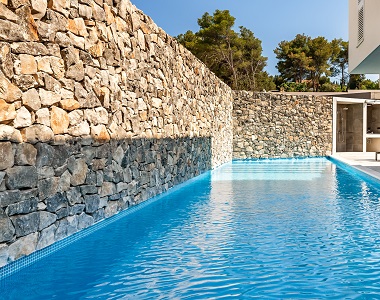 "Installation Image of Loose Dry Stack Wall Cladding Grampians"
Moreover, the perfect combination of horizontal ledgestone lines and unique natural finishes helps in setting the stage for an entirely aesthetic look.
Additionally, this appearance can also pull off the comprehensive rustic and contemporary home décor solution.
Types of Ledgestone Patterns for Home Projects
Let us guide you through some of the color influences and stylistic differences in ledgestone-based home design projects. You can definitely enjoy some inspiration here!
1. Traditional Ledgestone Veneers
A finished grout or stacked stone installation in a ledgestone pattern refers to the setup of traditional ledgestone veneers.
This type of stone installation is mostly characterized by the rise of around 4 inches or lower veneer layers.
When it comes to the installation of traditional ledgestone veneers, you should know about its origin as well.
The origin of ledgestone is known to date back to the time of early settlers in America who made use of some practical stone masonry solution in the simplest form of veneer stone installations.
These installation projects were made possible for wall stones, chimneys, fireplaces, and foundations.
"Installation Image of Earth Ledgestone Wall Cladding"
Moreover, the thin layer of veneer installation enabled the easier installations of the dry stack or light weight stack stone cladding of natural stones.
While it appears to be an easier form of installation, the utilization of smaller pieces of natural stones only led to an increase in the overall installation time and efforts.
2. Tailored Ledgestones
In comparison to the naturally-available traditional ledgestone veneers, tailored ledgestones can be easily customized as per your unique home design requirements.
You can come across multiple options out there in the market when it comes to installing ledgestone veneers of your choice.
These veneers can be installed by gluing the stone pieces together or creating pre-formed ledgestone panels.
Depending on the fabricator or manufacturer, some of the common industry terms associated with ledgestone panels & their types include –ledger stone panels, stacked stone ledger panels, stone veneer panels, thin stone panels, stacked stoned tiles, stone wall tiles, and ledger stone tiles.
Top Benefits of Ledgestone Veneer Panels for Your Home Design
Whether you are designing your home or renovating the existing décor, there are some potential benefits that you can derive out of ledgestone veneer panel installation in the given project. Some of the top benefits that you can expect out of the same are:
#Less Time Consuming
In comparison to traditional stone veneers in which installation is carried out stone by stone, a ledgestone veneer panel is available in the combined format.
As such, these are ready to be placed on the wall directly.The best part about ledgestone veneer panels is that they can be easily applied to the wall directly without any hassle.
Moreover, they are highly lightweight and require no foundation layering for the installation.
The application of a single cement layer at the panel's back can help in completing the installation process.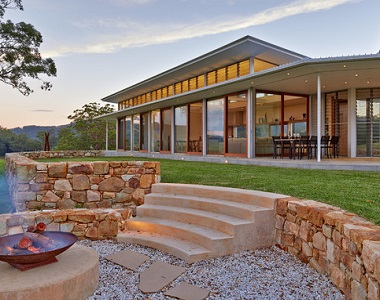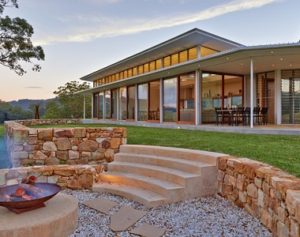 "Installation Image of Sandstone Ledgestone Wall Cladding"
#Cost-effective Solution
When you are installing the traditional stone veneers, it requires a myriad of other raw materials at the same time.
As such, the installation of traditional natural stone veneers for your home design project might turn out to be expensive.
On the other hand, the installation of the lightweight ledgestone veneer panels on any wall turns out not only easier, but also highly cost-effective.
As these are available as preassembled structures, there is no requirement of additional resources to complete the installation task.
As such, you can do the task on your own without the need for any machinery or mason.
Moreover, less cement is also utilized in the installation process.
This adds to the overall cost-effectiveness factor of the ledge stone veneer panels.
Conclusion
If you are looking for an effective, budget-friendly home décor option for the walls or other structures in your house, ledgestone veneer panels are the best options out there.
Additionally, if you are looking for quality as well as cheap prices, then you are in the right place. Stone Pavers specialises in delivering the budget-friendly natural stone pavers and ledge stones.
We deliver pavers door-to-door across Victoria, new south wales, Queensland, Tasmania and Southern Australia. Additionally, you can also take full advantage of our Express posted FREE SAMPLE delivery at your doorstep. 
Simply, just call us on (03) 97069767 to order your FREE SAMPLE and GET A FREE QUOTE. Feel free to pay over the phone or in-person anytime at your convenience. 
Call us for more information on ongoing Discounts for bulk purchases.
Hope you enjoy reading our blogs.