Cleaning and Installation of Stone Wall Cladding Tiles
[CLEANING AND INSTALLATION OF STONE CLADDING: Installing stone cladding is also commonly known as stack stone installing and it is also used to create a decorative design in and outside of buildings. It is made of by using stone that approaches from quarries to create a natural look. Whatever it is used for, it will need to be cleaned sometimes to ensure that the stone cladding does not get damaged. You will need to use a hose and a bucket of water to clean stone that is situated outside. Use a soft bristled brush to clean the surface with before you rinse it off well with fresh, clean water. Installing stone cladding is also commonly known as cultured stone installing. It is also used to create a decorative or good looking in and outside of buildings. It is made of by using stone that approaches from quarries to create a natural look. Whatever it used for, it will need to be cleaned sometimes to ensure that the stone cladding does not get damaged from the outside elements. Not all types of cladding require you to seal it, but if you are living in a coastal area, you should seal the cladding directly after installation. This is primarily to protect the stone veneer against the elements and sea air, which will cause discoloration over time. Stone cladding, also known as stack stone or stone cladding is used for a decorative look it will also give any area character. It is manufactured using stone from quarries and made to look like natural stone. No matter what it is used for, it will need to be cleaned at some point in time. However, care must be taken when cleaning the stone cladding so it does not get damaged. For cleaning stone veneer that is inside you will need a bucket of water with mild soap or detergent, and a cloth. Using the clean cloth, wash the stone then immediate rinse each stone with clean water. Be careful to never use a cleaner that contains acid or an acid based product. Do not use a high pressure power washer as the spray that it generates is too forceful and will damage the stone. ]
The wall cladding isn't only about selecting the best stone for tiling. The way you install these tiles on your walls can have a great impact on the aesthetic of your wall.
You can either hire a professional to get the tiles installed or try DIY steps. Either way, the tiles must be installed in an appropriate way.
Similarly, it is extremely important to keep the tiles installed on your wall clean all the time. No matter which stone or tiles you choose for ledgestone wall cladding, you need to invest your time and money in its maintenance.
Let's first have a look at the installation of wall cladding tiles.
Installing Wall Cladding Tiles
If you want impressive results, then it is best to hire a professional for the wall cladding project. Research the contractors that specialize in installing tiles. Consider their experience, past performances, and reviews from other customers.
You can also try a DIY installation. Here are the steps to install wall cladding:
You need to start a wall cladding project with a strong foundation, especially if you are planning to install natural stones. Remember that if you use poor quality substrate, you will not get the best results.
Brick and concrete are the best materials for building a strong and structural substrate. If you are installing tiles on a new concrete wall, make sure you allow the wall at least 6 weeks to get ready for wall cladding.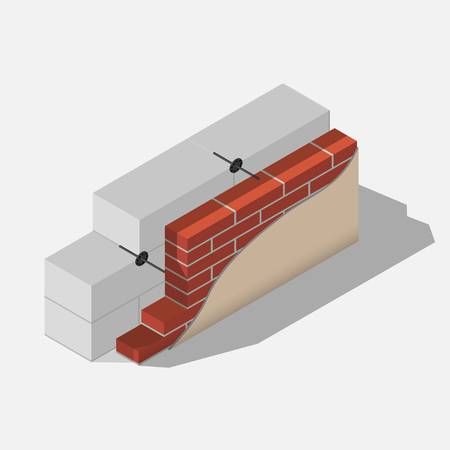 For those who are installing tiles on an existing concrete wall, note that the wall needs to be cleaned thoroughly before the installation.
The longevity of the tiles will depend on the foundation. The better you clean your wall, the stronger the tiles will adhere.
No matter which material you choose for substrate construction, the wall has to be cleaned properly. Remove dirt, dust, debris, other contaminants accumulated on the surface.
Likewise, you need to remove waxes, paint, and oil from the wall. Cleaning is important since it gets the wall ready for cladding. Moreover, natural stones tend to adhere firmly to a clean wall.
You can use soap and warm water solution for thorough wall cleaning. It is highly recommended before you get started with the installation process.
Before you get started with the cladding process, lay out the stones on the ground. Each stone may feature color, shape, and size variations.
If you choose natural stones such as travertine, there is a good chance that no two slabs of stones will have a similar appearance. You will notice slight variations in the color, texture, and shape of these stones.
Do not mistake these variations as flaws in your stone. It rather makes these natural stones look even better and more beautiful.
By laying these stone slabs on the ground, you can get a clear picture of the variations. You can arrange the stones on the walls in a way that each piece looks aesthetically pleasing.
A strong adhesive guarantees longevity and impressive results. Make sure you choose the best adhesive to attach the stones on your wall.
The contractors you choose for the installation will offer you the best recommendations. You can also ask the stone supplier to suggest the leading adhesive supplier.
Clean each stone with warm water to remove dust before applying adhesive. You will need to apply adhesive to the substrate and each stone.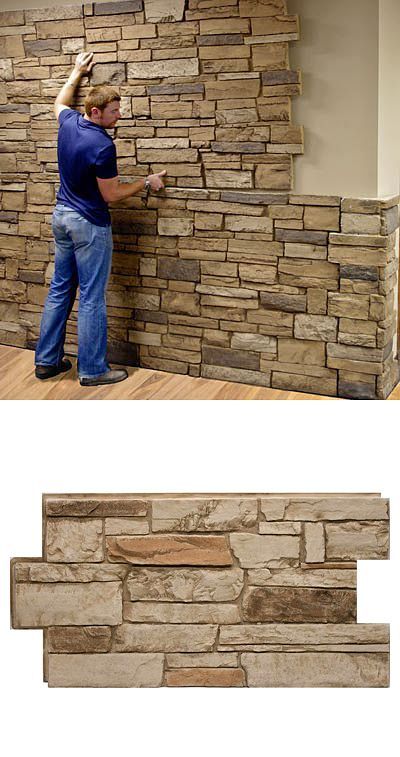 Make sure you wear safety gloves when applying adhesive. Remove the adhesive residue from the wall instantly after the application. Place the stone slab on the wall and leave it to dry for the next 24 hours.
As mentioned before, it is important to clean the stones after installation. You may also need to seal the stones so that they do not get stained from liquid spills.
You can purchase the best quality sealant from a local retail store. A high-quality sealant will not only keep your wall from hideous stains and marks, but it increases the durability of the tiles.
Sealing is extremely important if you are installing wall cladding in the bathroom, around your swimming pool, and other wet areas.
There is a chance the stones will lose their shine and color if exposed to moisture and contaminants. Sealing your wall after tile installation will guarantee extra protection. It keeps your cladding safe.
Before you seal the area, clean it thoroughly with a warm water solution. You can use light cleaning detergent, but do not apply a strong chemical to the newly tiled wall.
Moreover, we recommend you seal the area at least 48 hours after the installation. You can ask the stone supplier or the installation contractor for the best sealant material for walls.
Alternatively, you can research the best sealants for wall cladding on the internet.
So, these were the steps for installing wall cladding. Make sure you purchase a reliable and strong sealant for sealing the wall after installation. Follow the basic cleaning and maintenance steps to keep your wall clean.
Conclusion
Cleaning and installation of the stone wall cladding is easy. But, if you looking for expert advice on your stack stone or loose stone wall cladding installation, feel free to contact stone pavers Australia.
Our expert stone masons can help you a few important tips and if needed can assist you installation for cheaper cost, 
Get FREE Quotes + FREE SAMPLES by Stone Pavers Australia
Stone Pavers are the LARGEST Natural stone providers across Australia. We are known for providing quality products at low prices.
If you are looking for buying Stackstone, Ledgestone or Loose stone wall cladding any other stone tiles in Melbourne, Sydney, Brisbane, Adelaide or anywhere across Australia.
Give us a call today on 03 9706 9767 and receive a FREE QUOTE or you can request an express posted FREE SAMPLE before purchasing our products.
Simply fill our contact us form for the orders or free sample inquiries.
Get some installation ideas from our beautiful Stone Wall cladding image gallery.