Sandstone Tiles
The construction business is one of the widely acclaimed sectors today. One of the main reasons for the high scalability of any architectural project is its materials.
The reason why Sandstone tiles are preferred is because of their high quality and durability. These tiles also are the first choice of the flourishing architects in the business due to their slip-resistant nature. But before zeroing in on the tile choice, there are a few things to consider without which you will always be in doubt regarding the purchase.
Tiles, although tend to look small, however can transform the look of your home exteriors in an instant. However, while settling for a tile, it is equally important to know which materials will suit you in the long run. Sandstone is an important material that is nowadays widely used in the construction sector for sandstone paving.
Important Points to Consider Before Purchasing the Tiles:
Sandstone indeed is one of the top materials for tiles, which emerges the need to keep a few things in consideration before the final purchase:
1. Your House and Its Premises:
One of the major points of discussing before buying a tile is taking a home exterior. Just think for a moment about the outside area of your house and then choose the material. It is also better to make your way through different magazines and papers and then purchase a natural stone, making the ambiance look simple yet great.
"Installation Image of Himalayan Sandstone Pavers and Tiles"
2. Always Settle for Large Tiles:
As the saying goes, the bigger, the better! Tile size also gives a beautiful look to your homes. Therefore, never settle for small tiles and instead purchase larger ones. These make the home exteriors look airy and big from all aspects and also cater to the visitors.
3. Color:
Like everything else, the color of the tile also matters a lot. Settle for a shade that suits your taste. If you prefer a serene look, then settle for lighter shades, and if your choice is slightly bold, then dark colors will suit your palette.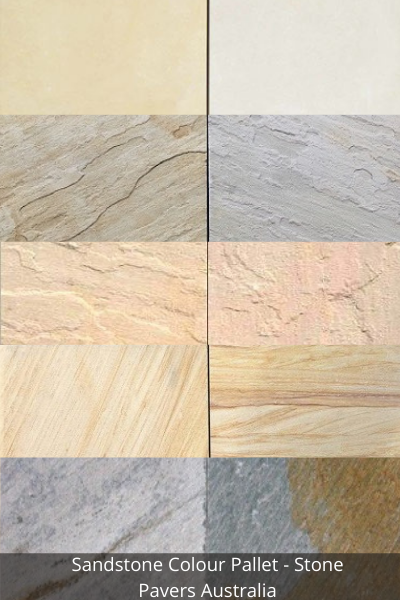 4. Pattern and Grout color:
Pattern and grout color might look like a nonchalant thing, but they do matter when selecting tiles. Irrespective of whether you choose glazed or unglazed tiles, make sure to grout it with the same color; otherwise, all efforts will go in vain.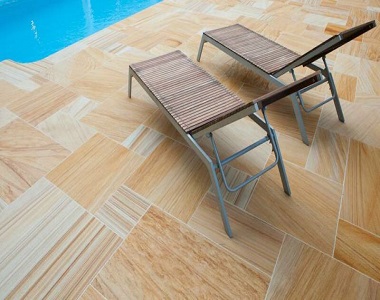 "Installation Image of Teakwood Sandstone Pavers and Tiles"
Natural stones like sandstones are a top choice of people today due to their versatility, resilience, and usage. Although sandstones are available in all parts of the world, Australia tops the lists when it comes to the quality factor. Therefore, for all those who want superior quality sandstone tiles at an economical price, visit shops in and around Australia and then choose accordingly.
Conclusion:
Sandstone is one of the sturdy and durable materials that have the potential to last for years without showing signs of wear and tear. [Read more about What is Sandstone? ]
That is why it is one of the most popular natural stone tile choice of Australian Homeowners. [Read Sandstone Frequently Asked Question to learn more. ]
Get FREE Quotes + FREE SAMPLES by Stone Pavers Australia
Stone Pavers are the LARGEST Natural stone providers across Australia. We are known for providing quality products at low prices.
If you are looking for buying sandstone tiles or sandstone pavers or any other stone tiles in Melbourne, Sydney, Brisbane, Adelaide or anywhere across Australia.
Give us a call today on 03 9706 9767 and receive a FREE QUOTE or you can request an express posted FREE SAMPLE before purchasing our products.
Simply fill our contact us form for the orders or free sample inquiries. 
Get some installation ideas from our beautiful stone tiles Sandstone Image Gallery.