Sandstone Pool Coping Tiles
Many people among us are not familiar with the word "Coping." In general, coping refers to the pool coping tiles that are used in and around swimming pools. There are many benefits of pool coping tiles, which might also surprise all of you.
While pool coping increases the safety and style quotient, many debates are going around as to which natural stone serves as the best coping tiles for today's interiors. Sandstone is a naturally formed rock in the earth's crust that serves as the best pool coping tile. It not only makes the pool area look gorgeous but also protects it from contamination.
It is true that Sandstone is a natural material that is found in many parts of the world, including Australia. There is another reason for choosing the stone over other natural rocks. Sandstone's use in and around the pools makes the area look textured, stylish, and unique. It also directs the drain water away and therefore increases the usability of the swimming poolside.
SHOP SANDSTONE POOL COPING TILES ON SALE
How Pool Coping Is Beneficial?
As mentioned before, pool coping is usually done to prevent water entry into the pools from outside. Pool coping allows the direct water to flow into the deck drain easily, and thus in this way, keeps it free from any harmful bacteria.
"Installation image of Teakwood Sandstone Pool Coping"
The other benefits of pool coping are as follows:
Adding pool coping tiles is one of the many ways to give your swimming pool a distinguished look.
Pool coping tiles also make the pool area less slippery.
Pool coping tiles are also cooler to the feet under extreme heat conditions and help keep off debris.
The tiles are round in shape, which makes the swimmers easily hold onto them without accidents.
Why Choose Sandstone as A Pool Coping Tile?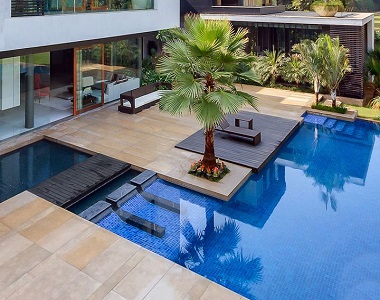 There are many benefits to choosing limestone over other natural stones in this sector, and they are:
When compared to other natural stones, Sandstone is affordable and thus is easy on the pocket.
Sandstone comes in a variety of colours, which makes it easy to choose.
The stone is slip-resistant and hence prevents unfortunate accidents.
Pool areas in the house are as important as the pool itself. They lend an underrated charm to the house. The recent years have seen the growth of the trend, where natural stones such as Sandstone found in Australia are rally preferred by architects.
Whether it is because of the style or durability, Sandstone is one of the most used materials for pool coping. Given its popularity in recent times, it can only be said that the stone will continue to be favoured by people in the long run also.
Conclusion
Sandstone is one of the sturdy and durable materials that have the potential to last for years without showing signs of wear and tear. [Read more about What is Sandstone? ] That is why it is one of the most popular natural stone tile choices of Australian Homeowners. [Read Sandstone Frequently Asked Question to learn more. ] Get FREE Quotes + FREE SAMPLES by Stone Pavers Australia Stone Pavers are the LARGEST Natural stone providers across Australia.
We are known for providing quality products at low prices. If you are looking for buying sandstone tiles or sandstone pavers or any other stone tiles in Melbourne, Sydney, Brisbane, Adelaide, or anywhere across Australia.
Give us a call today on 03 9706 9767 and receive a FREE QUOTE or you can request an express posted FREE SAMPLE before purchasing our products. Simply fill our contact us form for the orders or free sample inquiries. Get some installation ideas from our beautiful stone tiles Sandstone Image Gallery.
Similar Sandstone Installations