What is Sandstone?
Sandstone refers to the sedimentary rock containing tiny sand-sized particles and organic substances.
These stones are composed of different types of minerals, which are widely used in tons of applications.
Due to the impurities in minerals, sandstone can be of different colors. Mostly, they are found in white, black, grey, pink, tan, yellow, and red. All types of sandstones contain the same minerals.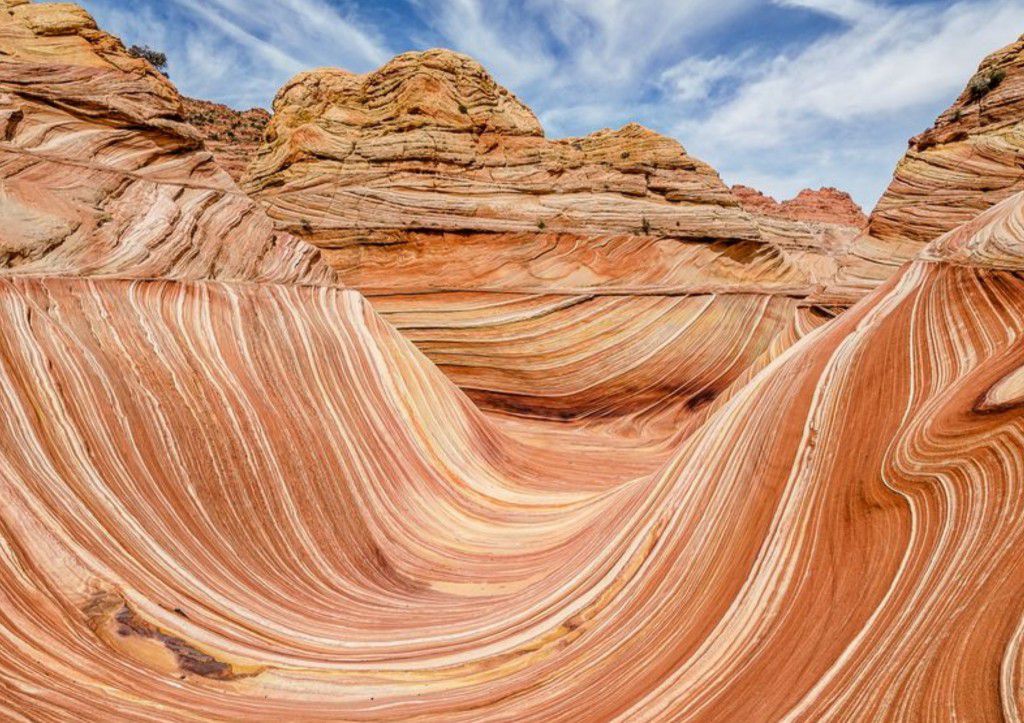 "Beautiful Sandstone Mountains Image"
The only disadvantage of this stone is its slighty less weather resistance. The sandstone floor that you have installed today is not going to remain the same or look brand-new in 7-10 years.
Even if you invest time and money in its maintenance, there is a good chance the sandstone will face wear and tear. This happens because sandstone is way too soft to endure foot traffic.
Moreover, exposure to unfavorable weather can sometimes discolor the stone. But, most people do not consider it as a flaw.
In fact, a natural stone that's extracted from nature is supposed to age over time. That being said, the discoloration of sandstone is absolutely normal.
Uses of Sandstone
This soft yet robust sedimentary rock has been used in construction and domestic industries for centuries.
In fact, sandstone dates back to pre-historic times. The tradition of using this rock in the construction industry still continues.
Owing to its soft texture, it isn't surprising to say that sandstone had been extensively used for construction in ancient times.
Several temples, churches, monuments, buildings, and houses are constructed using sandstone.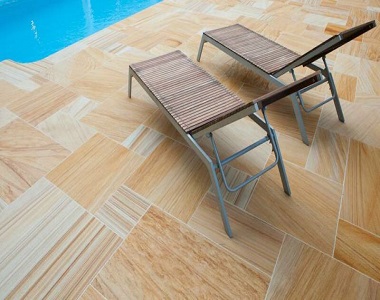 "Installation Image of Teakwood Sandstone Pavers"
Apart from the construction applications, sandstone is found in artistic industries. The rock is used in carving statues and fountains.
The reason why builders consider sandstone as the best fit for construction requirements is its flexibility. The stone is quite smooth for carving.
Other applications of this sedimentary rock are structural wall construction, tunneling, tile manufacturing, cement and brick production, concrete and paving requirements, and so on.
The stone is widely used as a monumental and architectural stone.
Is Sandstone Slippery?
The answer is No. But if the sandstone is polished and honed it can be slippery to a degree depending on many factors. 
Sandstone tiles are sold in different finishes. Whether this stone is slippery or not depends on the type of sandstone tile you purchase.
For example, honed tile offers a decent level of traction. They are flat and smooth.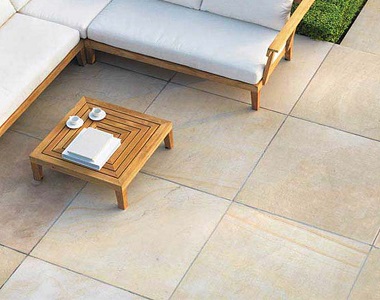 "Installation Image of Honed Ivory Sandstone Pavers"
However, they might feel a little slippery when exposed to water. This means you cannot install honed sandstone tiles near the swimming pool, in the kitchen, bathroom, and other wet areas.
If you are installing sandstone in the area that is exposed to moisture, then avoid polished sandstone tiles. They are extremely slippery.
If you are happy to install any natural stone pavers around your pool surroundings, patios, driveways and garden areas then you must check other options too such as bluestone pavers, travertine tiles, or granite pavers. 
Benefits of Sandstone
Sandstone is one of the most beautiful and natural flooring materials. It gives your home a decorative touch and enhances the beauty of your driveway and floors.
Currently, there are many man-made as well as organic paving materials available on the market.
But, nothing can match the flexibility and shine of sandstone.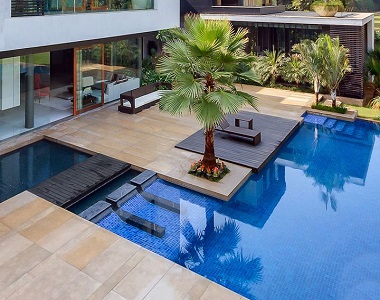 "Installation Image of Himalayan Sandstone Pavers"
That's one of the reasons why more and more people consider using sandstone slabs in their gardens and patios.
Not only for paving requirements, but this natural stone has a broad range of applications.
The question is 'why choose sandstone over other materials'?  Let's find out:
#1 Durable
Sandstone might not have the durability like granite and marble, but it still has the potential to last for years without showing the wear and tear signs.
Do you know why most homeowners choose sandstones over granite and other hard stones for paving?
Even though it is relatively lighter and less durable than marble and granite, sandstone is extremely soft.
You can cut and shape it in any form you want. If maintained properly, your sandstone paving can offer great durability.
"Sandstone Pavers around the pool can last for years"
#2 Sandstone Pavers are Unique
One quality that makes sandstones a perfect option for flooring and paving is its uniqueness.
Since the rock is extracted from nature, it comes in a wide variety of shapes and hues. In fact, its level of uniqueness can't be matched.
Each sandstone piece obtained from the earth has some unique features.
When sandstone is mined, it is extracted in big slabs. Later on, they are cut and shaped.
So, each slab of sandstone installed on your floor feature some unique nature quality that sets it apart from the man-made and casual flooring materials.
"Installation Image of Teakwood Sandstone Crazy Paving around pool"
We have already mentioned the number of colors the stone is available in.
Grey and pink sandstones look stunning on your driveway paving. 
Likewise, black, grey, and white sandstone are perfect for flooring and structural wall construction.
#3 Easily Replaceable Stone
First of all, the slabs of sandstone are placed on tiles. They are installed in such a manner that they can be replaced easily when required.
You can easily remove the tiles and have them replaced. So, one advantage of sandstone over other flooring materials is its replaceable property.
If you want to replace the sandstone floor, you can do it easily.
"Installation Image of Sandstone Stepping Stones"
#4 Looks Stunning upon Installation
The beauty of the natural stones is incomparable. And, sandstone isn't an exception.
Sandstone comes in a multitude of colors ranging from light shades to charcoal hues.
While man-made stones can also have different shades, they lack the natural feel and smoothness as sandstone.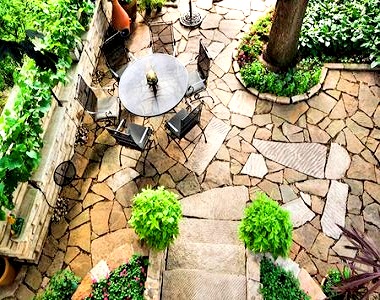 "Installation Image of Himalayan Sandstone Crazy Paving in the garden area"
Conclusion
Beautiful Sandstone pavers and sandstone tiles are perfect for installing around the swimming pool area, outdoor pavers, garden sitting areas, patio pavers, driveway pavers and more. 
Are you looking for various textures and colors in sandstone for your home or other residential property? If yes! then check out our variety of sandstone pavers available in various sizes and thicknesses. 
We deliver tiles and pavers across Australia mainly in Victoria, New South Wales, Queensland, Tasmania and southern Australia. 
We provide FREE SAMPLES + FREE QUOTE + FREE EXPERT STONEMASON ADVICE. To take full advantage of all our benefits, you are just a phone call away. Give us a call today on (03) 9706 9767 and receive a price estimate on your choice of pavers. 
Simply just fill our contact us form for any sandstone related questions.
Get some laying ideas from our stunning collection of sandstone pavers image gallery. 
If you have got any questions related to laying of sandstone pavers or something similar. Feel free to get in touch today! 
Hope you enjoy reading our blog post.