Stacked Stone, Stack Stone, Wall Tiles, Stone Wall, Stackstone
Stacked Stones, Stack Stone, Wall Tiles, Stone Wall
Stackstone, also known as stacked stones, is the centuries-old natural stone that is extensively used in the exterior décor projects. The stones are used for construction purposes.
This pattern of construction has become quite popular these days. Homeowners use stacked stone for the interior wall cladding and flooring. Stacked stones are made of the small slabs of the natural stones. These natural stones are used for wall cladding and tiling applications. One interesting quality of these stones is its dry-stacked look. You do not need grout for its installation.
As mentioned before, stacked stones had been used in the construction project in the 19th and 20th centuries. They were mainly used in Europe. Some stacked stones building still stands intact. Earlier, contractors used multiple natural stones and laid them in the vertical stack pattern.
Surprisingly, they wouldn't even use concrete and other material for binding. They were positioned in a way that each stone was capable of enduring the weight of other stacked stones seamlessly. Installing stacked stones on the floors or walls need professional contractors. It is a labor-intensive job. Though you can try to DIY the installation of the stacked stone, chances are you will not get the best finish.
Stacked Stones Uses
Owing to their stunning aesthetic and durability, stacked stones can be used for a host of exterior and interior décor applications. You could use these stones to create a feature wall, such as surrounding the fireplace. Stacked stones are most commonly used for wall cladding. They are used to decorate the kitchen backsplash, bathroom wall, etc.
Additionally, you can choose the stackstone to highlight the interior or exterior décor. You can use these stones to decorate the wall around the front door. If you are looking for natural décor options, then the stacked stone is your best option. It gives a natural touch to your exteriors. Besides, they look stunning – no matter where you install them.
Selecting the Best Stacked Stones
Since they are made of natural stones, you will find a great level of variation in the colours, pattern, design, and shapes of these pavers. You need to select the stacked stones before getting started with the construction project. Make sure that you won't get an option to switch the stones or change its palette once they are installed on the walls.
You can choose the natural stacked stone if you would like to keep the décor minimal and elegant. Another option is the polished stone, which looks a little glossy yet stunning. Granite and quartzite are the best materials for polished stacked stones. The cost of the stones will depend on the material you choose. The polished stones are costlier than natural materials.
We have dozens of various colours and styles of stack stone.
"Smokey Quartz Light Weight stack stone cladding"
Light weight stack stone cladding with a 3D geometric style: Modern twist on a natural stone look mounted onto a stack stone panel for easy installation.
"Uluru Ledgestone Wall Cladding"
Ledgestone, stack stone cladding: Drystack look, rugged look, Individual pieces are MUCH bigger BUT still mounted on a stack stone panel for easy installation of your stone cladding.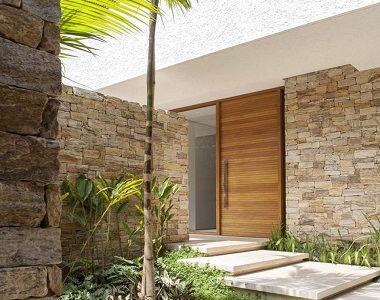 "Sandstone Loose Wall Cladding"
Loose Random Stone Wall Cladding: Natural Free Flowing Format stone cladding for walls. A bit slower to install BUT what a look.
See our stack stone range here.
Conclusion
Stackstone is an extremely popular style for decorating your wall for a water feature, TV cabinet Wall decoration, Fireplace cladding, Pool surrounding sitting areas, patio wall decoration, outdoor kitchen wall cladding and similar other indoor &outdoor wall decorations and more.
Stack stones widely vary in style and stone sizes such as Light weight Stackstone cladding, Ledgestone stone wall cladding, Loose Stackstone Wall cladding and more. Feel free to browse our range of Stack stones available on our website. Currently on BIG SALE.
If you are looking for advice on the best usage of Stackstones and how to lay them or install using which adhesive? Give our team of experts a call today on (03) 97069767 and get the answers of all your questions. Additionally, You can also visit our Showroom located in Melbourne. If you are an interstate customer take a ride down to our virtual showroom.
Finally, if you really want a stack stone, why not try our FREE SAMPLE services. Yes! we provide Express Posted FREE SAMPLES to all our customers Australia Wide and provide orders delivery Door-to-door in Melbourne, Sydney, Brisbane, Canberra, Adelaide, Hobart, Geelong and more.
Simply contact us and get your FREE Sample delivered at your doorstep.
Call us for more information on Delivery services.
Hope you enjoy reading our Blog. Wish to see you soon.