STACK STONE – What's available for sale here in Australia in 2020
Stack Stone – What's Available for Sale Here in Australia in 2020?
Stack stone is one of the traditional and natural construction materials. The stone is extensively used for different types of indoors and outdoors construction applications. Since it is a natural stone, no two stack stone pieces have the same texture and colour. Slight variations can be noticed in different slabs of stacked stone. But, that's what makes this stone stunning. You could find a broad range of stack stones that are available in multiple colours and designs. If you shop for these natural pavers online, you will get to choose from multiple options. The most common colours include dark grey, light pink, black, burnt orange, and more.
Commonly known as the cultured stone, the popularity of stacked stone is growing rapidly, especially in Australia. These natural stones are available for sale in Australian natural stone markets. Stacked stones are trending in 2020. Being embraced by multiple homeowners and architects, these cultured stones are seen on the interior and exterior walls, around the fireplace wall, on the kitchen back splash wall, etc.
Different Designs of Stacked Stones in Australian Markets
Nowadays, more and more contractors have started to design homes using stacked stones. These natural décor materials add a unique level of elegance and beauty to a dull and traditional-style home. Now, renovating your old-school home is as simple as installing some high-quality and premium stacked stones on your exterior and interior walls. It enhances the curb appeal of your home and increases the value of your property.
One interesting quality of the stacked stone is its depth. The slight colour variations in each slab along with the depth make these natural stones the number choice of homeowners. You can choose from some warm and neutral tones if you would like to keep the décor simple. Stacked stones are also available in some bold and stylish hues that give a contemporary touch to your home.
Not a lot of products have the potential to make such an amazing impact on the bare walls of your exterior space. Not only does it enhance your exterior space, but stacked stones can liven up your interiors too. You could decorate the wall surrounding your fireplace with these stones. You can also create a feature wall. Let's take a look at the top stacked stones that are available for sale in Australia this year.
A beautiful combination of white and sand-coloured stone, white quartz is a fine stacked stone. If you are looking for a cost-effective way to turn your boring plain walls into natural stone walls, then white quartz will be your ultimate pick.
The stones are available in the panel form, which makes the installation process quite simple and smooth. Owing to its straightforward installation and smooth texture, white quartz has become one of the most sold natural stones in the Australian natural stone markets. Even interior designers have started to pick white quartz for wall cladding.
It is mainly installed on the wall surrounding the fireplace. Used especially for residential and commercial applications, white quartz is the homeowner's ultimate choice.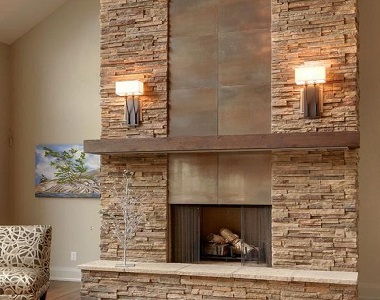 As the name suggests, soft cream marbles add a neutral and warm tone to any interiors. No matter what décor theme you follow, soft cream marbles stones will be a perfect home décor option. The stone is designed to add a contemporary touch to your traditional-style walls. You can never go wrong with these soft tones of cream. This natural stone resembles marble. If you are looking for marbles for your interior floors or exterior landscape at a reasonable price, then save some bucks with this natural stacked stone.
If you want to add some dark tones to your interiors, then rustic brown and red is your best option. These shades look quite bold. If you have all your walls painted with light and warm tones, then the stacked stone available in rustic brown and red shades can liven up your space. It is all you need to introduce the earthy tone to your interior design.
Since each panel will have slight variations in colours, you will get a combination of brown and red slabs (each stone featuring a unique shade). We highly recommend this for modern and traditional style apartments. It looks stunning above the fireplace. You can install these red and brown stacked stones on your patio and exterior walls as well.
Do you want a neutral design palette on your wall? Well, grey and silver quarts stacked stones will look extremely stunning on the facade. It can brighten up the dull and traditional space. They look wonderful when paired with bold hues. Unlike the standard stacked stones, grey and silver quartz is known for the consistency. Each slab features almost same hues with slight variation. These light tones are a perfect option for modern and minimalist style homes.
So, these were the top five types of stacked stones that are gaining popularity in the Australian market. Choose your favorite design and enhance your interiors and exteriors.
Conclusion
Stackstone is an extremely popular style for decorating your wall for a water feature, TV cabinet Wall decoration, Fireplace cladding, Pool surrounding sitting areas, patio wall decoration, outdoor kitchen wall cladding and similar other indoor &outdoor wall decorations and more.
Stack stones widely vary in style and stone sizes such as Leight weight Stackstone cladding, Ledgestone stone wall cladding, Loose Stackstone Wall cladding and more. Feel free to browse our range of Stack stones available on our website. Currently on BIG SALE.
If you are looking for advice on the best usage of Stackstones and how to lay them or install using which adhesive? Give our team of experts a call today on (03) 97069767 and get the answers of all your questions. Additionally, You can also visit our Showroom located in Melbourne. If you are an interstate customer take a ride down to our virtual showroom.
Finally, if you really want a stack stone, why not try our FREE SAMPLE services. Yes! we provide Express Posted FREE SAMPLES to all our customers Australia Wide and provide orders delivery Door-to-door in Melbourne, Sydney, Brisbane, Canberra, Adelaide, Hobart, Geelong and more.
Simply contact us and get your FREE Sample delivered at your doorstep.
Call us for more information on Delivery services.
Hope you enjoy reading our Blog. Wish to see you soon.