sandstone steps bullnosed and matching paving
Sandstone Steps Bullnosed and Matching Paving
Are you looking for the best pavers for your driveway, pathway, the area around the swimming pool, and interior applications? Well, sandstone makes an ideal option for all kinds of exterior and interior paving applications. Designed to last for years, sandstone is available in multiple finishes. Sandstone steps bullnose pavers are extensively used for pool coping and step treads. They look amazing in both traditional and contemporary settings.
The pavers create a straight and curved landscape around your swimming pool, enhancing the curb appeal of your property. If you would like the most durable paver with a low sheen, then honed sandstone will be your best choice. Bullnosed are trimmed and shaped according to the dimensions of your exteriors. They are designed to offer you protection from accidents around the swimming pool.
Why Bullnose Pavers?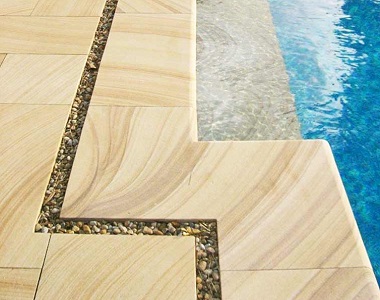 "Teakwood Sandstone Bullnose Pavers"
Sandstone is highly recommended for pool coping and stepping stones. This natural paving material features an anti-slip surface that offers a strong foot grip. Since the pool pavers will be exposed to chlorine water, you need to look for a material that can resist water and harsh chemicals. That's exactly what the sandstone bullnose pavers do.
Bullnose pavers are used in contemporary-style homes. These round-edged pavers are installed around the edges of the swimming pool. The best quality of sandstone bullnose pavers is their smooth surface, which makes them compatible with all kinds of interior and exterior paving requirements. You could surround your swimming pool with a high-quality sandstone bullnose paver or install these soft and glossy pavers as the stepping stones in your front yard. They are mainly preferred for step treads and pool coping.
Versatility and Resilience
Sandstone is one of the oldest and traditional natural stones. It is especially known for its durability and resilience. Sandstone bullnose pavers look quite fascinating around the swimming pool. In fact, they are mainly designed for pool coping. Besides, they are used near the fountains, for flower box edging, and step treads. Their unique design makes it easier for homeowners to install these natural stones without having to call a professional contractor.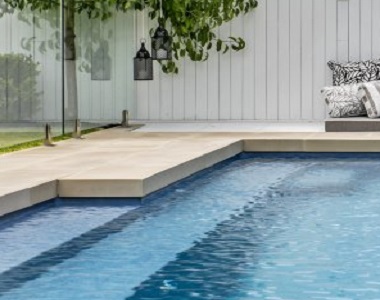 "Himalayan Sandstone Drop Face Pool Coping"
The material is available in a broad range of colours, sizes, shapes, and patterns. You can easily find a product that matches your exterior décor theme or the landscape. Homeowners can customize the size of the sandstone bullnose pavers. You can buy custom-made pavers for your exteriors. Now, the interesting quality of this stone is its adaptability. The stones complement almost all types of exterior and interior décor themes. You can use these stones for paving the area around your pool (deck) and installing stepping stones in the backyard. These stones are sold in a range of profiles. You could choose the drop-down pavers or bullnose step tiles.
Conclusion
Beautiful Sandstone pavers and sandstone tiles are perfect for installing around the swimming pool area, outdoor pavers, garden sitting areas, patio pavers, driveway pavers and more.
Are you looking for various textures and colors in sandstone for your home or other residential property? If yes! then check out our variety of sandstone pavers available in various sizes and thicknesses.
We deliver tiles and pavers across Australia mainly in Victoria, New South Wales, Queensland, Tasmania and southern Australia.
We provide FREE SAMPLES + FREE QUOTE + FREE EXPERT STONEMASON ADVICE. To take full advantage of all our benefits, you are just a phone call away. Give us a call today on (03) 9706 9767 and receive a price estimate on your choice of pavers.
Simply just fill our contact us form for any sandstone related questions.
Get some laying ideas from our stunning collection of sandstone pavers image gallery.
If you have got any questions related to laying of sandstone pavers or something similar. Feel free to get in touch today!
Hope you enjoy reading our blog post.