sandstone steps bullnosed and matching paving
Sandstone Pool Pavers and Coping
To escape the summers of Australia, people install a swimming pool in the backyard. Not only does it allow them to enjoy cool and pleasant evenings, but it's a great addition to modern homes. It increases your property value and enhances the home's curb appeal. In order to complete your backyard décor, you need to install pool coping.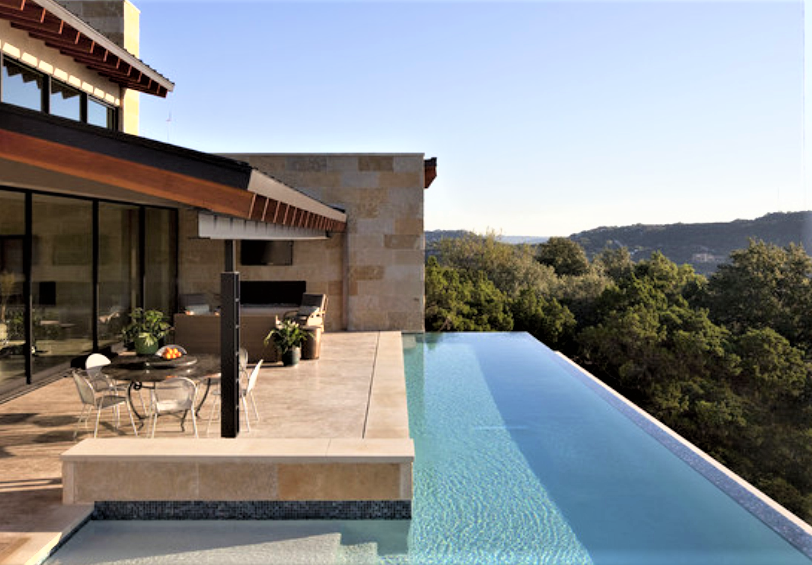 "Himalayan Sandstone Drop Face Pool Coping"
Coping refers to the pavers installed surrounding the edges of the swimming pool. These pavers prevent accidents around the pool. As tempting as a day by the pool sounds, it doesn't seem exciting with those dirty pool tiles that are often wet and slippery. Besides, you cannot let your children play around the pool if you have not installed pool coping.
Give Your Swimming Pool a Makeover with Sandstone Bullnose Pavers
Consider installing sandstone pool pavers around your pool to complete your backyard. Since the swimming pool contains chlorine-rich water, you need to look for pavers that can resist chemicals. Sandstone is a durable and anti-slip natural stone that makes a perfect fit for your swimming pool coping.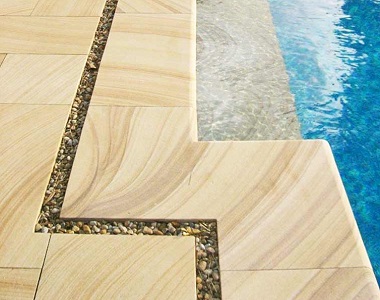 "Sandstone Bullnose Pool Coping"
This natural material is used for an extensive range of applications, including but not limited to, driveway and pathway paving, stepping stones, interior and exterior wall cladding, patio paving, and pool coping.
Installation of Sandstone Pavers
The installation process includes the construction of a strong base. You will need to dig the area around your swimming pool to lay the gravel and sand. The height of the foundation needs to be at least 100 meters. You can compress the mortar and lay the sandstone pool pavers. The old coping around your swimming pool needs to be removed before you start the installation of the new pavers.
Make sure that you cannot lay sandstone pavers on the pre-installed coping. It will not give you a balanced and level surface. With that being said, the first step for installation is to remove the pavers around your pool and create a strong base for the sandstone pavers. Usually, homeowners choose bullnosed sandstone pool coping pavers for a smooth surface.
You are going to need to dig at least 100mm deep around the pool to get enough height for the base. Concrete slabs and gravel can be used to create the foundation for pool coping. We highly recommend concrete slabs since they are durable and stable. Besides, they give you a strong foundation for laying just about any natural stone. The 25mm space needs to be filled with sand to create a level surface for the pavers' installation. After the installation, you are going to need to fill the space between the paver with grout. It can be purchased from a local hardware store or you can create grout by mixing sand and concrete.
Conclusion
Beautiful Sandstone pavers and sandstone tiles are perfect for installing around the swimming pool area, outdoor pavers, garden sitting areas, patio pavers, driveway pavers and more.
Are you looking for various textures and colors in sandstone for your home or other residential property? If yes! then check out our variety of sandstone pavers available in various sizes and thicknesses.
We deliver tiles and pavers across Australia mainly in Victoria, New South Wales, Queensland, Tasmania and southern Australia.
We provide FREE SAMPLES + FREE QUOTE + FREE EXPERT STONEMASON ADVICE. To take full advantage of all our benefits, you are just a phone call away. Give us a call today on (03) 9706 9767 and receive a price estimate on your choice of pavers.
Simply just fill our contact us form for any sandstone related questions.
Get some laying ideas from our stunning collection of sandstone pavers image gallery.
If you have got any questions related to laying of sandstone pavers or something similar. Feel free to get in touch today!
Hope you enjoy reading our blog post.